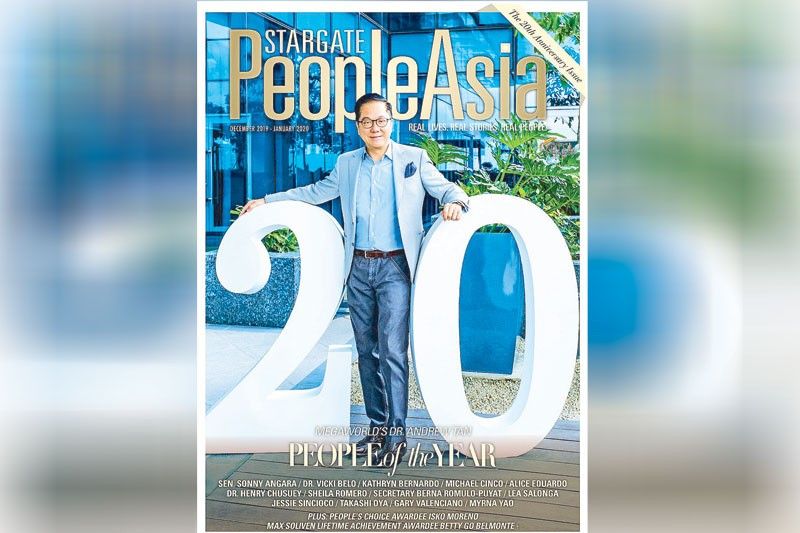 PeopleAsia's five solo People of the Year covers featuring Megaworld's Andrew Tan
As the year comes to a close, our magazine PeopleAsia commemorates its 20th year with a powerhouse "People of the Year" (POY) special edition that features extraordinary individuals with inspiring stories whose work have positively impacted the lives of many Filipinos. They will be honored during the People of the Year 2020 awards night — an event that has become one of the most prestigious and most anticipated in the magazine industry in the country today.
One of our POY awardees is Sen. Sonny Angara, whose accomplishments both in Congress and the Senate have benefited a great majority of ordinary Filipinos. He is also passionate about improving the quality of education in the country. Just recently, he filed a Senate resolution with several other senators to set up a Congressional Oversight Committee on Education that hopefully will give proper attention in reforms that are needed to improve the current educational system and make it world class.
The magazine also features Tourism Secretary Berna Romulo-Puyat, whose leadership has energized the tourism industry. According to data from the Department of Tourism, foreign arrivals grew 15 percent in the first three quarters of 2019 (6.8 million visitors in 2019 compared to 5.9 million in 2018), making industry stakeholders very optimistic about the growth of the industry with expectations that government can reach its target arrivals of 8.2 million for 2019 under the National Tourism Development Plan, especially with more visitors looking at the country as a preferred travel destination.
The Philippine Embassy in Washington has also been working to promote Philippine tourism. Just recently, we launched the 2020 edition of the VIP Tour, a signature program of the Philippine Embassy and the consulates general in the US. The program invites travelers from all over the US to experience the rich history, diverse culture and natural beauty of the Philippines, with Manila, Iloilo and Boracay as the featured destinations for 2020.
Also gracing the magazine's pages are the awardees, namely Megaworld's Andrew Tan, Alice Eduardo, Henry Chusuey, Sheila Romero and Kathryn Bernardo as our five solo cover subjects, with Lea Salonga, chef Jessie Sincioco, Takashi Oya, Gary Valenciano, Myrna Yao, Michael Cinco and Dr. Vicki Belo completing the People of the Year lineup — all of them accomplished individuals and respected in their respective professions.
We also have the People's Choice awardee — none other than Manila Mayor Isko Moreno, whose work has been extremely well received not only by residents of Manila but many Filipinos here and abroad.
Last but not least is The Philippine STAR founding chairman Betty Go-Belmonte who will be posthumously awarded the Max Soliven Lifetime Achievement Award — named after PeopleAsia's founding publisher Max Soliven whose vision has served as a guiding light for our magazine all these years.