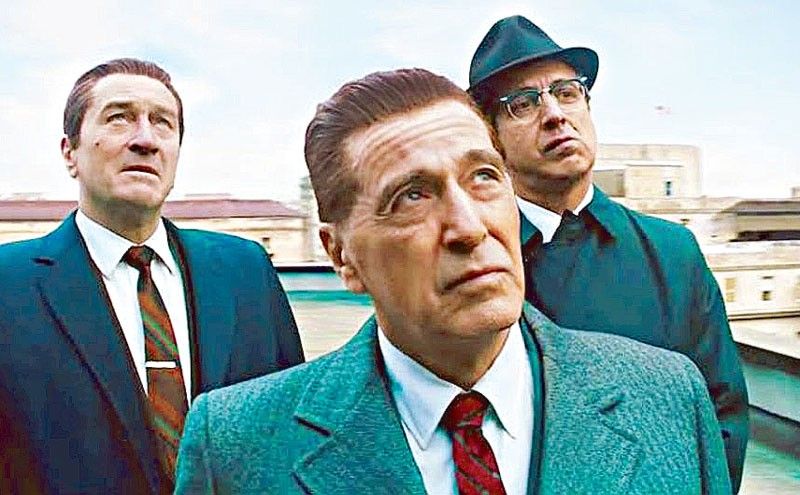 Robert deNiro, Al Pacino and Ray Romano in Martin Scorsese's The Irishman.
A streaming holiday season
If you're looking for quality content to watch from the comfort of your homes or weekend getaways this holiday season, here are some recommendations that include four films that may figure in the upcoming film awards season. Happy viewing!
The Irishman (Netflix) — Already the winner for the New York Film Critics Circle Awards for Best Film, this sprawling snapshot of American organized crime history in the 1960s, is Martin Scorsese back in top form. At the center of the film is hitman Frank Sheeran (Robert deNiro), with both Al Pacino and Joe Pesci playing important roles.
Marriage Story (Netflix) — Taking his own bi-coastal divorce from Jennifer Jason Leigh as its inspiration, here is Noah Baumbach's most personal film. Beautiful, sensitive performances from Adam Driver and Scarlett Johansson as the warring couple; and kudos to Baumbach for gifting us with a story where there are no heroes or villains.
The Two Popes (Netflix) — This film, telling the story of Pope Benedict (Anthony Hopkins) and the future Pope Francis (Jonathan Pryce), is about forging a new path for the Catholic Church. Directed with surprising humor by Fernando Meirelles, it is written by Anthony McCarten. A wonderful mismatched buddy movie, a clash of personalities and ideologies. (The opening credits say the movie was inspired by a true story, but does not claim to be biographical. — Ed)
The Report (Amazon Prime) — If you love whistle-blowing films like All the President's Men, Erin Brockovich and Spotlight, then The Report will be up your alley. Starring Adam Driver and Annette Bening (she plays Sen. Dianne Feinstein), this is about the "enhanced" interrogation techniques used by the CIA on suspected Al Qaeda terrorists in the wake of 9/11.
Beyond these quality film projects, the streaming giants also produce more mainstream fare, and here are two new ones that have just "dropped" on Netflix.
The Witcher (Netflix) — Starring Henry Cavill (Superman) and based on a fantasy genre book series, which was turned into a game, this one is obviously reaching out to the Game of Thrones fans who are looking for something new to watch. Violent, sexy and filled with medieval action and monsters, Cavill flew in to Manila to promote this, and made a lot of women's hearts go aflutter.
6 Underground (Netflix) — Put simply, this is Michael Bay given free rein to produce yet another visual feast of car chases, violence, explosions, and character sketches that even a five-year-old would find too basic. But yes, that would be a recommendation for some viewers. It stars Ryan Reynolds as head of the latest human Transformers team. And never underestimate Bay's popcorn products, as this is spectacular visually. *