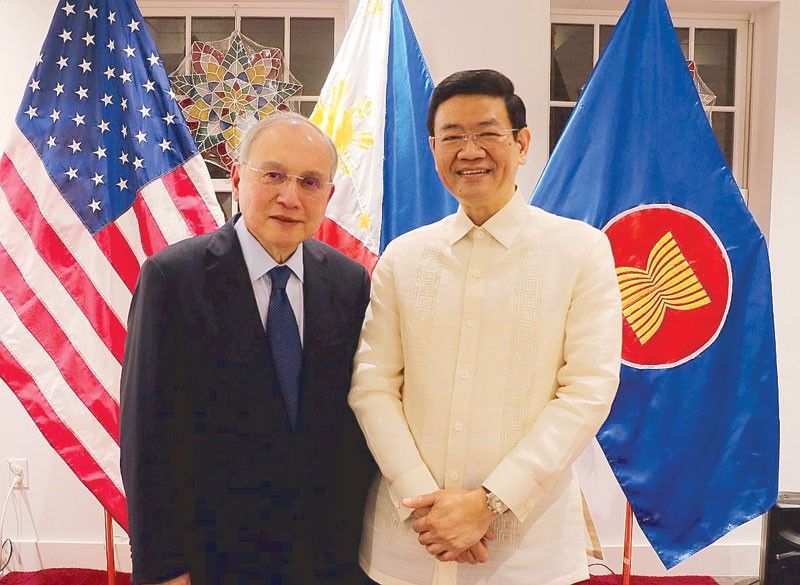 With outgoing Deputy Chief of Mission Patrick Chuasoto.
Not goodbye; just au revoir
Over 60 guests coming from the US State Department, ASEAN ambassadors in Washington, DC and members of the diplomatic corps, as well as think-tanks and business organizations, attended the farewell reception we hosted in honor of outgoing Philippine Embassy Deputy Chief of Mission Patrick Chuasoto.
Patrick will be leaving for New York in January, having been recently elected to the UN Advisory Committee on Administrative and Budgetary Questions. We are certainly very happy for him because we know he will do well in his new position, having previously worked at the UN Fifth Committee that is responsible for the organization's budget and other administrative matters.
Before assuming my post as Philippine Ambassador to the US, I really did not know who Patrick was. But it was former Ambassador to Washington and Foreign Affairs secretary Albert del Rosario, a close friend of mine, who told me: "There is one man in Washington whom you can depend on — the current Chargé d'Affaires Patrick Chuasoto."
Being our Chargé d'Affaires in Washington for a year and a half when our country did not have an ambassador, Patrick did his part and laid the groundwork that allowed us to work together with our friends in Washington to stabilize the relationship with our country's No. 1 and most important ally, the United States.
As everyone knows, there were a lot of issues with the US that we needed to work on, especially at the beginning of President Duterte's term. We hit the ground running, meeting with officials of the Executive Branch, and interacting with members of the US Congress, with so many important matters to be taken up.
It was also fortunate that before my assumption as ambassador, I already had a number of friends in Washington who welcomed my appointment with the assurance of their help and cooperation. Today, I can safely say that the relationship between the Philippines and the US is perhaps better than it ever was because there is strong mutual respect, with the sovereignty of each nation recognized by both leaders.
While it saddens me to see Patrick — who has become a close personal friend of mine in the last two years — leave, I'm also happy because he has a bright future ahead. His support as Deputy Chief of Mission has been invaluable, and he has proven himself to be a true career diplomat who has served, and continues to serve, our country well.
I know, however, that I will be seeing him again. So for now — I bid him au revoir, not goodbye.