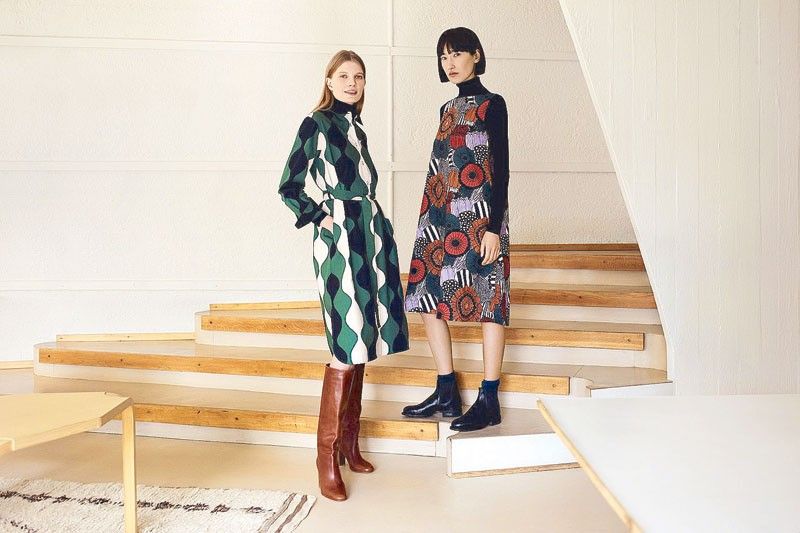 Long-sleeved dress with Pergola pattern, an expression of the designer's handwriting (left). The sleeveless dress (styled with a black turtle neck top) features the Siirtolapuutarha pattern, a line drawing of a busy city journeying to a fruitful garden.
In the world of global apparel retail fashion, there are only a few names that you can depend on. If you're looking for style, practicality, function and form, then you find comfort at Uniqlo, one of the world's leading brands.
The Japanese retail mover has pulled itself out of the fast fashion category as it creates collections that promote sustainability and are environmentally friendly and ecologically style-conscious. The brand has also ventured into collaborative efforts that are fashion and design forward.
One of its successful partnerships is with Finnish brand Marimekko. The lifestyle design house of Marimekko, founded in 1951 and known for its original prints and colors, offers a wide range of products from clothing to textiles to home decor. It is available in 40 countries. The uniqueness of its prints and distinct global appeal caught the eye of Uniqlo. Thus, the birth of their first collaboration for Spring 2018.
Last Nov. 28, Uniqlo launched its latest limited edition collection with Marimekko held at the brand's flagship store in Makati City. For the holidays, pops of color and unique combinations on cold weather wardrobe essentials present a modern palette for one's everyday wear.
Inspired by Finnish tradition, the latest collection presents Marimekko's iconic prints such as Kivet (stones) designed by Maija Isola in 1956, Tasaraita (even stripes) by Annika Rimala in 1968 and Siirtolapuutarha (city garden) by Maija Louekari in 2009.
These chic design statements can be found on the ultra light down cocoon coat, wool cashmere hoodie, jumpsuits and shirtdresses. Yuki Katsuta, head of research and development of Uniqlo says, "I am pleased to see Marimekko's prints and colors on such Uniqlo LifeWear as cashmere, Ultra Light Down and Heattech for the very first time. What a beautiful way to stay warm in the coming cold months while celebrating a touch of Finnish tradition."
Tiina Alahuhta-Kasko, president and CEO of Marimekko, says, "We believe that with Uniqlo, we have been able to create something truly special for our customers and can't wait to see how this new line will bring joy to people's daily lives around the world."
What's special about this second collection is that aside from women's wear, there are pieces for girls and kids. A testament that Uniqlo x Marimekko is a special designed apparel made for all. Then new item for girls and babies are perfect for the matchy-matchy coordinated look with accessories and all.
Spend the cold weather holidays in affordable style. Get the current must-have look in high quality clothing that won't break the bank. Bring joy to your wardrobe by adding life and color from the Uniqlo X Marimekko collection. *
(Uniqlo x Marimekko collection is available at the Uniqlo flagship store in Makati and selected branches.)