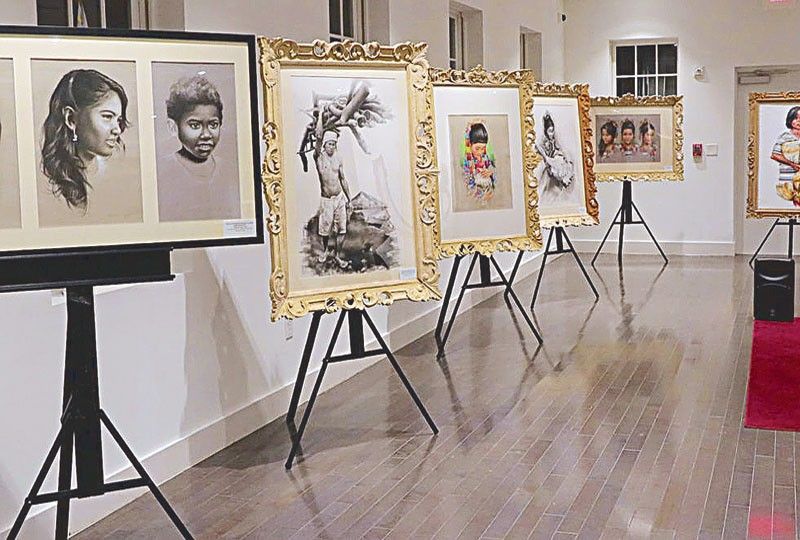 Some of the works featured during the exhibit titled Liwanag: A Journey Through the Philippines Way of Life.
THIS WEEK ON PEOPLEASIA
-
Babe Romualdez
(The Philippine Star) - December 1, 2019 - 12:00am
Our friends from the US-Philippines Society, in particular director Henry Howard who also happens to be our Honorary Consul in Florida, collaborated with Sentro Rizal in Washington, DC to host the opening reception of an art exhibit featuring the paintings of award-winning artist Maria Mari Murga and the work of Mindanao craftmakers.
Held at the Philippine Embassy Chancery Annex, the exhibit titled Liwanag: A Journey Through the Philippines Way of Life attracted Philippine Embassy friends and other guests from the Metropolitan DC area.
As explained by Consul General Renato Villa, liwanag is the Filipino word for "light," which perfectly captures the intent behind the works of the renowned artist to "shine the light on regions that seldom received positive attention and recognition that they deserve."
The carved frames for the paintings were handmade by craftsmen from Mindanao who used gmelina wood. The frames themselves are works of art that celebrate the rich culture of Mindanao.
Filipino-Spanish Maria traces her Filipino roots to Zamboanga City in Mindanao. Her grandfather was a World War II survivor of the Bataan Death March, so it's no wonder why her love for the Philippines and its history runs deep in her veins. The multi-awarded artist specializes in Renaissance painting techniques, having obtained training in Florence, Italy. Maria has traveled to many rural areas in the Philippines, including Mindanao, where she spent part of her childhood, in order to capture the real-life images that illustrate the way of life of indigenous peoples in the various provinces she has visited.
She shares that Liwanag: A Journey through the Philippines Way of Life chronicles her year across different provinces of the country. "Liwanag is a Tagalog word for enlightenment and it represents the light an artist uses to render painting, but it is also the light of knowledge by putting a spotlight into scenes out from the shadows of the unknown," Maria explained.
She also shared her experiences while living with indigenous groups, answering questions from the audience who wanted to know about her artistic process as well as a detailed back-story about one of her paintings. Before the exhibit at the Philippine Embassy Chancery Annex, Liwanag was also showcased at the Philippine Center in New York.
"It is seldom that you see an artist of this caliber in our contemporary time. It is a great story of cooperation; it is a great story of what we are trying to do together," remarked US-Philippines Society president Ambassador John Maisto, stressing the importance of featuring the work of Filipino artists before American audiences.
Maria Murga will be in Manila in mid-February next year for an exhibit at The Peninsula Manila.