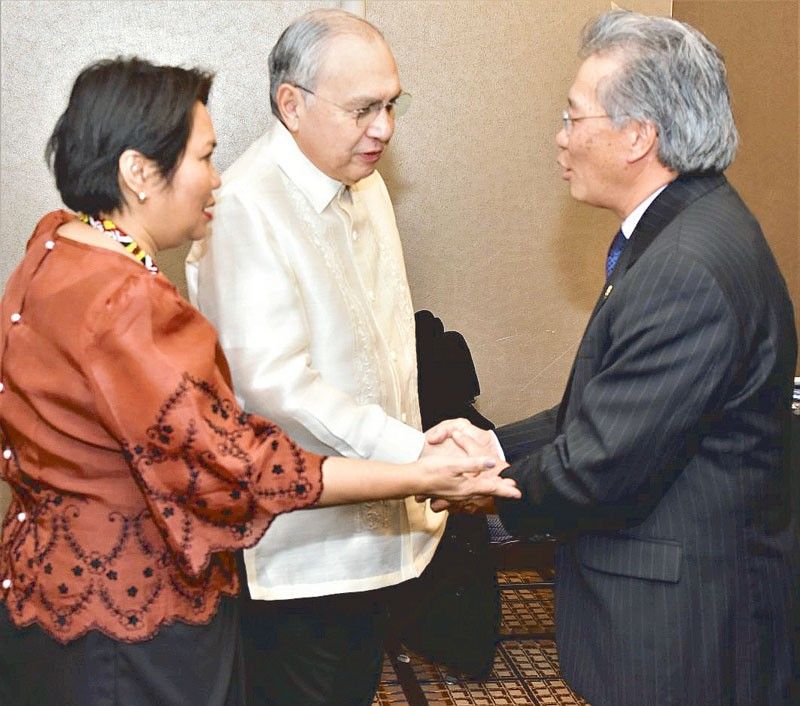 Consul General Gina Jamoralin and Asian American Executive Network founder and Global Consultants United's George Mui.
Midwest Pinoys show solidarity
THIS WEEK ON PEOPLEASIA
-
Babe Romualdez
(The Philippine Star) - November 17, 2019 - 12:00am
We were in Chicago for a luncheon meeting with leaders of Filipino community organizations from Illinois, Nebraska, Iowa, Missouri and Wisconsin, with the official engagement organized by the Philippine Consulate General in Chicago headed by Consul General Gina Jamoralin.
The meeting, which was held at Tita Mia's Filipino Restaurant & Cafe (owned by Gary San Diego and his Korean wife Mia) in Niles, Illinois, was also graced by Maywood Village, IL Mayor Edwenna Perkins; Bolingbrook, IL Deputy Mayor Michael Lawler; Justice Jesse Reyes, Democratic candidate for the Illinois Supreme Court; and Isiah Brandon, trustee of Maywood Village, IL.
Also with us during the meeting were Subic Bay Management Authority chairman and administrator Wilma Eisma, who was a participant to the Federation of Philippine American Chambers of Commerce (FPACC) Bi-National Conference held recently at the Hyatt Regency O'Hare. Founded in 1966, the FPACC which has 42 chapters across the US aims to promote goodwill and mutually beneficial projects between the Philippines and the US.
Also in attendance was retired US Navy Capt. Brian Buzzell, who was stationed in the Philippines as the representative of the commander-in-chief of the US Pacific Command. Not many people are aware that Brian who is also a member of the US-Philippines Society was one of those who worked very hard for the return of the Balangiga Bells to Samar. And rightly so, he is now considered as an "adopted son of Balangiga."
Maywood commemorates Bataan Day annually in honor of the members of the 33rd Tank Company, 33rd Infantry Division of the Illinois National Guard based at the Armory in Maywood, IL, who were deployed in the Philippines during World War II. Bolingbrook, on the other hand, has been the venue of Piyesta Pinoy or Philippine Fest for the past six years.
One of the major anchors of the relationship between the Philippines and the US is the deep ties between the people. Filipino-Americans should be recognized not only for their role in preserving the friendship between the two nations, but for contributing to the positive image of the Filipinos and the Philippines in America.
I spoke about the ongoing economic developments in the Philippines, particularly the administration's massive "Build, Build, Build" infrastructure program, and also invited those present to participate in the Independence Day celebration being planned in June 2020 in Washington, D.C., with the occasion serving as an opportunity to highlight the strength and solidarity of the Filipino-American community in the US seat of power.
There are an estimated 328,000 Filipinos and Filipino-Americans in the Midwest, majority of whom are based in Illinois, Michigan and Ohio. *