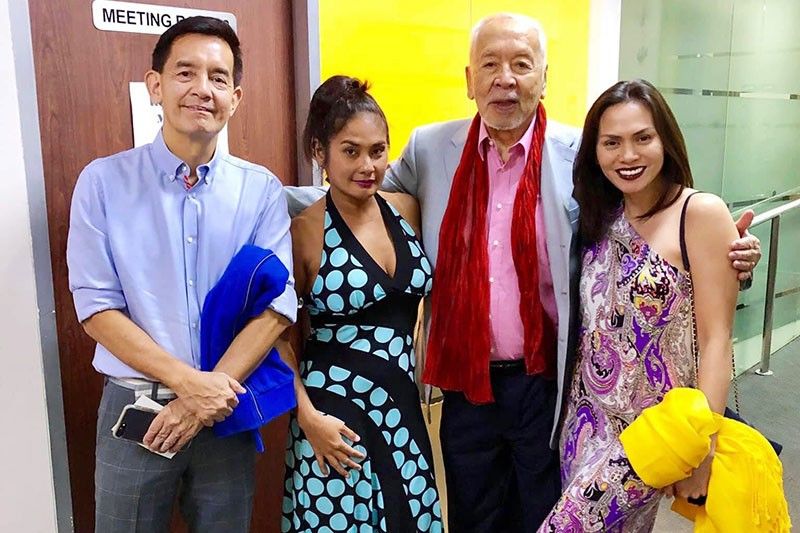 (From left) The author, Sue Prado, sir Tony Mabesa and Issa Litton at Joel Lamangan's Rainbow's Sunset premiere in December 2018.
The leonine presence has left the theater (Long live his influence!)
When I first met sir Tony Mabesa, it was 2013, and I was at UP's Palma Hall to support Issa Litton in, and pen a review of, his Dulaang UP production of Webster's Jacobean drama, The Duchess of Malfi. At the cast party after the final show, he went out of his way to thank me for the review, and gave me an imperious half-smile that signaled he certainly knew what he was doing; but having read my review, he was acknowledging that I, at the very least, had a glimmer of understanding about his intent, and of theater in general. I loved it, it was like the king had granted his vassal (me) a dispensation; and it went some way in my appreciating the kind of sway he had over the hundreds of grown-up adults who have worked under him (the MabesaBabes), respect him, and crave for his attention and approval — and now mourn his passing away at the age of 84.
It's a reputation and presence he's earned for over 40 decades. The founding artistic director of Dulaang UP in 1976, and connected to the UP Playwrights Theater, sir Tony has lent his name as director and actor to over 170 productions. Obviously I'm not a MabesaBabe; but my recurring encounters with him, and talking to the people who surround him, have given me an impression of what kind of void he now leaves. It was certainly a long shadow he cast, and he ruled it with a masterful use of both the iron hand and quick tongue-lashing, then coupled with the velvet glove and sought-after words of praise. Apparently, it's even something of a badge of honor to have received the Mabesa glare, raised eyebrows, and/or choice words of derision — at least, he had finally acknowledged your presence, and noticed you! As a result, all under him were ready to give him their last drop of blood.
And what I loved about him was how he accepted Issa into the DUP "family." As one of the country's most sought-after live event hosts, Issa loves her acting, but faces the fact that as a single mother to two daughters, it's the hosting and not the acting that will bring in the money. As a result, I sense how some stage directors and theater company artistic directors still consider her a dabbler or dilettante; when in fact, I witness her devotion and commitment each time she is cast. With shows of sir Tony, before Grab and Angkas even existed, she would arrange trips with a friend's driver, who owned a motorcycle, so she could make lagare from some hosting gig to UP, avoid the traffic, and get there by cast call-time.
With sir Tony, it was simply: you impressed him at the auditions, he had cast you, and as long as you rehearsed, went off-book when needed, knew both the English and Filipino versions of the text, and got to the theater prepared and on time — it really didn't matter that you did other things not connected to theater the rest of the day. Sir Tony "embraced" Issa, she loved him for that, and I loved him in turn for letting her indulge in her appetite for acting. Her last DUP production with sir Tony was Nick Joaquin's Fathers & Sons, and Issa even earned a BroadwayWorld nomination as Best Featured Actress in a Play.
In December of 2018, Issa and I trooped to the TriNoma theater where Rainbow's Sunset was having its Metro Manila Film Festival movie premiere. The film starred Eddie Garcia, and sir Tony was in the cast. We joined sir Tony, visibly surprised to find Issa and me in attendance, we joined sir Tony after the film's showing and we were telling him that he was a shoo-in to snare MMFF Best Supporting Actor — by that night, I had viewed a number of the other entries. I loved how sir Tony was shrugging off the compliment, while his face seemed to be asking, "You really think so?" And we were right, as he did snag the award.
When I heard the untimely news that sir Tony was gone, the one memory I have that kept replaying in my mind was how, after one of his plays, while Issa was still backstage, I went up to him to congratulate him. He smiled that tight-lipped grin of his as if to say there would be better nights, then said in his deep resonant voice, "O, but Philip, wasn't Issa wonderful tonight! You should be very proud of her." And then he impishly smiled, and walked away, saying, "But don't tell her I said that."
Sir Tony, I will miss you. And I can only make a stab at guessing what Issa is feeling. Along with countless others whose lives have been touched by your magisterial presence, you leave a major vacuum. The other week, I was having a discussion with some friends about how it's such a shame that the conferring of National Artist is at times, tainted by politics and influence; and more unfortunately, is often awarded when the person has passed away, or at an age when he or she can no longer really enjoy it — and even the grants don't amount to much artistic output.
I consider National Artists Alice Reyes and Ryan Cayabyab as among the exceptions, and wish there were more like them, still able to enjoy that special status and recognition. I can't prognosticate on how history will treat sir Tony but I know that for several decades now, for many of the theater luminaries of today, he has been more than their National Artist. As mentor, as benevolent godfather and guardian, as THE Sir of their lives, sir Tony Mabesa leaves a legacy that not many will ever match.