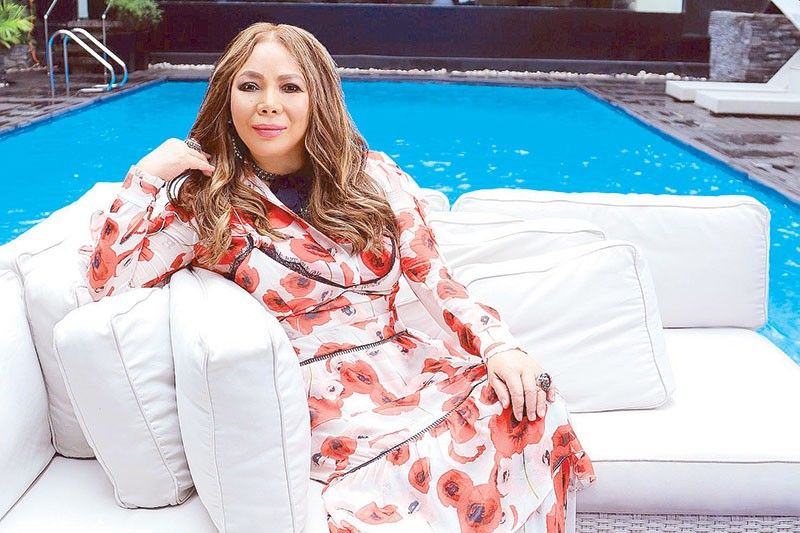 Tina Cuevas lounges at the pool area of Sulo Hotel Riviera wearing a dress by Australian designer Nicholas and Lanvin necklace and earrings.
The inimitable Tina Cuevas
Hosting intimate parties is both art and science.
It requires meticulous preparation — the food, the ambience, the flowers, the chandelier, if needed, above the dining table, the china and silverware to be used and the music to be played. That's the art part.
It also entails getting into the psyche of guests to be invited and how they will be seated. Are guests of the same energy level? Is there a livewire in the group? Do the invited guests complement each other? There's an impeccable amount of psychology that goes into hosting a dinner and making sure that there's chemistry among guests is a requisite of a successful affair. That's the science part of throwing an intimate party.
Those are the thoughts of Tina Cuevas, executive director slash owner of the Sulo Hotel Riviera in Quezon City.
"Every party is a celebration. And every celebration needs keen attention to detail to make it work, to make it successful," begins Tina, a "host with the most."
Tina has a reputation for hosting talk-of-the-town intimate parties. Entertaining is second nature to her, a result of her 18 years of living in Spain. She went to Spain to study language — Tina speaks Spanish fluently — and finished another course on business management in Barcelona. She fell in love with Barcelona and decided to put up her own wholesale import-export business of home ware, household products, interior designing items, decorative items and accent furniture pieces in the city.
"There was no motivation when I started to host parties. It came out naturally. I entertained a lot when I was in Barcelona. And also during our summer vacations in Marbella. So, most of the time, we had so many friends vacationing for summer in Marbella, friends from all over Spain. We met once a year, we partied in our house," she says, adding that she would take a vacation in the Philippines for a few days once a year.
She came home for good in 2009 when her father acquired Sulo Hotel and requested Tina "to do a facelift of the hotel and run it."
In Sulo Hotel, where the staff is highly trained and the Filipino food is never second best, Tina found a new playground where she can host parties.
A standout when she attends parties, Tina makes sure she is at her best, too, when she throws parties.
"I wear outfits that express my mood with the intent to express my true self. My look is often layered and colorful. I accessorize a lot, which makes my look unique," Tina says.
Her favorite Filipino fashion designers are Randy Ortiz, Jerome Salaya Ang and Rhett Eala. For international brands, her closets are also filled with the creations of Roberto Cavalli and Australian designers Alice McCall and Zimmermann.
For her accessories, Tina favors local designers like Wyn Wyn Ong, Erica Concepcion, Ann Ong, Tim Tam Ong, Adante Leyesa, Mark Wilson and Arnel Papa. Of course, her collection will not be complete without brands like Gucci, Roberto Cavalli and Prada.
Tina appears peerless when it comes to her sartorial style. She dons a gown or a long dress that bursts in a spectrum of colors and commands joy. When she wears her accessories — she has a treasure trove of those — she radiates a refreshing verve, the zest and gaiety of compleat party host. Despite her deliberate use of heavy accessories, Tina is buoyant in style and nature, the epitome of enjoyment of life. In that case, she's joie de vivre personified.
She greets her guests — not more than 20 of them to make it really intimate, she says — and makes them feel at home at Sulo Hotel. She makes sure the conversation is convivial, flowing. The dinner ends with guests still lingering at the venue — either dancing in a corner, marveling at the state-of-the-art table accentuated with the most beautiful blooms or lining up again in the dessert table filled with a number of cakes and other sweets.
Tina smiles. Her lips puckered in happiness. She captures the energetic joy of the moment with a group photo using her ubiquitous selfie stick. Her happy, generous soul is able to make her guests happy. It is her desire to bring joy to people's lives. That's what makes Tina Cuevas the inimitable party host. *
(E-mail me at bumbaki@yahoo.com. I'm also on Twitter @bum_tenorio and Instagram @bumtenorio. Have a blessed Sunday!)