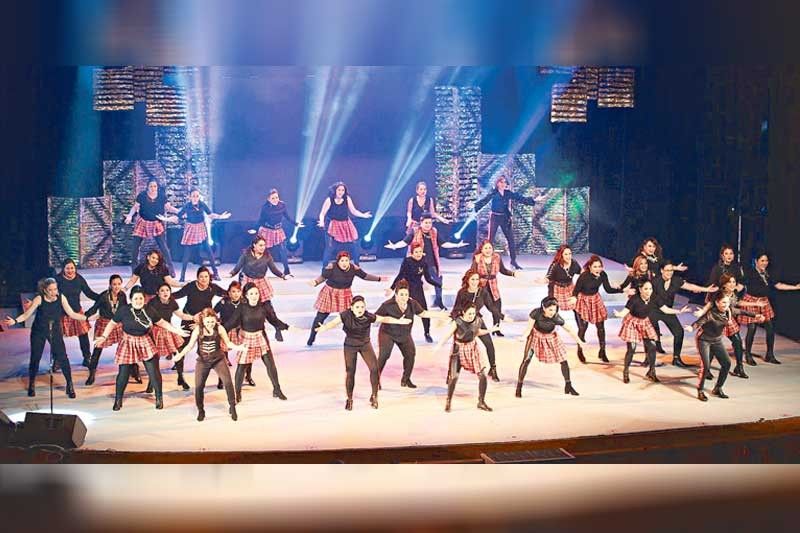 Silver jubilarians dancing to This is Me are Grace de Castro, Kai Palomares, Pam Sanchez-Fianza, Melissa Henson, Ace Dizon-del Castillo, Rhea Henson-Manotok, Doris Sta. Ines-Salvador, Len Carlos-Ocampo, Jennie Bautista-Diego, Malou Fernandez-Tapang, Liesl Samson-Suarez, Jill Reyes, Adiel Santos-Bonifacio, Janlo Nuñez-Cui, Cecille Legaspi-Santiago, Maia de Claro-Fonacier, Chyll Hidalgo-Ramirez, Giselle Tolentino-Eduque, Theresa Mejia, Margaux Romero-Atayde, Mars Magpayo-Montaño, Kai Salvino-Felidia, Cara Salangsang-Marcelo, Josette Bello, Pie Ramiro, Jenny Santos-Silayan, Margie Jahrling-Sadhwani, Anna Naguiat-Africa, Tet Roces-Ruiz, Michelle Santos-Lim, Riza Mañalac-Vinluan, Peaches Atayde-Buendia, Trixie Flancia-Legaspi, Elise Tinio, Lui Gutierrez and Tina Jalandoni-Feria. Photo by Bernie Paras-Gan, choreography by NAncy CRowe and assistant choreography by Monica Abiena
'Action: United in Faith to Serve'
A joy-filled and meaningful homecoming day for the dear Old Girls of the Assumption took place recently at the San Lorenzo Makati campus.
It started with a special Mass in the Assumpta Chapel celebrated by Fr. Dennis Paez, who gently reminded us that on this Mission Sunday, we are each called to a life of service. During communion, he urged us to reflect on this prayerful question. "Jesus, what do you want me to do for you?"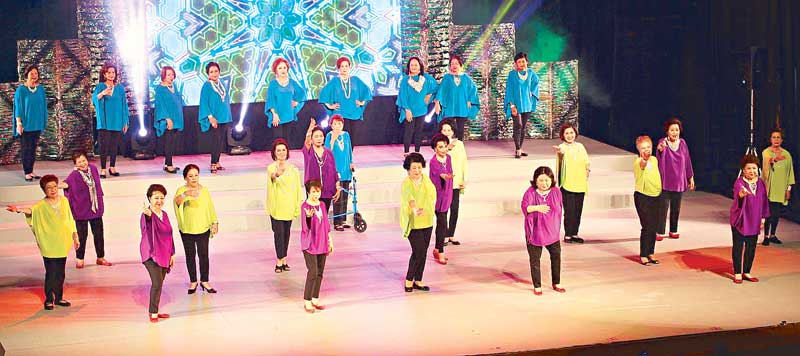 Diamond jubilarians dancing to Diamonds Are Forever, My Girl, Sugar, I Will Follow Him, Uptown Funk and Funky Town medley are Josie Nieto, Ma. Teresa Torres, Chari Gregorio, Angela Tiongson, Mert Loinaz, Pilar Lanza Camps, Maryann Pernas, Emily Mora, Mila de Jesus, Yoya Tanseco, Millie Salvatiera, Adela Lim, Marylou Albert, Tina Guingona, Nona Ricafort, Glecy Mojares, Linda Tiangco, Girlie Zaldarriaga, Eloisa Malvar, Jenny Lazatin, Inday Torres, Tessie Yam, Lina de Joya, Azon Bautista, Patsy Henson and Patsie Leviste. Photo by BERNIE PARAS-GAN and choreography by MARGOT ESPLANA
It was so timely that this year's hosts, the spirited Silver batch of 1993, aptly chose "ACtion: United in Faith to Serve" as their velada theme. These Silver Belles have ventured out to live their days not just in words but more importantly in charitable deeds. It was quite evident that these fun-loving teens from the early '90s, who have grown into women of strength that are rooted in faith and service, now live with the conviction to take action.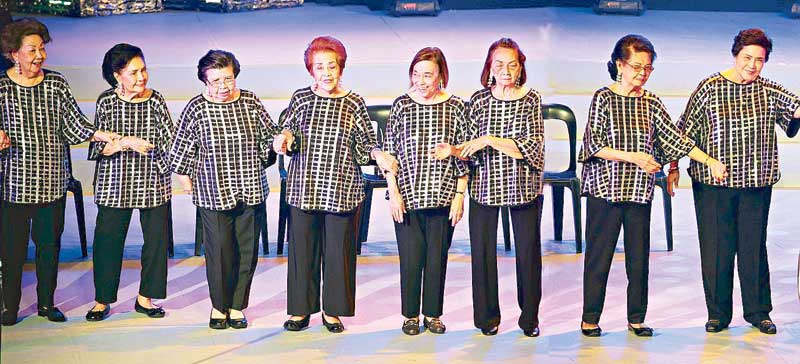 Platinum jubilarians dancing to Cariñosa are (from left) Asuncion Soriano Jalandoni, Teresita Lizares Andaya, Aurea Evangelista Sarmenta, Digna Agra Roxas, Maria Paz Eleizegui Weir, Mary Luis Gancayco, Virginia Gonzales Pantaleon and Chloe Romulo Periquet. Photo by Bernie Paras-Gan and choreography by CHLOE ROMULO PERIQUET
Co-jubilarians who performed in the sensational 2018 velada program also shared how they have been giving back through lives well lived. Received with wild applause were the ultimate participation of the Platinum class of 1948, the Blue Diamonds of 1953, who fill the world with love; Diamonds of 1958, who live a life of fervor; the unique Emeralds of 1963, who produced three Assumption nuns — Sister Bernadette, r.a. (Bernadette Casas), Sister Fidelis, r.a. (Ana Maria Estrada), and Sister Stella Marie, r.a. (Stella Sanz); and the forever young Sapphires of 1973 who rocked the stage with joyful grace. *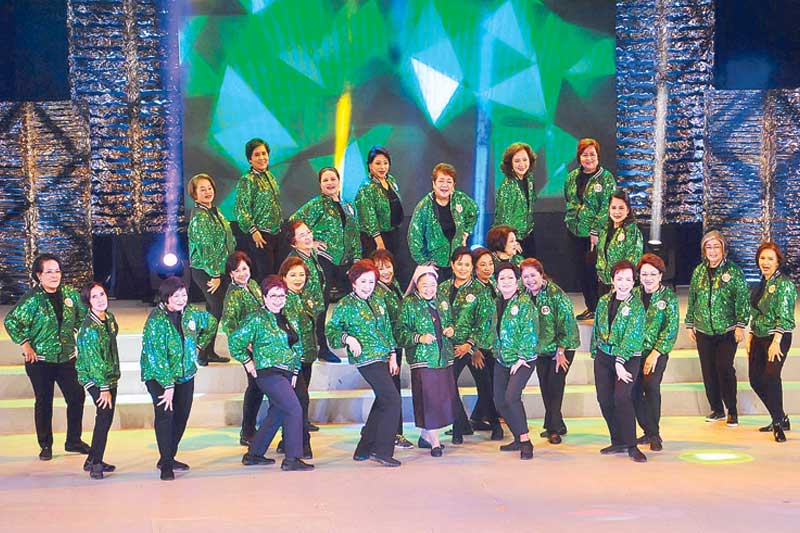 Emerald jubilarians dancing to BBoom BBoom by Momoland are (first row, from left) Alma Ocampo, Christy Puno, Chari Simons, Rosa Francisco, Sister Bernadette Casas, r.a., Beng Torres and Marfina Teodoro; (second row, from left) Georgy dela Cruz, Beb Jamora, Myrna Hallare, Rosary Benitez, Bing Magpayo, Angie Lacson, Nettie de Villa, May Jacinto, Renee Francisco, Luisa Guysayko, Tessie Carlos and Baby Wijangco; (third row, from left) Cynthia Serrano, Frida Evangelista, Baby Araneta, Linda Lagdameo, Marieliese Evaristo, Isabel Guevara, Gina Suarez and Odette Huang. Photo by JUN TAPAN, choreography by MARGOT ESPLANA and assisted by BYRON AGGABAO
(To be concluded.)
(Would love to hear from you at miladayjewels@yahoo.com.)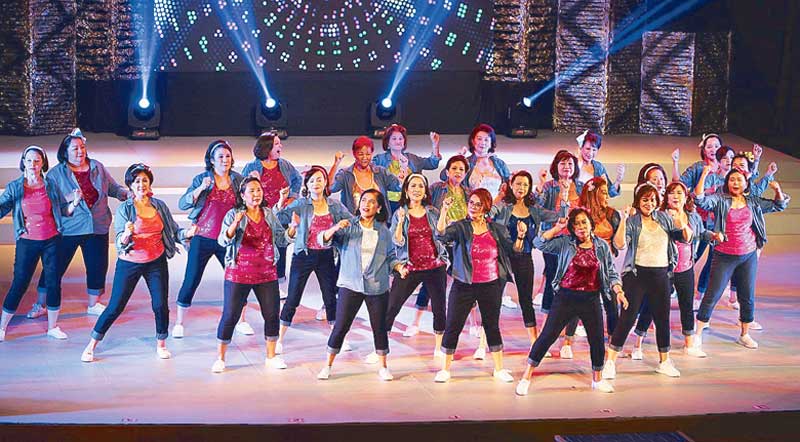 Sapphire jubilarians dancing to Hairspray, Grease and Footloose medley are Marvi Sala, Kukay Fragante, Marivic Eraña, Vivian Madrigal, Zita Gabaldon, Maricris Brias, Millie Martirez, Maris Garcia, Ria Ojeda, Lori Pascual, Sunny Simonds, Victa Magcase, Vicki Mendiola, Marylee Mendoza, Bambina Herbosa, Celine Gonzales, Lois ilustre, Bong Cosio, Sabrina Panlillio, Mariro Gamboa, Marijo Ferraren, Maita Vergel de Dios, Marite Pobre, Lit del Rosario, Ditas Santos and Ana Pastellero. Photo by BERNIE PARAS-GAN and choreography by KRIS-BELLE PACLIBAR-MAMANGUN