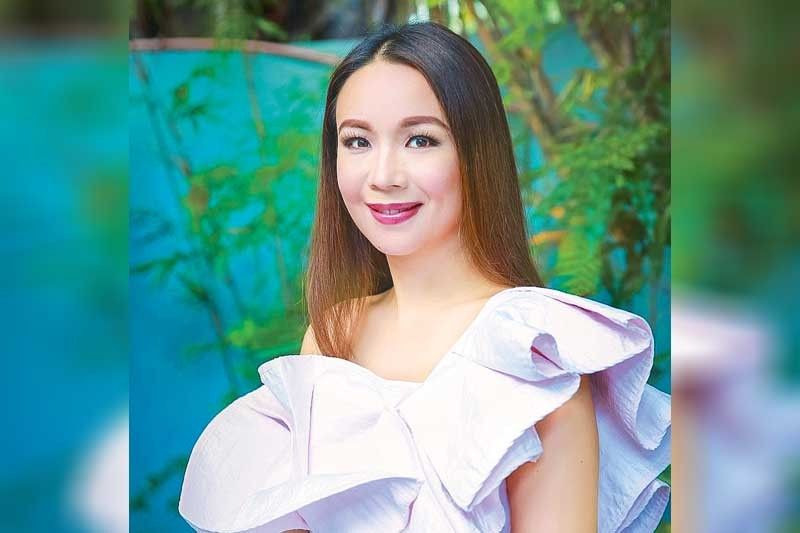 Tootsy Echauz- Angara.
Photography by GEREMY PINTOLO
Celebrating love & family
MANILA, Philippines — Serenity is in Elvira "Tootsy" Echauz-Angara's heart. It allows her to gracefully glide through life of positivity and contentment.
With the roles she plays — wife to Sen. Sonny Angara, mom to three kids, a media executive — Tootsy is able to maintain her positive disposition by starting her day with gratitude and good intentions. "By starting the day with gratitude and prayer, you'll be positive about what you are going to face. In staying positive and knowing that you are doing your best, you can face anything," she shares.
As the cluster head for advertising and sales of entertainment and lifestyle ecosystem at ABS-CBN, it's a must that Tootsy, who has been with the company for 23 years, is up-to-date with new technology and trends. More than that, she makes sure she's available to her clients or colleagues when the need arises.
"I do a lot of mentoring and making my team feel inspired because with the whole digital revolution, message and content are still key," says Tootsy, who, with her calm and collected demeanor, takes charge at work with positivity, a trait that is already ingrained in her. She thrives at work with the "let's do better than what we did last year" and "how can we improve or challenge ourselves?" attitude than the "beat the competition" style.
* * *
In her line of work, Tootsy is required to face colleagues and clients and it is important that she combines her smarts with style. "When I start the day feeling confident and comfortable, then I feel it will be a good and productive day."
Whether at work, events or any occasion, Tootsy, with her chic and practical fashion and signature neutral makeup, always stands out. For this shoot, Tootsy wears the Kris Matte Liquid Lipstick in Lucky that complements her alabaster skin. This deep mauve pink creamy matte lipstick is pigmented and transfer-proof once completely dry. It comes in five universally flattering shades and is infused with antioxidants to help keep the lips soft and smooth. For her brows, she wears the Kris Brow Liner and Mascara in Happy Taupe and Beyond Brown. It is a 2-in-1 product to refine the brows in two easy steps (use the brow liner to lightly fill in sparse areas then finish-off using the brow gel to color and hold hairs in place).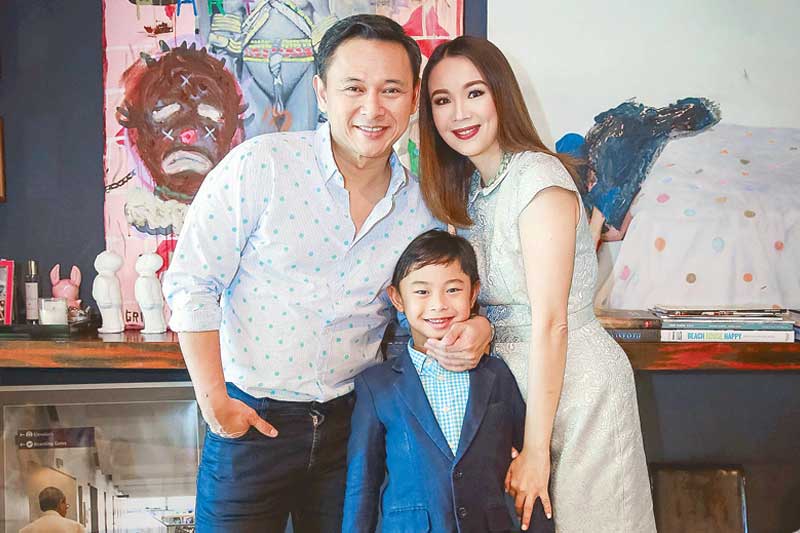 Sen. Sonny Angara and wife Tootsy with their youngest son Javier.
To accompany her impeccable style, Tootsy makes sure that she takes time to take care of herself mentally, spiritually and physically. "It's having gratitude in my heart, counting my blessings and being content with the life I choose to live. Physically, I work out four times a week because the happy endorphins are effective in making me go through my day with a positive outlook and lots of happy thoughts."
* * *
Tootsy considers the best part of her job is being able to share content that delivers messages of hope, family values with a balance between positivity and the truth. "Like with the telenovelas that we sell and air, there's still love of family, love of country where we show that core values still matter. If you are able to send that message, even if you only affect one person, that's good enough."
These values are what Tootsy also instills in her children Manolo, 14; Ines, 12; and Javier, seven. With the world her children are growing up in, the loving and affectionate mom believes that kindness is their best weapon in navigating life. "You can never go wrong with being kind. You choose to be kind because the power of a word, the power of a pat on the back and the power of a smile create a great impact on someone. Kindness can make someone feel that life is worth living."
In raising their precocious kids, Tootsy and husband Sonny, whose relationship is founded on understanding and support, work hand in hand to ensure that they have the best life they can get. "The relationship between Sonny and me is basically pretty much the same. We understand and respect each other's careers and we have the same goals in life," she shares.
The couple's relationship is even stronger, Tootsy says, especially after the passing of their loved ones — her mom, writer and model Baboo Mondoñedo in 2015, and Sonny's father, Sen. Edgardo Angara, in May. "Sonny's dad was the kindest person in the world, a doting grandfather to his apos. And my mom, who influenced me a lot, really helped me in taking care of the kids when I would be at work. So, the kids had this lolo and lola bond. Now, Sonny and I have big shoes to fill. We're both still mourning our favorite people in the world."
With mourning comes courage and acceptance that's why Tootsy and her family choose to remember the good times and the life lessons her mom and father-in-law have instilled in them. They also learned to "be honest enough to cry when you want to and really stand together as a family."
Every day is a blessing for Tootsy, who is also grateful for her gift of good health. "I learned from my mother, who lived such a simple life and never complained, to be brave, to choose to see the beauty in everything, and choose to be happy."
And with this, Tootsy chooses to celebrate what's important — love and family.
Makeup by MARTIN OROSA and hairstyling by PETCHI OMBROSA of EVER BILENA