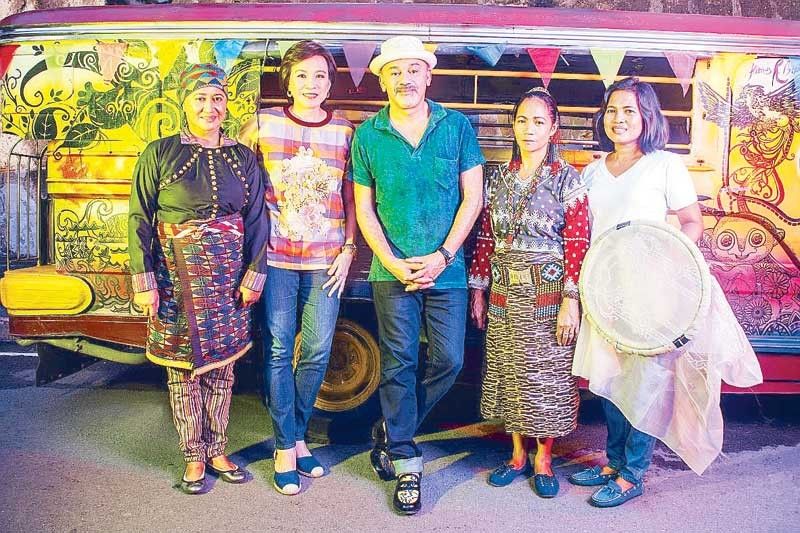 (From left) Microentrepreneur from the Yakan tribe Angie Ilul, the author, Christian Louboutin, B'laan weaver Felipa Manangka and embroider-entrepreneur Elizabeth Agarao from Lumban, Laguna.
Working with Christian Louboutin: On the fringe of luxury
If I were to ride luxury, it would be "responsible luxury" defined by beautiful things that make an impact, that serve a social responsibility with top quality materials and extraordinary detailed craftsmanship.
Well, never in my life would I have thought I would be working with a master luxe designer, brand and his global team. Enter French luxury designer Christian Louboutin of the red-sole shoes worn by the rich, famous, celebrated and ultra-fashion conscious elite. Soft spoken and such a gentleman, Christian unassumingly visited Manila, was inspired by what he saw, and now conquers our inspirational fashionista hearts with the Manilacaba. His series is called "Treasured Totes," which he works on with small weavers, NGOs and groups to create limited edition bags. The previous Africaba and Mexicaba celebrated the weaving cultures and artisans of both Africa and Central America. Now, it's Asia's turn and it was to the Philippines that he came.
The Manilacaba collection is a story of mutual respect. And now, an experience happily shared by our GREAT Women Platform and Brand. Especially when it brands our country, our people and culture beautifully. The partnership takes on board the GREAT Women in ASEAN initiative, our advocacy-driven marketing platform and brand supporting the economic empowerment of women artisans and their craftsmanship. Through the work we do in our ECHOsi Foundation in the Philippines, the GREAT Women Platform and Brand is working with its national gender development platform supported by the governments of the Philippines and Canada. Alongside the Philippine Textile and Research Institute (PTRI), we are standardizing our weaving centers, weaving processes, textile materials towards market consolidation.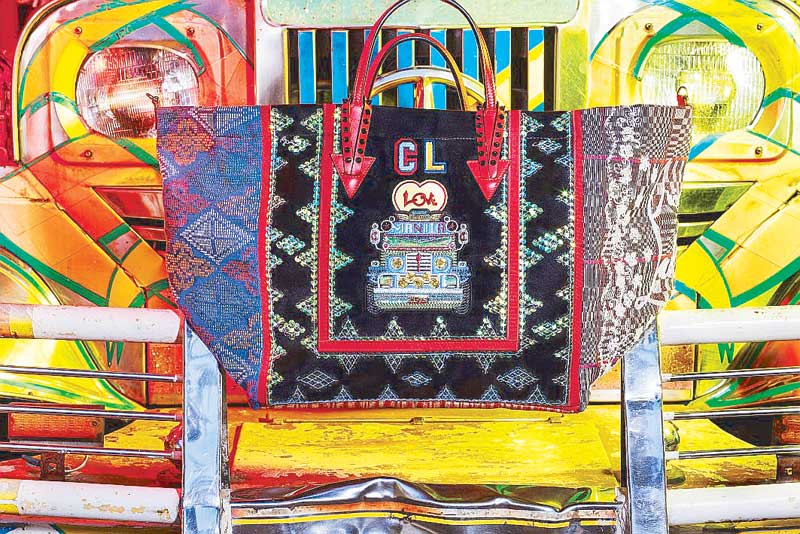 Manilacaba collection by Christian Louboutin featuring the iconic jeepney and textiles and embroidery from Luzon, Visayas and Mindanao.
With a clear intent of working with small local communities, Christian and his team have stretched patience, their good hearts, plus exacting perfection in design and strict production guidelines in this truly inclusive supply chain. Meanwhile, we in the GREAT Women Philippines team were stretched with stress with logistical challenges of weavers from across the archipelago: from Iloilo (Miagao, Oton and Salngan), Ilocos and T'boli and Yakan tribes. How would we describe our tensions when weavers chose not to work and instead go off to fiestas oblivious of deadlines; when their cooperatives have no formal planning for material and thread sourcing for such huge orders; when one weak (one community) link in the chain held everyone back; or when a typhoon drenches a weaving center up in the hinterlands.
What do you do when a deadline of a global launch comes closer and fulfillment of orders are way beyond our hands, no matter how professional we are at GREAT Women. But as in any production, any show, any artwork's blood, sweat and tears to produce, we learn lessons from them and are awed by the beauty of the finished product. In hindsight now, we look at the value of our role in the value chain that links designers and community weavers, making sure quality is achieved and orders delivered!
When I toured Christian around Intramuros, spent a whole day for a photo shoot, spent another day in handicraft stores explaining our crafts, his eyes were those of a child, inspired by our embroidery on piña, our indigenous handwoven textiles, our Mother-of-Pearls. He loved our iconic jeepney (not sure about our traffic) but he did get deeper insight into us as a people. The result, two designs of the exuberantly playful Manilacaba composed of panels, each with a story, each by a specific community, with Luzon, Visayas and Mindanao represented. He has managed to capture the celebratory, creative, colorful nature of both the Filipino culture and his brand!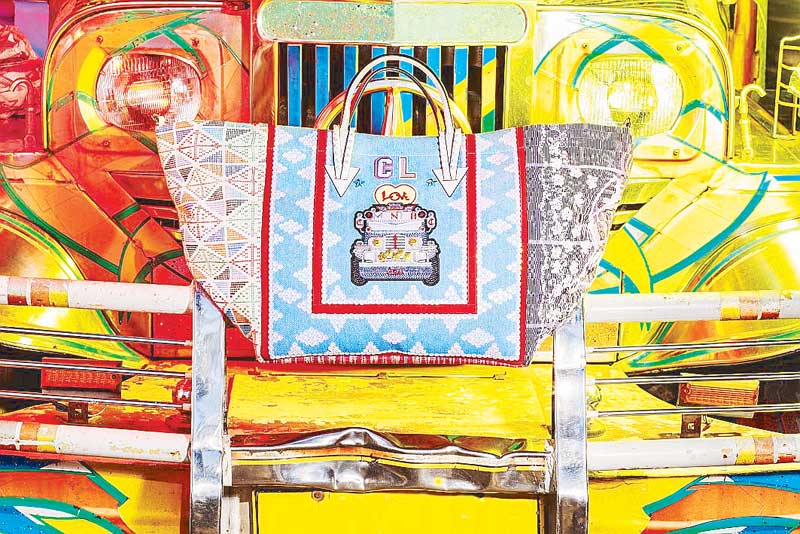 From Luzon is the traditional op-art Binakol textile from Ilocos embroidered with the traditional barong florals that Lumban, Laguna specializes in. The Visayas is represented by the checkered patadyong from Iloilo, while Mindanao makes a statement with the diamond geometrics of the Yakan tribe and abaca T'nalak by the B'laan tribe. The central motif of the bag is our unique festive jeepney, framed by Mother-of-Pearl beads influenced by the T'boli costume.
Designing the side-panels with Christian was a rich experience. The pattern he elaborated for them was new for the artisans who were used to weaving traditional motifs with this technique. But when our team saw the encounter of tradition and creativity happen on the fabric, we thought: how interesting, we should have done this before!
Christian and his Manilacaba set our standards high, and made us at GREAT Women doubly ambitious. I want his bags to sell out (the initial Neiman Marcus online grouping sold out in minutes), I want the world to clamor for them. In his success and position, he chose to come to a developing country through the introduction of a common friend, Maritess Tantoco-Enriquez, to hold hands with a small company to touch even smaller cooperatives of the woman weaver. Such collaboration is what I want to wake up to every day for it is a unique chance to help artisans grow and put their work in the light. It is the opportunity to create impact together. Ten percent of every tote sold goes to support our development work at GREAT Women. When my partners and I set the platform towards the ASEAN market, we never expected to take on the global fashion and apparel world. I believe we just started…with the help of Christian Louboutin.