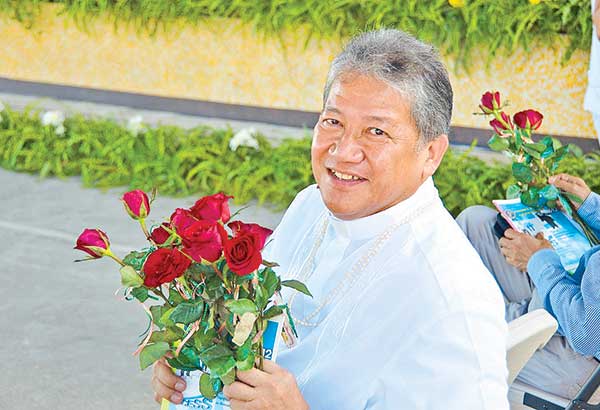 Fr. Gerard Deveza: The reluctant healer
(The Philippine Star) - August 19, 2017 - 4:00pm
A miracle is a profound manifestation of God. People pray for a miracle in moments when human intervention will not suffice. People hold on to a miracle because it is the closest divine experience they can have.
Fr. Gerard Deveza, a healing priest who founded the mission school Divine Healer Academy of Sorsogon, always encounters people praying for a miracle. He has the gift of healing the sick but he remains a humble servant.
"I don't heal. It is God who heals. I am just a vessel," he says.
Fr. Gerard, then a Sorsogon-based priest, started to discover his gift on Feb. 25, 1991. On that day, a healing priest from Manila was supposed to conduct a healing session in Sorsogon. However, his plane did not land in Legazpi due to inclement weather.
Fr. Gerard partly blamed God why the healing session was cancelled. "Lord, You could have cleared the sky for the plane to land," he remembers telling God.
Early that day, Fr. Gerard, that time a manager at a radio station in Sorsogon province, gave confessions to those who were terminally ill, in crutches, on wheelchairs, lying in folding beds. His first instinct was to send home the people because the healing priest was not coming anymore. The healing session would be rescheduled but he did not know when.
"Mimisahan ko na lamang kayo. (I will just say a Mass)," he told the people in the church.
After asking permission from his superiors to say Mass, he sat by the altar, still blaming God for the cancellation of the healing session that day. While putting on his chasuble, he felt a warm surge in his head. "It felt like someone was pouring hot liquid lead in my head, right at the center," he recalls. He was not running a fever. And the heat was tolerable.
Before he started the Mass, he confessed to the crowd. "I want to tell you that I feel ashamed before the Lord. I discounted Him by saying earlier, 'Sure, I will just say a Mass.' I did not give importance to it when in fact, the Mass is the most important celebration inside the church)," he says. Inside him, he was also asking forgiveness from God for blaming Him earlier for the postponement of the healing session.
The Mass went on.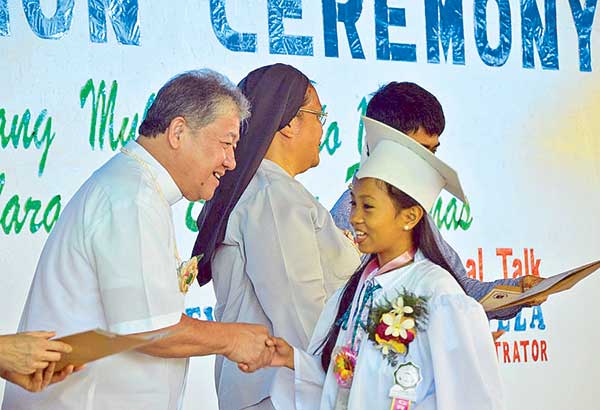 Divine Healer Academy of Sorsogon founder Fr. Gerard Deveza congratulates Grade 6 first honor student Kim Lasay.
Photo by VINCENT SOLIVEN
"When I was delivering my sermon, there was heat coming out of my body. During consecration, the heat became more intense," he says. He concentrated on saying the Mass. In his mind, he was also praying, "Lord, please heal the people who are here."
Nothing extraordinary happened after the Mass. Only, the priests and other people who knew Fr. Gerard well were startled about two things. One, that Fr. Gerard was able to deliver a soulful homily. "I was not known to deliver good homilies." Two, that the priest said his homily in straight Bicolano dialect, in Sorsoganon style. Fr. Gerard, born and raised in the streets of Manila, did not know how to speak Bicolano.
"It was not you who said the Mass," said one of his friends. But Fr. Gerard kept mum about it.
Some people asked him to lay his hands on the sick. He refused. The crowd went home. Fr. Gerard was left thinking to himself about the heat he felt during the Mass.
His priest friends egged him to become a healing priest. He brushed off the idea. On March 9, 1991, some church people asked him to say Mass again. This time at the chapel near the place where Sorsogon Bishop Jesus Varela was staying. They also asked Fr. Gerard to perform a healing session. He agreed on one condition. "The members of your group," he told the church people, "and I will lay our hands on the people." They agreed. After the Mass, the healing session began. Many people got "slain." But Fr. Gerard did not claim it was his doing. "See, one of us, or two or three or four of us — maybe, all of us — have the gift of healing." He went home. The people were happy. They could see "hope" in the priest.
The following week, on March 16, the birthday of Fr. Gerard, he said Mass again to the same church group. And people requested if he could lay hands on the members of the same group. He agreed. On one condition — that they would bring two people who were not members of the group. They did. After the sermon, he laid his hands on everybody present and everybody except the two new recruits was "slain."
He continued the Mass. In his mind, the group was just pulling his legs. He had no powers to heal.
"When I was offering bread during the Mass, I closed my eyes. I couldn't open them anymore for a long while. In my head, I was asking God, 'Lord, are you confirming with me the gift of healing? I hear an answer: 'Yes.'
"I found myself in a discussion with the Lord, my eyes still closed. 'How come the two new ones were not slain?' I heard an answer: 'Tell those two and the others who will ask for healing, if they want to be healed, let them humble themselves'."
To humble oneself, Fr. Gerard says, is to ask for forgiveness if one wronged someone. "And if someone wronged you, you have to forgive. Then you will be healed."
When the Mass was over, he told one of the two newcomers, Maning, who had a fatal blood-thickening condition, about the message of God about humility to be healed. Maning just proudly said: "But I'm a lawyer, Father."
The following day, "upon the encouragement of Bishop Varela," Fr. Gerard made the rounds of the sick people in the provincial hospital in Sorsogon, praying over them. Before lunchtime, the wife of Maning came to see the priest, pleading him to see her husband who couldn't walk anymore.
"Maning, are you ready to humble yourself before the Lord?" Fr. Gerard asked the lawyer who was lying in bed, in pain.
"Yes, Father."
Maning managed to sit on the edge of his bed. After the confession, Fr. Gerard prayed over him. Shortly after, Maning fell to his bed, "slain." Fr. Gerard continued to pray over him.
After 20 minutes, Maning woke up, stood from the bed and walked.
Fr. Gerard left the scene at once, scampered to his motorcycle. And sped away. The priest, too, was, amazed at how Maning was healed.
Thereafter, Fr. Gerard — now based in Manila but shuttles to everywhere to pray over those who have cancer, clinical depression, emotional tick, those who are lost — embraced his fate that God would use him for the rest of his life to heal people.
"It is God who heals," he repeats. "I am just a vessel."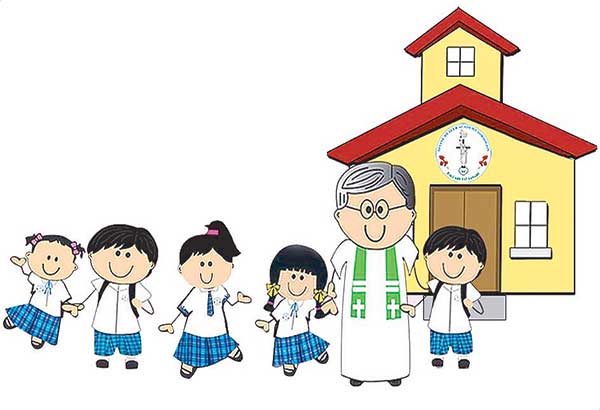 Healer of dreams, too
Fr. Gerard Deveza is also a healer of dreams. Through the Healing Servants' Foundation, he founded the Divine Healer Academy of Sorsogon in 2003 in Cabid-an, Sorsogon to effect change in the lives of more than 300 underprivileged children to free education.
The Healing Servants' Foundation will present #LaffHeals, a sparkling comedy show featuring Jon Santos, on Sept. 30, Saturday, 8 p.m. at the Samsung Hall, 6/F, SM Aura, BGC in Taguig City.
Proceeds of the show will all go to the education of the students in the Divine Healer Academy of Sorsogon.
(For ticket inquiries, call 0917-5382033, 788-5399 or 724-5207.)