If you've been observing the social landscape all throughout this year, you'd have noticed that the hot status ticket of today would seem to be the owner or part-owner of a bar.
If in previous decades, one would get that high performance sports car that would be proudly displayed on weekends, but only to be brought outside the city in order to avoid Metro Manila's myriad network of potholes, or one would fork out the cash to be part-owner of the newest, hottest club of the week, this year, it's the bar that reigns supreme as the "investment of the year." And yes, I do put the word investment in quotation marks as beyond the partner who is brought in for marketing purposes and is not asked to fork out any cash, it is best to take a sober look at what kind of investment one is truly making.
All around the metropolis, it seems that every week heralds the opening of a new bar touted to be the hottest, newest place with a buzz — where all your photo-worthy young society people will hang out and unwind on any given night. And right there, I'm already wary of the financial viability of such an establishment. Photo-worthy quite often translates to "I deserve free drinks or running up a tab," because these people think they help make the bar such an "in" happening place. For every new, wide-eyed, moneyed investor in the Manila bar scene, I can vouch there will be a hundred newfound friends, relatives and potential free-loaders — the friends of the owners! That's just the way our Manila social scene works, whether we care to admit it or not. It's been encouraged by the bar owners themselves as they think up of marketing gimmicks and regular, monthly features that can entice a particular crowd to show up and patronize the bar. And of course, taken advantage of by individuals who, glib of tongue, are ready to promise to "deliver" that kind of crowd. And if the owners think they can get those nights sponsored for the alcohol consumed, let's not forget that while you may not be losing money, the hours of open bar also mean you aren't making any actual sales. From my experience with Dish Rockwell a decade ago, the best nights sales-wise were the regular nights when we were packed, and I didn't know a soul.
Popular nowadays is the consortium-type of ownership. From one end of the spectrum, we often find 10 to a dozen friends banding together to co-own the bar, relying on an ever-widening network of friends and contacts from specific industry niches to maintain a steady stream of customers. And on the far end of the spectrum, we find bars where 50 or more individuals can call themselves "owners." Selling idea here is the investment and it isn't that large and so if it goes down the drain, it will not constitute that great a loss — but now you have the special status of being a partner. But let's face it, no matter the size of the investment, the only one guaranteed to truly make money is the one who devised the scheme, as one recoups the initial investment by divesting and distributing ownership. Even if the bar makes money, how much will that amount to when you've divided the pot?
So if it is only status and bragging rights you are after, the bar may be your answer. Me, I just know that in the bar business, one really should recoup the investment in a year to 18 months, as today's bar of choice can easily be the forgotten destination after a year. This is especially so in Manila, where another establishment is always rising and vying to be the new hot spot. If it's a serious investment, let's not forget that historically, it's been dependable service, easy location and reasonable prices that keep the customers coming. San Mig stood as a bastion of the drinking nightlife for years, and I don't think most of the patrons who would make it their regular watering hole even cared who were the owners!
Ruminating on death and life
Two novels with death on their doorsteps; and one with impending life as its focus. The novel by Mitchell blends tragedy, dark comedy and family in an inventive way; while Higashino brings us murder with a literary setting. As for Simsion, he checks in with his sequel to the utterly charming The Rosie Project.
A Reunion of Ghosts by Judith Claire Mitchell (available at National Book Store) Lady, Vee and Delphi Alter are the three middle-aged sisters who turn this darkly humorous novel into a suicide pact note. Great granddaughters to the infamous Lenz Alter — credited for inventing the ammonia gas during the First World War, the first use of chemical warfare — the sisters firmly believe that they carry the curse of the third and fourth generations for that which Lenz had created. But trying to put an end to it all at the stroke of midnight, Dec. 31, 1999, in New York City, is not as easy as it would seem. Seamlessly mixing historical facts (with a change of name) with fresh, illuminating fiction, Mitchell creates a world that is suffused with human drama, comedy and pathos, all in equal measures. While leaving a bittersweet taste, this one delights.
Malice by Keigo Higashino (available at Kinokuniya) Locked room, locked house, acclaimed author Hidaka's murdered corpse is found by his wife Rei, and good friend, fellow author Nonoguchi. It is left to police detective Kaga to unravel the mystery, with suspicion alarms set ringing as he deals with Nonoguchi's alibi and statements. Higashino also authored The Devotion of Suspect X, and while this one is a more conventional whodunit, there is much said about ambition, professional jealousy and police procedure. To his credit, even as Higashino deals us the "who did it" early on, the "hows" and "whys" continue to make this mystery thriller a sustained page-turner. There is found here a great respect for motive, for deep background, for circumstantial evidence, and for us readers, a constant capacity to surprise.
The Rosie Effect by Graeme Simsion (available on Amazon.com) When we last left Don and Rosie in The Rosie Project, it seemed that love had won out, bringing OC and socially inept genetic scientist Don, and free-spirited, spontaneous bar-girl Rosie together despite all odds. With this second installment, Don and Rosie have moved to New York, and Rosie discovers she is pregnant. What follows is an endearing, heartwarming tale that brings back characters we had taken to our hearts from the first book. As can be expected, the conflict lies in Don accepting impending parenthood and doubting his suitability for that monumental task. The irascible womanizer of a professor, Gene, is back and we have a colorful new set of accomplices to the events at hand, including fading rock veteran, George. Still magical the second time around.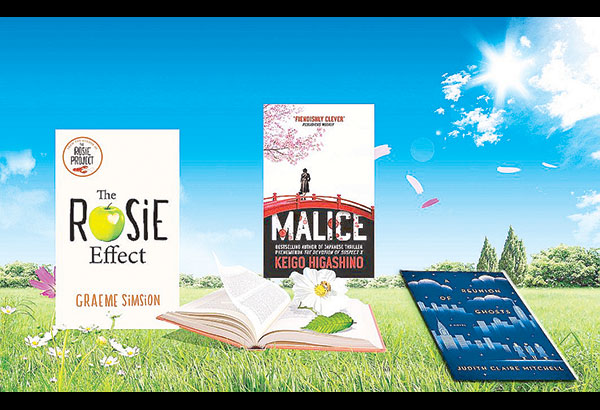 From New York, Tokyo and Sydney, three novels that make for great reading hours.