Democracy in Fashion
November 23, 2014 | 12:00am
"Fashion for all" is a two-decade-old concept that has changed an elusive and exclusive industry like fashion into one that thrives on accessibility and the freedom to break traditional conventions.
Before the rise of ready-to-wear fashion, there was haute couture. Literally translated into "high sewing," haute couture pieces were then only custom-made for royals and nobility. While today we freely browse sites like style.com or go on YouTube to view what international couturiers have in store for the season, back then, there were only trunk shows that were exclusively for VIP clients. Way before Mercedes-Benz Fashion Week introduced live streaming of fashion shows, these seasonal fashion shows were referred to by a select few as "Press Week." During these events, only select editors had access and it was not until their stories were published could one see what was in store for the season.
Fast forward to today and the dynamics of the fashion world have changed from being high-brow to high-speed and high-volume. This era in style gives full, unadulterated access to the various layers of fashion once held mysterious to us — from the inception of a collection to the time it hits the shelves and even down to the moment individuals wear them on their backs. Reality shows, media, social networks and bloggers have helped demystify what was once a distant fantasy world to most of us.
It began in the '80s when Vogue's Anna Wintour proposed a new direction for fashion by placing a denim-clad Michaela Bercu on the cover. That statement from the world's fashion bible broke the borders between casual and formal as well as high and low fashion. It stated, simply, that the rules in fashion were about to change. At around the same time, designer Isaac Mizrahi collaborated with Target, an American retail company, to come up with apparel and accessories that were more affordable and relatable to a larger audience. Since then, staying on-trend with the latest styles introduced by luxury fashion brands has become a reality within arm's reach. The rise of fast fashion labels and diffusion brands allowed the rest of the world to purchase the requisite coat or dress for the season without having to break the bank.
Fast fashion labels like Zara, Topshop, Forever 21 and H&M have given anyone and everyone access to trendy, of-the-moment pieces that, though not exact replicas of the $1,000-dress one can only dream about on the runway, is a similar, streamlined version of what has been making fashion headlines. Of course, this raises the question of originality and copyrights, even resulting in several lawsuits to include a controversial one between Forever 21 and Diane von Fürstenberg in 2007. In any case, the point is that this transition has awakened our consciousness to trends, designers and collections that would have otherwise become obsolete to a larger lot.
The adage "If you can't beat them, join them" must have been what also encouraged other designers to capitalize on the new movement in fashion, paving the way for the birth of diffusion brands. Before long, designers like Marc Jacobs, Maison Martin Margiela and more recently for H&M, Alexander Wang, were gladly lending their names to fast fashion labels to offer original pieces especially designed, created, marketed and placed on the shelves worldwide to allow them to reach out to a larger and more lucrative market. Diffusion lines became all the rave especially among the young, adventurous and ever growing fashion set as these offered authentic designer items at a fraction of the price.
It was not only the retail industry that evolved into a democracy. Voices in fashion are no longer as autocratic as they once were. Not too long ago, one had to be an editor or a Suzy Menkes-type to dictate which shows were hot and which ones weren't. The rise of bloggers and other fashion sites have opened up new perspectives and approaches to style. Street-style fashion, for instance, was celebrated far and wide for breaking molds and boundaries. What was once strictly for men was called androgynous; high-low dressing became a standard in style; and the rules of fashion have become so diversified that really, there are no rules. But more than that, it was the quick and efficient dissemination of information (whether insider fashion news or PR-driven publicity) that virtually gave everyone a front row to the fantasy world that is fashion.
Whether the democratization is good for the industry or not will depend on which side of the fence one is coming from. One thing that is certain, however, is that this new freedom fashion has made the world of style far more dynamic, exciting and unpredictable. The choice to engage or not is one's prerogative.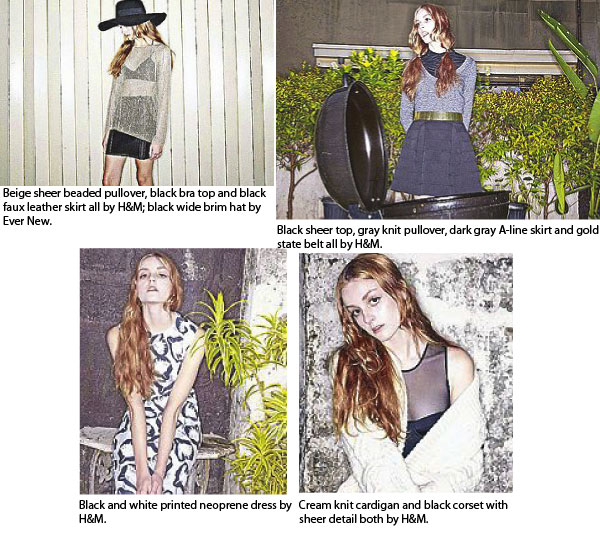 Photography by RXANDY CAPINPIN, assisted by DIEGO LEE • Styling by RYUJI SHIOMITSU, assisted by DANICA FAMILARA and AUSTIN CORTIGUERRA • Makeup by BAMBI DE LA CRUZ • Hairstyling by EDRICK PAZ • Model: Kenzy Kamka