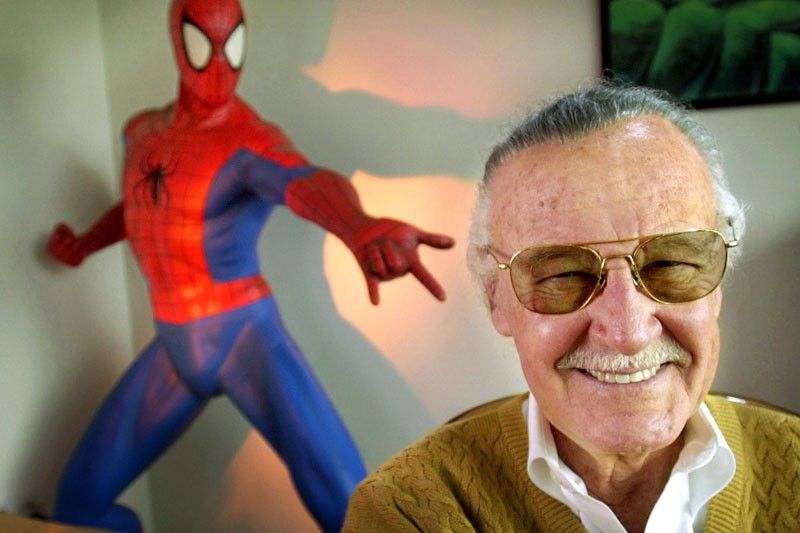 Stan Lee, creator of comic-book franchises such as Spider-Man, The Incredible Hulk and X-Men, smiles during a photo session at his office in Santa Monica, California in 2002.
AP
The latest Stan Lee cameo
MANILA, Philippines – It is always a pleasant surprise to see Stan Lee's trademark mischievous yet charming smirk in yet another superhero movie. Unfortunately, we may have seen his last cameo in the most recent Spider-Man film "Spider-Man: Into the Spider-Verse." The great Stan Lee has successfully made his way in 58 Marvel movies before tragically passing away on November 12, 2018.
"Spider-Man: Into the Spider-Verse," the stage of Stan's final show was a computer-animated film, was directed by Peter Ramsey, Rodney Rothman and Robert Persichetti Jr. Led by art director Patrick O'Keefe's carefully crafted animation layers, this new take on the iconic superhero breathes in new life to the original comic book setting. The premise of the movie centers on the unwitting yet surprisingly comical Miles Morales, who is forced to take up the mantle of Spiderman. Living under the big shadow of Peter Parker, Miles initially struggles with the legacy he had inherited and shys away from the burden of living up to the obligation of being a hero.
Along the way, Miles has to learn how to adapt to this newfound responsibility thrust on him while navigating the perilous and all-too relatable challenges of adolescence. Fortunately for our protagonist, we are also introduced to a fascinating albeit odd ensemble of "Spider-People" who contribute to Miles' development as hero, and more importantly, as a person. "Spider-Man: Into the Spider-Verse" stretches the definition of what it means to be a hero. This movie enables viewers to see that a hero can come from anywhere and that everyone gets stuck in sticky situations at some point. Whether or not one decides to repeatedly face adversity is what distinguishes "heroes" from ordinary folks. In his final cameo, Stan Lee acts as the cashier when Miles purchases a Spider-Man costume. Miles asks, "Can return it if it doesn't fit?". Encapsulating the theme of the entire movie, Lee then wisely counters, "It always fits, eventually."
On that note, I urge you all to watch the film. However, if you've already seen it, watch it again and simply enjoy the unique art style, lines that make you go "oof same". If you still cannot relate, just watch it to witness the final Stan Lee cameo while eating some warm popcorn.
Below is a list of movies in 2018 that may not be as fresh out of the cinema as "Spider-Man: Into the Spider-Verse," but have a Stan Lee cameo. Enjoy the movies!
Black Panther
Avengers: Infinity War
Ant-Man and the Wasp
Venom
Deadpool 2
Ralph Breaks the Internet