US turns over helicopters, surveillance equipment to PAF
October 15, 2021 | 12:00am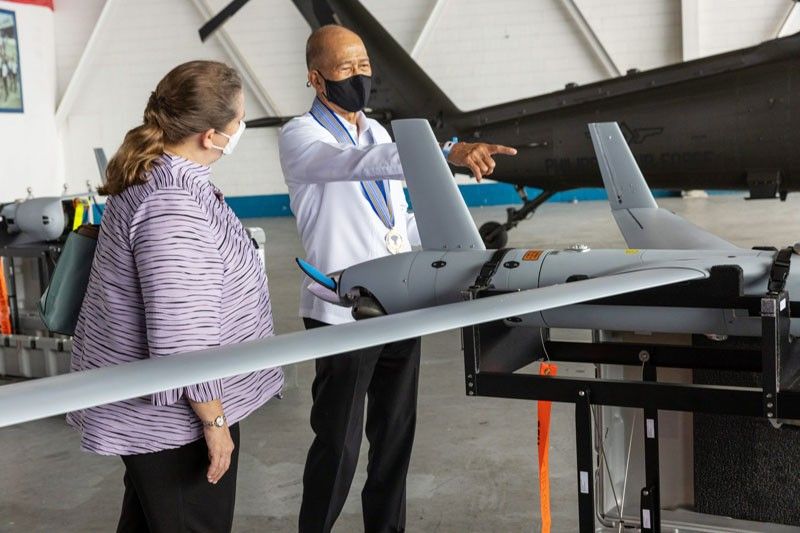 MANILA, Philippines — The United States turned over five Black Hawk helicopters and four ScanEagle unmanned aerial system worth P20 million to the Philippine Air Force (PAF) during a ceremony at Clark Air Base in Pampanga on Wednesday.
The donation aims to increase the Armed Forces of the Philippines (AFP)'s domain awareness and border security capabilities.
These platforms will provide additional capabilities in unmanned intelligence, surveillance, reconnaissance as well as support counterterrorism, humanitarian assistance and disaster relief efforts.
US Chargé d'Affaires Heather Variava joined Admiral John Aquilino, commander of US Indo-Pacific Command, and representatives from the embassy's Joint US Military Assistance Group during the turnover.
Defense Secretary Delfin Lorenzana, who attended the ceremony along with PAF commanding general Lt. Gen. Allen Paredes, said the new helicopters would be crucial in keeping communities and people safe from security threats and disasters.
"With additional four long-endurance, low-altitude ScanEagle unmanned aerial vehicles, our aerial reconnaissance and surveillance capabilities will be enhanced," Lorenzana said.
"With five more Black Hawks, the Philippine Air Force can now better provide prompt and sustained day and night tactical heli-lift and combat and non-combat search and rescue operations," he added.
Variava said the US remains committed to its promise of helping modernize the Armed Forces of the Philippines, noting this will further strengthen the combined capabilities of the two countries in working together toward a free and open Indo-Pacific.
The US provides the AFP with grant assistance and expedites sales of arms and munitions to support the Philippine military modernization goals and maritime security efforts, and counterterrorism and humanitarian assistance as well as disaster relief requirements.
The Philippines is the largest recipient of US military assistance in the Indo-Pacific region.
Since 2015, the US has delivered more than P50.6 billion worth of planes, ships, armored vehicles, small arms and other military equipment to the Philippines as its soldiers train side-by-side with Filipino troopers.
Aussies safe
Three crewmembers of Australia's Navy MH-60R Seahawk helicopter survived after ditching their air asset in the Philippine Sea during a routine flight overnight, the Australian Department of Defense said yesterday.
Australia said the aircraft was operating from HMAS Brisbane as part of the regional presence deployment with HMAS Warramunga, when the crew conducted an emergency landing in the water.
HMAS Brisbane deployed sea boats and rescued the crew 20 minutes after the incident.
The crew received first-aid treatment for minor injuries upon their return to the Brisbane.
Australian Fleet commander Rear Adm. Mark Hammond commended the crews of both ships for responding quickly.
"The successful rescue is credit to the devotion to duty and skill of the officers and sailors of HMAS Brisbane," Hammond said.
"Their immediate actions ensured the survival of the aircrew, validating the significant training undertaken in the event an emergency of this nature occurs," he said. – Ralph Edwin Villanueva