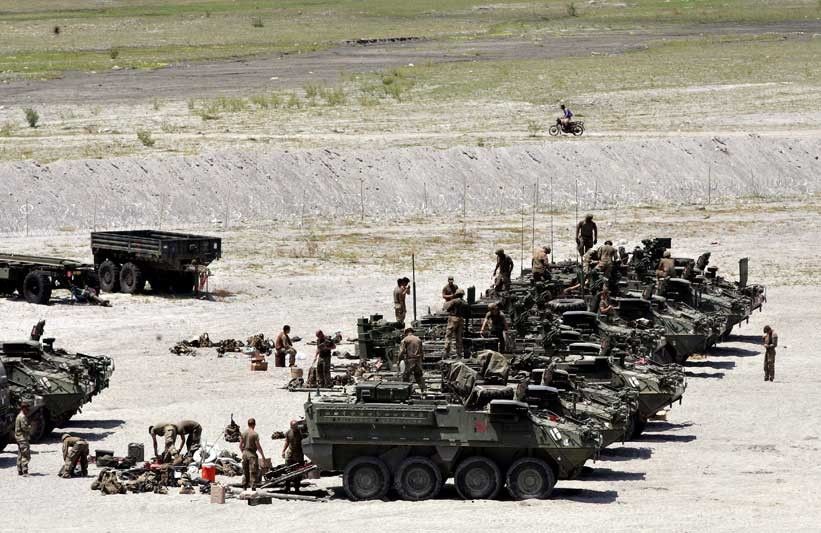 A US Marine A-10 Warthog maneuvers next to mountains during live-fire exercises as part of the annual Philippines-US Balikatan joint military exercise at Crow Valley in Capas, Tarlac yesterday.
Krizjohn Rosales
Philippines, US ships conduct drills near Panatag Shoal
Jaime Laude
(The Philippine Star) - April 11, 2019 - 12:00am
MANILA, Philippines — The supposed unidentified aircraft carrier seen by local fishermen bound for Panatag Shoal was the USS Wasps, a helicopter carrier of the US Marines participating in this year's joint Balikatan exercises, officials said yesterday.
Reports said fishermen from Zambales on their way to fish in Panatag or Scarborough Shoal saw fighter jets taking off and landing on the unidentified aircraft carrier.
"What was monitored is with the Balikatan exercise, along with our two Philippine Navy ships," said Maj. Ericson Bolosan, spokesman for the Northern Luzon Command (Nolcom).
Bolosan was referring to the USS Wasps, an amphibious assault ship with F35B Lightning II stealth fighter jets. The ship was deployed at this year's Philippines-US joint Balikatan exercises.
The US Marines' helicopter carrier was reportedly near China-controlled Panatag Shoal.
Officials said the USS Wasps was only around 35 to 40 nautical miles off Zambales. Panatag is farther away at around 160 nautical miles from the mainland.
Balikatan spokesman on the US side, 2Lt. Tori Sharpe, pointed out the deployment of USS Wasps and the F35B fighter jets highlights the US's support to its regional allies and partners.
Earlier, this year's Balikatan planners and organizers said USS Wasps with its embarked F35B figher jets will be operating in international waters while conducting flight operations.
Beefing up
The US has increased its military presence in the South China Sea while engaging in alliance-strengthening moves with other countries in the region, including the Philippines, to counter China's maritime aggressiveness.
The Asia Maritime Transparently Initiative (AMTI), Asia's think tank of Washington-based Center for Strategic International Studies (CISC), said Vietnam has discreetly extended its airfield on its occupied island in the disputed Spratly archipelago.
In its latest brief involving its ongoing monitoring in the South China Sea, the AMTI said Vietnam has also expanded through a limited reclamation on Spratly Island (Storm Island).
The reclamation of Spratly Island, one of 27 features that Vietnam is occupying, paved the way for the extension of a runway from 750 meters to 1,300 meters as well as the construction of two large sets of hangars at both ends of the airfield.
"Vietnam continues to quietly upgrade its facilities in the Spratly Island, without facing the same reaction from China's maritime military forces as the Philippines recently has," AMTI said.
Since the Philippines announced the military's upgrade of facilities in Pag-asa Island last year, Chinese fishing boats have started converging near the island town.
The presence of the Chinese fishing boats, which the defense and military establishments categorized as Chinese navy militias, further increased to more than 200 vessels near Pag-asa Island.
Their presence was either to monitor as well as to intimidate or delay the ongoing infrastructure development in the area.
AMTI said that aside from its runway extension, Vietnam has also built four hangars to accommodate its PZL M28B maritime surveillance aircraft and CASA C-295 transport planes or similar assets.
Spratly Island is the largest of Vietnam's outposts and the administrative center of its presence in the disputed region. The islet also has a protected harbor.
On the northeastern end of Spratly Island, Hanoi has constructed a pair of large signals intelligence and communication facilities.
A cluster of buildings was also constructed in the area of the new landfill alongside the island's safe harbor.
"Many of those (buildings) have been topped by solar panels, and a new sports field has been constructed alongside the island's main administrative building, which has also received new solar panels," AMTI said.
In addition to Spratly Island's upgrade, Vietnam has made some modest improvements at the small cay it occupies on Pearson Reef. It also has a pillbox-type facility built on another section of the reef.
Vietnam occupies 49 outposts in the disputed region. Of those 27 features, only 10 can be called islets while the rest are mostly underwater reefs and banks.
Most of Vietnam's outposts are not on natural islets like Spratly and Pearson, but rather small facilities perched on low-tide elevations and entirely submerged reefs or banks.
AMTI added the most numerous of these are the 25 pillbox-like structures constructed on reefs around the Spratlys. Since mid-2017, two of them – on Petley and South Reefs – have been expanded with the addition of a second structure.
The facility at Petley reef was complete by late 2018, while construction was still ongoing at South Reef in the most recent imagery available.
"Vietnam has not attempted to engage in the same large-militarization of its features as China; there is no sign of facilities built to house attack aircraft, for instance," AMTI said.
Hanoi's upgrades seem geared toward expanding its ability to monitor and patrol contested waters and, especially in the case of its pillbox and DK1 (ships) platform, improve living conditions and ensure it can resupply by air if necessary, AMTI said.
Live-fire drill
Filipino and US servicemen conducted a combined live-fire exercise yesterday at the Armed Forces of the Philippines gunnery range at Crow Valley in Capas, Tarlac.
The joint war games will be launching Amphibious Landing operations along the coast of Zambales today.
"Service members from across the Philippine and US militaries came together using their ground maneuver, artillery, mortars and air elements to successfully execute this complex live fire event," said US Army Col. Leo Wyszynski, 1-2 Stryker Brigade Combat Team Commander.