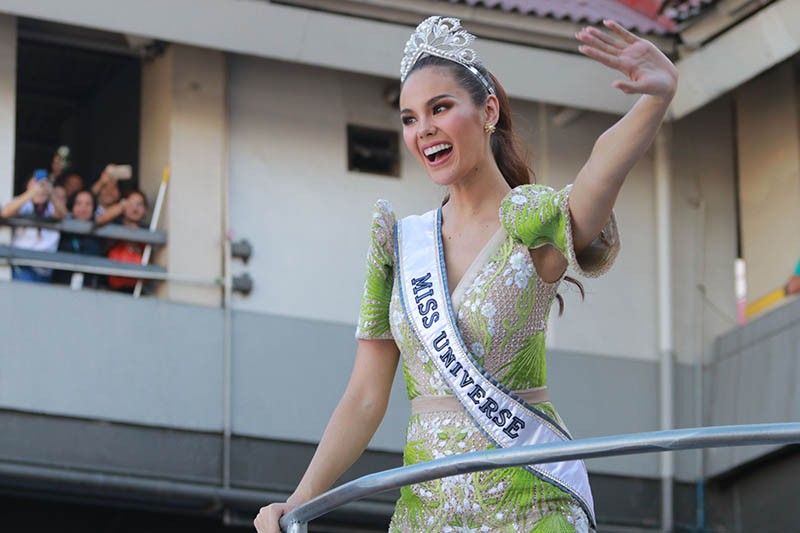 In this photo, Miss Universe 2018 Catriona Gray waves to fans who are watching her homecoming parade.
Philstar.com/Erwin Cagadas
Palace says Catriona may be 'misinformed' on move to lower age of criminal liability
(Philstar.com) - February 21, 2019 - 4:03pm
MANILA, Philippines (Updated 4:50 p.m.) — Malacañang said Miss Universe 2018 Catriona Gray might have been "misinformed" of the facts of the proposed measure to lower the minimum age of criminal responsibility to 12 years old.
This after Gray, an advocate for children's welfare, said in an interview with News5 that the focus should be on the "external pressures" that push children to be involved in crimes and not the lowering of the age of criminal liability.
She also said: "Because children, they have so much potential. Their hearts are pure. It's just that sometimes circumstance bears down on them or the people or what they're faced with bear down on them."
READ: Catriona: Address why kids commit crimes, not lower age of criminal responsibility
But presidential spokesperson Salvador Panelo in a press conference on Thursday said that Gray might have been "misinformed" of the facts of the proposed measure.
Panelo said some believe the proposal means that children would be brought to jail, but they would be brought to rehabilitation centers instead. He said that Gray might not have understood it.
The Palace spokesman also said: "That is the problem: Minors involved in crimes."
"The problem is they are engaged in crimes. What we would do, we would rehabilitate them, learn why they commit these crimes," Panelo added.
The House of Representatives' move to lower the age of "social responsibility" from 15 to 12 — three years older than the first proposal discussed to lower it to just nine years old — was met with strong criticism.
Several groups pointed out that the government should instead focus on improving the implementation of the current Juvenile Justice and Welfare Act.
The House of Representatives already approved the bill, while the Senate failed to approve a counterpart bill before it went on a break. The upper chamber, however, is expected to pass a similar bill once sessions resume.
Salinlahi Alliance for Children's Concerns earlier stressed that children — and their families — in conflict with the law "are victims of poverty, hunger, social inequality and state neglect."
Rehabilitation part of the proposal
Panelo added that the law would have a provision on the rehabilitation of the minors.
"You're solving precisely the problem why these people are engaged in crimes," Panelo also said.
Under the controversial House bill, children as young as 12 years old who commit serious crimes with discernment would me mandatorily confined at Bahay Pag-Asa centers — youth care facilities mandated by law to offer rehabilitation and intervention to children in conflict with the law.
Many, however, have raised that there are fewer Bahay Pag-Asa centers built than what is mandated by the law. Some were also criticized for having "subhuman conditions" due to budget constraints.
— Kristine Joy Patag