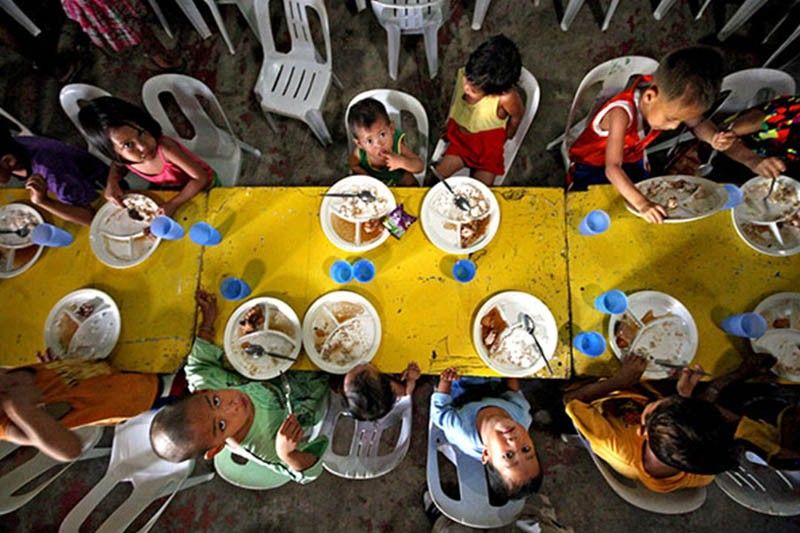 This file photo shows a group of children eating their meals in a community shelter.
The STAR/Miguel de Guzman, File
Minimum age of criminal responsibility should be 15 — poll
MANILA, Philippines — Majority of Filipinos who support jailing children in conflict with the law said the minimum age of criminal responsibility should be pegged at 15 years old, results of a survey conducted by the Social Weather Stations suggested.
The poll, done in partnership with the Commission on Human Rights, revealed that the public perception on the minimum age of criminal responsibility or the median age is 15 years old—similar to current threshold under the Juvenile Justice and Welfare Act.
The median age was determined by the response of those who agreed on putting minors behind bars for certain crimes.
Of the 1,500 respondents, 63 percent agreed on jailing kids if they rape someone; 22 disagreed. Fifty-nine percent said minors should be jailed for killing a person, while 24 percent did not agree.
Forty-nine percent of the respondents are in favor of jailing children if they act as drug couriers, while 35 percent are not in favor. Twenty-eight percent agreed that minors should be jailed for snatching phones, while 62 percent disagreed.
Only eight percent of the respondents thumbed up the idea of jailing kids if they steal food. An overwhelming majority of 84 percent did not agree.
Human Rights Commissioner Karen Gomez-Dumpit stressed that juvenile justice is more than "just assigning an age."
"It is about how we care for our children, how we guide them to become responsible adults through well-resourced programs, people in an enabling environment. It is about second chances. We owe them the best we can give," Dumpit said.
The survey was done in two phases last year—from July 13 to 16 and December 18 to 22.
The House of Representatives on Monday passed on third and final reading House Bill 8858, which seeks to lower the age of "social" responsibility to 12 years.
The criminal responsibility threshold was earlier pegged at nine years old by the lawmakers but was later changed to 12 years old after the proposal was met with backlash.
The human rights commissioners appealed for more discussions on the matter.
"What we don't want is that this law will be rammed to the throat of the people like what happened in the [lower] house… We are hoping there will be more discussions in the future," Commissioner Gwen Pimentel-Gana said.
What should the government do instead?
The survey also found that putting children in conflict with the law under the custody of the Department of Social Welfare and Development or local social welfare offices was the top choice among those who disagreed that minors should be jailed for the crimes mentioned. The proportion ranged from 44 percent to 75 percent.
This, Dumpit noted, showed that the public is "relying heavily" DSWD to guide and care for children in conflict with the law.
Placing children in conflict with the law under barangay custody placed second, followed by consulting a psychiatrist, talking to the minors and returning to their parents.
The proportion of those who said that children should be placed in Bahay Pag-asa facilities ranged from only two to five percent.
Dumpit said the least reliance of public on Bahay Pag-asa can be attributed to the low awareness of the JJWA or the non-existence of Bahay Pag-asa facilities.
Under the controversial House bill, children as young as 12 years old would be mandatorily placed at Bahay Pag-asa centers or youth care facilities mandated by law to offer rehabilitation and intervention to children in conflict with the law.
There are only 63 Bahay Pag-asa facilities nationwide, five of which are no longer operational, according to the government's Juvenile Justice and Welfare Council. Earlier, Tricia Oco, executive director of the JJWC, lamented that some Bahay Pag-asa centers have "subhuman conditions" due to budget constraints.