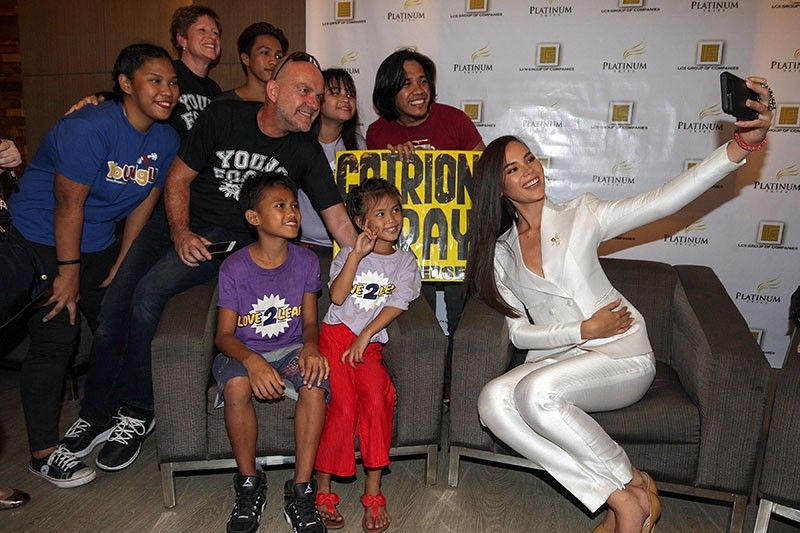 This file photos shows Miss Universe 2018 Catriona Gray taking a selfie with the Young Focus Foundation.
The STAR/KJ Rosales, File
Catriona: Address why kids commit crimes, not lower age of criminal responsibility
MANILA, Philippines — Miss Universe Catriona Gray, an advocate of children's rights, said the country should focus on addressing the reasons why children commit crimes instead of lowering the minimum age of criminal responsibility.
Catriona, the country's fourth Miss Universe, said circumstances of their environment or external pressure push children to commit crimes.
"I really feel that it's important for us to readjust our focus as to why these children [are] committing those crimes because I worked a lot with children and anyone knows children are not disposed to do that kind of act or to act that way. As a nation, I think we should focus on eradicating these external pressures," Catriona said in an interview with News5 Wednesday.
To do that, Catriona said, the country must do a study of children and educate their community — the kids' parents and the people surrounding them.
"Once you label a child such… as child in conflict with the law, how are you bringing them up to see themselves or the community to see them?" the Filipino-Australian beauty queen said.
She added that children should be given the chance to pursue their dreams.
"Because children, they have so much potential. Their hearts are pure. It's just that sometimes circumstance bears down on them or the people or what they're faced with bear down on them," Catriona said.
Catriona has been active in working for the cause of children's welfare — particularly, the impoverished ones — even before she was crowned Miss Universe last year.
In the final answer that sealed her victory in the prestigious pageant, she cited working for the children in the slums of Tondo and how she tried to teach herself the beauty and "silver lining" amid their poor conditions.
Congress seeks to lower the minimum age of criminal responsibility from the current 15 years old.
The House of Representatives already approved the bill, seeking to bring down the criminal liability threshold to 12 years old. The, Senate, on the other hand failed to approve a counterpart bill before it went on a break but it is expected to pass a similar bill once sessions resume.
Numerous groups and individuals oppose the proposed measure, saying the government should instead focus on improving the implementation of the current Juvenile Justice and Welfare Act.
Personalities including Anne Curtis and Catriona's fellow beauty queen, Miss International 2018 Karen Gallman, said that 12 years old is too young.