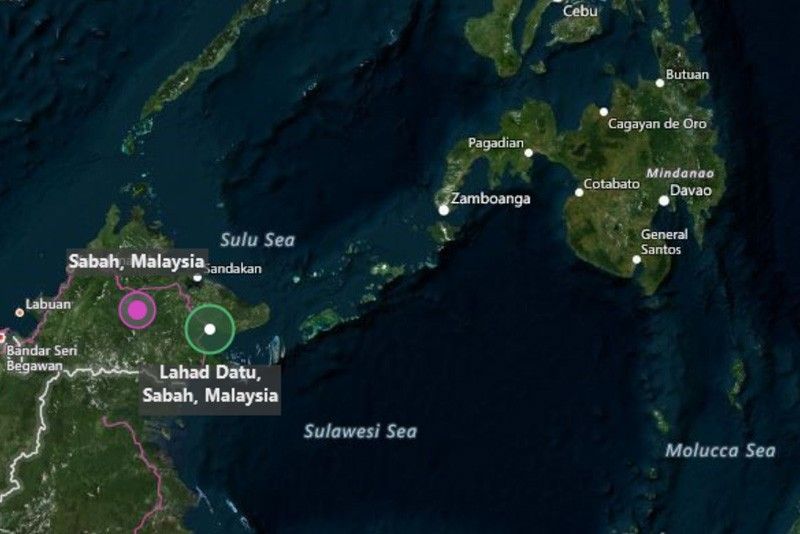 The consultative committee has proposed to include revisions that would assert the Philippines' claims over Sabah.
Philstar.com/Bing Maps
Proposed charter to boost Philippine claims over Sabah, West Philippine Sea
MANILA, Philippines — The consultative committee (ConCom) tasked by President Rodrigo Duterte to draft a new federal constitution has suggested to strengthen the country's claims over its exclusive economic zone.
The ConCom sub-committee on national territory, state policies and principles, foreign affairs, national security, public order and safety proposed the revision to assert the Philippines claim on the West Philippine Sea and Sabah.
The proposed revision on the article on National Territory includes sovereignty over territory and sovereign rights over maritime expanse.
ConCom member Father Ranhilio Aquino, who headed the sub-committee, said that the July 2016 arbitral ruling in favor of the Philippines will be considered to be included in the draft of the proposed charter.
"Sovereignty is the fullness of state power over its territory, its territorial sea, its air space. Whereas sovereign rights are the rights granted by a coastal state to its exclusive economic zone which is reckoned as 200 nautical miles from the archipelagic baseline as well as to the maritime resources whether these are sedentary species or minerals found in its continental shelf again subject to the conditions of the Convention on the Law of the Sea," Aquino said.
The revision would also include the country's sovereign rights to Benham Rise and other international laws and judgment of international tribunals.
The ConCom subcommittee proposed to restore the phrase "by historic right or legal title" in the National Territory article of the proposed constitution, which would also assert the Philippines' claim over Sabah.
In a television interview Friday morning, former Chief Justice and ConCom chair Reynato Puno stressed the importance of defining "national territory."
"National territory has to be defined in accordance with international laws, treaties and decisions of appropriate tribunals," Puno told ANC's Headstart.
Puno noted that including the landmark arbitral ruling on the South China Sea would strengthen the Philippines' claim in the contested waterway.
Citing the 1973 Constitution, Puno also noted that the Philippines has historic claim over Sabah.
The ConCom, however, will have to conduct national consultations on the proposed charter before presenting the draft to President Rodrigo Duterte.