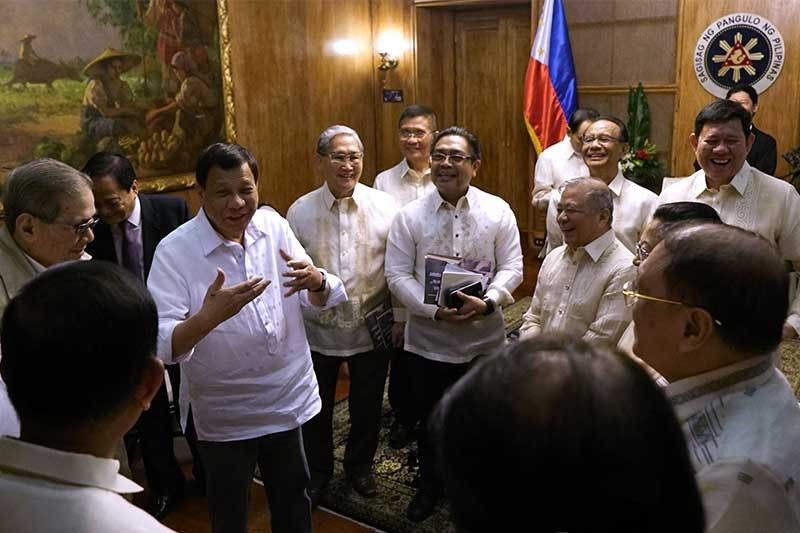 President Rodrigo Duterte has tasked the consultative committee to draft a new federal constitution.
Presidential Photo
Consultative committee votes to elevate CHR as constitutional body
MANILA, Philippines (Updated 2:51 p.m.) — The consultative committee (ConCom) en banc on Monday voted to elevate the Commission on Human Rights (CHR) into an independent constitutional body in the charter that they would propose.
Voting 16-1, the committee tasked by President Rodrigo Duterte to draft a new constitution agreed to include this revision in the draft federal charter, according to a tweet from non-governmental organization Local Government Development Foundation.
One ConCom member, former Senate President Aquilino Pimentel Jr., abstained from voting.
In September last year, Duterte proposed to realign the budget of the CHR to buy body cameras for policemen.
This follows the initial proposal of the House of Representatives to give the CHR a budget of P1,000 for 2018.
The CHR has been critical of the Duterte administration's campaign against illegal drugs due to thousands of reported extrajudicial killings and summary executions of drug suspects.
The House, however, had decided to grant the CHR a final P108.5-million funding, which is lower than its 2017 budget of P724.9 million.
Former Justice Reynato Puno heads the ConCom while other members include Pimentel, former Supreme Court Associate Justices Bienvenido Reyes and Antonio Nachura Jr., former De La Salle University Dean Julio Teehankee, San Beda College School of Law Dean Fr. Ranhilo Aquino and former Integrated Bar of the Philippines President Roan Libarios.
Other appointed members are Ruben Canoy, Laurence Wacnang, Edmund Soriano Tayao, Victoria De La Serna, Eddie Mapag Alih, Ali Pangalian Balindog, Randol Climaco Parcasio, Antonio Arellano, Arthur Aguilar, Susan Ubalde-Ordinario, Rodolfo Dia Robles, Virgilio Bautista, Fernando Bocobo, Rex Robles and Martin Loon.