Cayetano to UN rights body: Drug war meant to save lives
February 27, 2018 | 7:13pm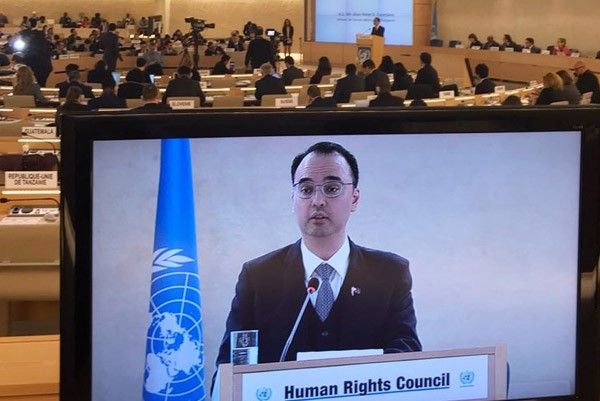 MANILA, Philippines — The Philippines' top diplomat on Tuesday told the United Nations that President Rodrigo Duterte's deadly drug war was meant to "save lives" amid mounting death toll in the crackdown.
In his remarks during the High Level Segment of the 37th Session of the United Nations Human Rights Council, Foreign Affairs Secretary Alan Peter Cayetano said Duterte unleashed his lethal anti-narcotic campaign "to save lives, to preserve families, to protect communities and stop the country from sliding into a narco state."
Cayetano also urged the 47-member body to "engage and act and not merely name and shame."
He then assured the council that the Philippine government is ready to "cooperate" and have its human rights record scrutinized.
"As a sovereign nation, we deserve respect and even support for our right to life and liberty, our sovereign right to self-determination, to make our people safe and secure from all threats, terrorism, corruption and criminality," Cayetano said.
"When does the quest for human rights become a human wrong? It is when human rights is politicized and weaponized," he added.
Duterte, who is notorious for his defiance of international pressure, easily won the elections on a brutal law and order platform.
Human rights watchdogs say most of the fatalities in the drug war are extrajudicial killings committed by cops, adding that Duterte could be liable for crimes against humanity for giving police the "license to kill."
Last year, the Philippines claimed a "big victory" following the review of its human rights record before the UNHRC despite the disappointment of several states over its rejection of key recommendations they made.
READ: Ignoring issues raised, Philippines claims 'victory' in UN review
'Prejudice'
In 2016, the Duterte administration invited UN Special Rapporteur on summary executions Agnes Callamard to visit the Philippines subject to three conditions, including allowing the president to ask Callamard questions in a public debate.
But Callamard, a vocal critic of Duterte's bloody anti-drug drive, refused to heed the conditions, saying they violate UN protocols for country visits.
In the same speech before the UNHRC on Tuesday, Cayetano, without making direct references to the UN rapporteur, reiterated that the Philippine government would allow any probers to look into alleged summary executions in the drug war, except Callamard.
He also slammed some "non-government organizations" that he said "portray an unfair and unjust image of our country."
"When a UN Special Rapporteur cries out, like the Queen in Alice in Wonderland, 'First the judgment, then the trial,' when she culls evidence only for what might support her prejudgment, he or she loses the moral high ground and is stripped of any credibility," he said.
"All we ask for is fairness. There are 7.5 billion people in the world; send anyone except one who has already prejudged us, and who, by any measure, cannot be considered independent and More so, objective," he added.
"How will the honorable members of this Council convince countries to work with it if there is a perception of prejudice and prejudgment?"
Malacañang early this month said the International Criminal Court would conduct a "preliminary examination"—the first formal step the court takes to determine whether Duterte's bloody anti-narcotic drive meets the legal criteria established by the Rome Statute to warrant investigation by the ICC.