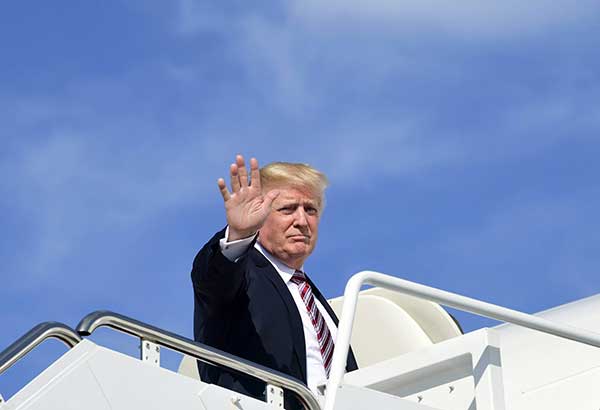 US President Donald Trump waves from the top of the steps of Air Force One at Andrews Air Force Base in Maryland on Sept. 29, 2017 as he leaves for New Jersey. AP
Warm Philippines welcome for Trump amid improving, irreversible ties
(The Philippine Star) - September 30, 2017 - 4:00pm
MANILA, Philippines — With relations between the Philippines and the United States showing a marked improvement in recent weeks, President Duterte is looking forward to entertaining President Donald Trump during his visit to Manila next month for the 31st Association of Southeast Asian Nations (ASEAN) summit and related meetings.
Malacañang confirmed Trump's visit to the country, which is part of his five-nation swing in the region from Nov. 3 to 14. The US leader is also set to visit Japan, South Korea, China and Vietnam.
"We confirm US President Donald Trump's visit to the Philippines this November," presidential spokesman Ernesto Abella said yesterday.
Duterte is ASEAN chairman for this year, the regional bloc's 50th founding anniversary. Abella said Trump's visit "underscores the improving PH-US ties."
Trump will join other world leaders who will attend the ASEAN/East Asian Summit in the Philippines.
"As host country, we hope to make the event productive and pleasant to our foreign guests. We will let them experience our world-famous Filipino hospitality to make sure they would have good memories of their stay in the Philippines," he said.
Foreign Affairs Secretary Alan Peter Cayetano also cited the country's improving relations with the US. "President Trump's visit underscores the improving relations between the Philippines and the United States, which no less than Secretary of State Rex Tillerson told me is on an upward vector," Cayetano said.
"President Trump will definitely receive a very warm welcome in Manila," Cayetano said.
"President Duterte is looking forward to welcoming President Trump in Manila. Our people are excited to see the first face-to-face meeting between our two leaders," he added.
The foreign affairs secretary met with Tillerson in Washington earlier this week, discussing issues including strengthening partnership between the two countries.
In an interview with the National Public Radio in Washington on Thursday, Cayetano described relations between the Philippines and the US as strong and irreversible.
"The American-Filipino relationship is so resilient that it bounces right back always, regardless of personalities and issues," he said.
The confirmation on Trump's visit came a few days after Duterte publicly acknowledged how the US has been good to the Philippines as a defense ally through the years.
Duterte praised the US, calling it an important ally last Thursday at 116th anniversary of the Balangiga massacre.
"This is all water under the bridge, I was under advice by the Department of Foreign Affairs that I would temper my language and avoid cursing, which I am prone to do if I get emotional," Duterte said in the speech.
"I would not say they were our saviors, but they are our allies and they helped us. Even today, they provide crucial equipment to our soldiers in Marawi to fight the terrorists," he said, referring the city attacked by the IS-linked Maute Group.
In the early months of his administration, Duterte had been critical of the US, particularly its previous president Barack Obama whom he repeatedly badmouthed for calling his attention to rising deaths in his war on drugs.
Duterte started softening toward the US last August during a meeting with Secretary of State Rex Tillerson. At that meeting, he said he was a "humble friend" of Washington.
It was in contrast to an earlier statement in July when he called the US "lousy."
"There will never be a time that I will go to America during my term, or even thereafter," Duterte said in late July. "I've seen America and it's lousy."
Duterte also revealed at being praised in a phone call by Trump for his war on drugs, which has already killed thousands.
The phone call was followed by another conversation about concerns over nuclear threats from North Korea.