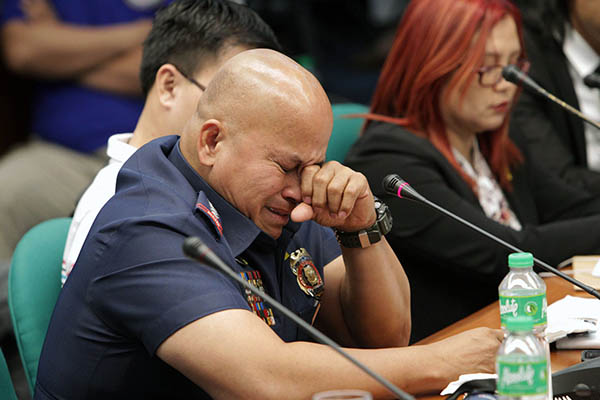 In this Nov. 23, 2016 file photo, Philippine National Police chief Ronald "Bato" Dela Rosa turned emotional during the Senate probe into the killing of Albuera Mayor Rolando Espinosa. The STAR/Mong Pintolo, file
Dela Rosa sorry over boy's death, defends drug war killings
MANILA, Philippines — The chief of the Philippine National Police, Ronald Dela Rosa, on Friday expressed regret over the death of a 17-year-old senior high school student in Caloocan City as he defended the high number of death toll arising from a string of operations conducted by cops in Bulacan and Metro Manila this week.
Dela Rosa said that he understood the sentiments of the family of Kian Loyd Delos Santos who was killed on Wednesday night.
He, however, said that he would rather see his policemen alive than dead as they pursue President Rodrigo Duterte's brutal campaign against illegal drugs, his flagship domestic policy.
"Masakit talaga sa pamilya yan na mamatayan ka. We understand their feeling. We are very sorry. We are very sorry for what happened," he said.
He, however, added: "We'd rather buhay yung pulis ko kesa patay yung pulis ko. Yan lang po sa akin."
He said that police deaths would also result in pain among the country's cops and their families.
The high number of deaths related to the drug operations was normal considering the scope of the police actions, Dela Rosa said.
He also sounded defiant and said that the deaths only showed that policemen were not sleeping on their jobs.
"Normal. Malawakan yung ating operation e. Marami tayong inoperate so normal na mangyari yan," the PNP chief when asked to comment on the recent string of killings.
"Nagtatrabaho yung pulis ninyo. Hindi natutulog. Nagtatrabaho kaya nangyari yun," he added.
This week marks one of the deadliest since Duterte launched his anti-drug campaign in July last year.
During separate police operations in Bulacan, 32 people suspected of involvement in illegal drugs were killed.
This was then followed by another round of police raids in different parts of Manila where 25 more people were gunned down. In addition, police said that they recovered packets of illegal drugs and arms.
The most recent deadly string of operations happened in Caloocan, Malabon, Navotas and Valenzuela, contiguous cities in northern Metro Manila. A total of 18 drug suspects were killed in the operations on Thursday night and Friday morning.
Dela Rosa said that people should be alarmed when drugs were freely available on streets and not when drug suspects were being killed in police operations, adding what happens during police operations was beyond their control.
"Pero kapag may namatay dahil lumaban e I don't think nakakaalarma 'yan," he said.