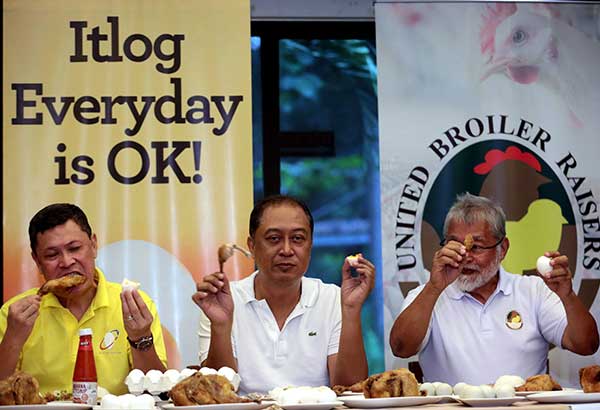 Broiler raisers eat chicken and eggs during a press conference in Quezon City yesterday to show that not all poultry products in the country are affected by avian flu. MICHAEL VARCAS
2 Pampanga poultry workers negative for bird flu
(The Philippine Star) - August 16, 2017 - 4:00pm
SAN FERNANDO, Pampanga , Philippines – Two poultry workers who had shown avian flu symptoms were found to be negative of the virus, Central Luzon's chief government epidemiologist said yesterday.
Dr. Jessie Fantone, regional epidemiologist of the Department of Health (DOH), also debunked reports that the two unnamed workers were isolated and hospitalized. He said he personally met the two workers from Barangay San Carlos in San Luis.
In Manila, Health Secretary Paulyn Ubial said the workers were discharged from hospital and advised to continue taking anti-viral drugs.
"There are three types of influenza (virus): A, B, C. A is for birds, B is for humans, C is for pigs. The two had the B," she said.
Fantone said he received last Tuesday from the Regional Institute of Tropical Medicine (RITM) results of its study on nasal and throat extractions from the two workers and the results indicated they did not have avian flu.
He stressed only the RITM in Alabang, Muntinlupa City, has the capability to handle human avian influenza cases.
Fantone related that last Monday, he and his staff went to a quarantined poultry in Barangay San Carlos in San Luis to gather blood samples from 20 farm workers as standard procedure in response to reports that chickens in the poultry farm had died of avian flu.
"We noticed that one of the workers had cough and another had some fever so we got nasal and throat samples from them, without having them confined," he said.
Fantone said the samples were brought to the RITM in Alabang for avian flu testing.
"Even the regional Jose Lingad Hospital in San Fernando (Pampanga) can't handle such cases, although it is equipped with an isolation room," he pointed out.
He said patients isolated would eventually have to be moved to RITM.
"As of this moment, there is no report of suspected avian flu in humans in our country," he stressed, as he scoffed at "wrong information" on the two workers which, he said, apparently emanated from the office of DOH chief epidemiologist Dr. Eric Tayag.
In Manila, it was Tayag who announced the negative results of the test on the two workers.
Fantone also clarified that samples from poultry in affected areas have yet to be sent to Australia for further testing.
"As of yesterday, the samples still had to be sent," he said.
The US Center for Disease Control (CDC) said in its website that while cases of avian flu infection in humans have been reported, such cases are rare.
Philippine Red Cross (PRC) chairman Sen. Richard Gordon, for his part, has advised all PRC chapters and volunteers to keep a tight watch over possible avian flu cases in their respective areas.
"The Philippine Red Cross is now mobilizing all staff and 143 volunteers to monitor all communities and to spread awareness campaign on what precautions should be taken in an area affected by bird flu. The volunteers are our first line of defense to report any incidents on disasters and emergencies but as well as epidemics such as bird flu," he said.
In a press briefing, Agriculture Secretary Emmanuel Piñol said they have increased the number of poultry heads to be culled to 600,000 as several farms outside ground zero have volunteered to be depopulated as they could not sell their produce anyway.
He said they are culling 400,000 more heads from 30 farms within the one-kilometer radius quarantine zone.
"Farm owners outside of the seven-kilometer radius offered that their animals be included in the depopulation to help in containing the spread of the virus," Piñol said.
"They couldn't sell their products. So they said they might as well surrender their farms to the government. And this is a welcome development to us because the chances of possible spread of the virus will actually be lessened," he added.
With a higher number of poultry heads to be culled, the DA is seeking the military's help for the job.
The Armed Forces of the Philippines and the Philippine Army have committed to immediately send a battalion or about 300 men to areas affected. As of yesterday, the DA had only culled 73,110 poultry heads. It hopes to finish the 600,000 heads by Saturday.
Col. Edgard Arevalo, AFP Public Affairs Office chief, said the Northern Luzon Command (Nolcom) would initially deploy 100 soldiers of the 400 approved for deployment in affected areas.
In Floridablanca, Vice President Leni Robredo appealed to businessmen affected by the avian flu outbreak in Pampanga to cooperate with the government for the safety of the people.
Robredo also lauded the government's "very swift" response to the avian flu outbreak.
"We've been monitoring the response of the government, particularly the Department of Agriculture for the past days, and their action was very swift," she said.
Compensation hike
The local industry, meanwhile, is calling on the DA to increase the compensation to farmers whose fowl would be culled.
The Philippine Egg Board said the DA should allot at least P180 to P200 per head, more than double the P80 per head allocation of the department.
"This is not only an issue of losses in eggs and chickens. This will also affect supply of other goods such as soya and corn. Millions of livelihood are affected, not just the farm owners," Philippine Egg Board president Irwin Ambal said.
However, the DA said it would not give in to the request of the industry for the doubling of compensation.
"It's hard to (do that). First, we still have to ask for the calamity funds. If I commit to that huge amount, and we may not be able to give, that will be a shame," Piñol said.
Former president and now Pampanga Rep. Gloria Arroyo, for her part, said she is coordinating with provincial government officials on how to best contain the virus.
"While the outbreak does not affect my district, I have been closely coordinating with local chief executives in my district who have poultry farms in their areas to implement precautionary measures to ensure that their livestock remain free of the virus," she said.
Arroyo said Gov. Lilia Pineda vowed to "extend financial and technical assistance to all affected poultry farm owners."
"As additional preventive measure, the provincial government has also ordered the inspection of all poultry farms in the province," she said.
Other local gov-ernment units had launched their respective inspection of poultry farms.
Negros Occidental is safe from avian influenza or bird flu, the Provincial Veterinarian Office declared. Nonetheless, it is enforcing the Bureau of Animal Industry ban on the movement of live domestic and wild birds and their products from Luzon to the Visayas and Mindanao.
Provincial Veterinarian Officer Renante Decena disclosed that fighting cocks from Negros Occidental brought to Manila cannot be returned to the province, and breeders should not go to their farms for three to five days to prevent contamination.
Negros Occidental is known for breeding fighting cocks, while Bacolod City has popularized "chicken inasal."
Negros Occidental Gov. Alfredo Marañon Jr. has called on all local chief executives to support the implementation of veterinary quarantine measures.
In La Union, the veterinary office has also confirmed that poultry products in the province are safe from avian flu.
San Fernando City veterinarian Flosie Decena said most of the poultry products being sold at the Auxiliary Wet Market in San Fernando came from neighboring Pangasinan province, La Union's Rosario town and Siboan-Otong, San Fernando City.
In Batangas, Nicanor Briones, president of Agriculture Sector Alliance of the Philippines Inc. (AGAP) and director of Samahang Industria ng Agrikultura (SINAG), said the ban on selling eggs outside Luzon would result in a massive loss to the province.
"We appeal to DA Secretary Piñol to issue clearances to poultry businessmen in avian flu-free provinces," Briones said in Filipino. The provincial government has set up "disinfectant" checkpoints at key points to prevent the flu from reaching the province.
Eggs seized
Piñol said 1,500 eggs were confiscated in Caticlan Port and 21 metric tons (MT) of dressed chickens were seized in Cagayan de Oro Port.
The 1,500 eggs were from Candaba, Pampanga coursed through Batangas Port, while the 21 MT dressed chickens were coursed through Manila Port.
"Because of this, I ordered the investigation of the quarantine chief (Herminia Burgo) at the Batangas Port," he said.
The department is still verifying the details of the shipment.
The local industry has been urging the DA to lift the temporary ban on the shipment from Luzon to the Visayas and Mindanao so as not to disrupt the supply chain.
However, the DA said it is firm on its decision to keep the ban.
"We can never be sure that virus was contained 100 percent. The longer time that we act on this, the greater is the risk that the virus would spread. We really have to handle this problem really well," Piñol said.
According to the industry, volume of sales of poultry products in Central Luzon continued to decline by about 80 percent due to the bird flu scare.
"Some have stopped buying. There is already a huge impact in the Visayas and Mindanao because a lot are coming from Central Luzon, particularly Batangas," Egg Board president Ambal said. – With Louise Maureen Simeon, Arnell Ozaeta, Jaime Laude, Jun Elias, Helen Flores, Gilbert Bayoran, Delon Porcalla