Marawi crisis: What we know—and don't know—so far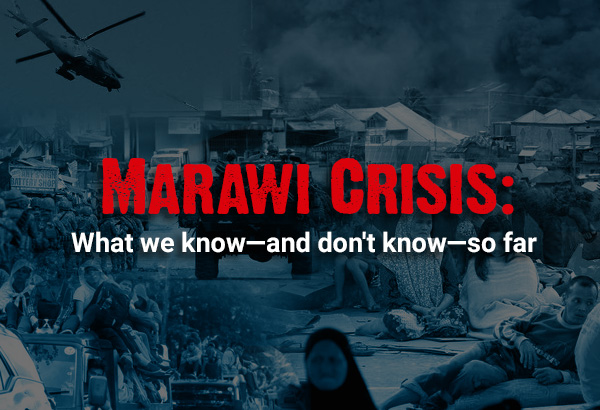 MANILA, Philippines (First published May 24, 2017, 12:04 p.m.) — On the seventh day of the Marawi crisis, we take a look at the questions at the heart of the issue.
Why was martial law declared?
The declaration was announced in Russia where the president was supposed to spend five days for an official visit. Duterte's meeting with Russian President Vladimir Putin was brought forward to allow his hasty return to the Philippines and deal with the crisis, cutting short his trip.
Defense Secretary Delfin Lorenzana said the declaration would help government forces carry out searches and arrests and detain rebel suspects more quickly.
What was the basis of the declaration?
On Friday, Solicitor General Jose Calida said what's happening in Marawi is no longer a rebellion citing the discovery of Indonesian and Malaysian fighters.
"It has transmogrified into an invasion by foreign terrorists who heeded the clarion call of ISIS," he said.
However, foreign militants, including some of Asia's most wanted, have had a presence in Mindanao for decades.
Where are the jitters toward the declaration rooted?
Opposition towards the president's declaration also stems from memories of rights abuses suffered by the country under Ferdinand Marcos' martial rule over three decades ago.
Under Marcos rule, peace and order in Mindanao deteriorated with accounts of the massacre of men and rape of women.
MUST READ: Memories of Martial Law in Mindanao: The forgotten war
What started the clash?
The gunbattle began after government troops raided the hideout of Abu Sayyaf leader Isnilon Hapilon in Marawi City, a largely Muslim city with a population of over 200,000.
Hapilon, who is still recovering from wounds sustained in a military airstrike in January, and more than a dozen of his men called for reinforcement from its ally, the Maute. The Maute was blamed for the bomb attack in Duterte's hometown of Davao City last September which killed 15.
Who is Isnilon Hapilon and where is he now?
Washington has offered a $5 million reward for information leading to Hapilon's capture, but he has proved elusive. He was wounded and suffered a stroke in a Philippine airstrike in January but got away.
Is there ISIS presence in the Philippines?
Hapilon, an Arabic-speaking preacher known for his expertise in commando assaults, has pledged allegiance to ISIS in 2014, according to security officials. He reportedly has been chosen to lead an ISIS branch in Southeast Asia.
"We have not seen any concrete evidence of material support from IS," military spokesman Brig. Gen. Restituto Padilla said Thursday. He added that the smaller groups "are working to really get that recognition and funds, of course."
What is the situation on the ground?
As of Sunday, the death toll from six days of fighting in Marawi neared 100. Aside from civilians, 61 militants, 11 soldiers and four police were among the dead.
Troops found corpses in the streets Sunday, including at least eight civilians who appeared to have been executed. Thousands of civilians have streamed out of Marawi and more than 2,000 were still trapped inside the city.
Social Welfare Secretary Judy Taguiwalo said a total of 12,509 families or 59,665 persons are displaced in Northern Mindanao and ARMM as of Monday.
Many sent desperate text messages begging to be rescued and reporting that their homes had been destroyed, said Zia Alonto Adiong, an official in Lanao del Sur, one of the country's poorest provinces.
Much of the city is a no-go zone. Military spokesman Brig. Gen. Restituto Padilla said that combat operations were still going on, but that the militants were weakening.
"We believe they're now low on ammunition and food," he said, speaking by phone from Manila, the capital. "Compared to the initial days, there has been increasingly less resistance from the militants within Marawi."
Philippine fighter aircraft unleashed rocket fire against militants on Saturday, prompting villagers to hoist white flags to avoid being targeted as the military turned to airstrikes to try to end the siege.
Año predicted that the military operation would take about a week as soldiers go house to house to clear the city of militants.