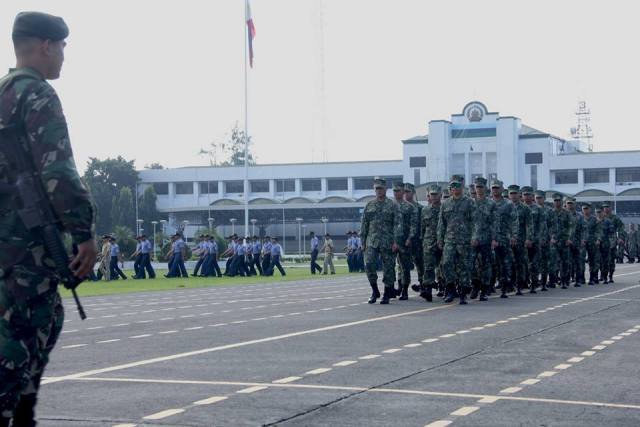 Military personnel conduct troop inspection at Camp Aguinaldo in Quezon City. Armed Forces of the Philippines, file
Duterte: Martial law could expand to cover entire country
(Philstar.com) - May 24, 2017 - 9:36am
MANILA, Philippines — Martial law may extend to Visayas and Luzon, President Rodrigo Duterte said Wednesday when he arrived from an official visit to Russia.
In a speech at the Ninoy Aquino International Airport, the president said he had ordered the Philippine Navy to blockade the waters between Mindanao, where martial law was declared Tuesday night, and the Visayas.
"I have a serious problem in Mindanao, and the (Islamic State of Iraq and Syria) has taken, their footprints are everywhere. And there are many, many foreigners and Caucasian-looking. Allow me to focus the problem sa Mindanao, and maybe the spillover in the Visayas and in Luzon," Duterte said on Wednesday night upon arriving from Russia.
"if I think the ISIS has taken foothold also in Luzon, and terrorism is not really far behind, I might declare martial law throughout the country to protect the people," Duterte added.
READ: Drawing parallels with Marcos, Duterte says Martial Law period 'good'
Duterte said that aside from declaring martial law, he has also suspended the writ of habeas corpus in Mindanao. The writ is a court order that compels security forces to bring someone who has been arrested before the court and justify their detention. It is a safeguard against warrantless and unlawful arrests.
He said that under martial law checkpoints, searches and warrantless arrests will be allowed in Mindanao.
READ: Mindanao martial law to be like Marcos', says Duterte
The president said that he may also decide to suspend the writ of habeas corpus in the Visayas.
Duterte, who declared martial law in Mindanao in response to a crisis in Marawi City involving security forces and the Islamic State-inspired Maute group, referred to the Mautes group as ISIS. This, despite the Armed Forces of the Philippines and the Philippine National Police saying there is no ISIS presence in the Philippines.
He said that if he senses that ISIS is infiltrating Luzon, the country's largest island and where Metro Manila is, he may declare martial law over the entire country.