Putin condoles with victims of Marawi blast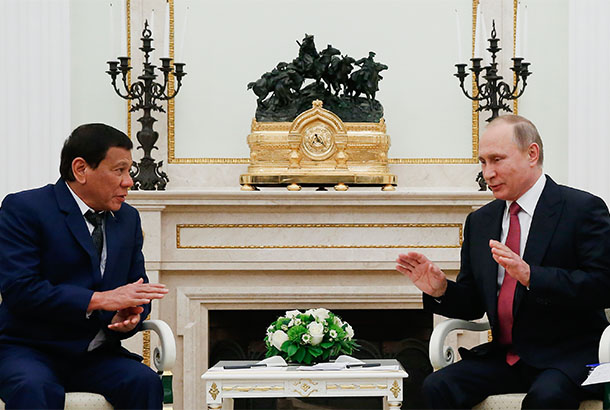 MOSCOW — Russia President Vladimir Putin has condoled with the victims of the attacks in Marawi, an incident that forced Philippine President Rodrigo Duterte to cut short his four-day official visit here.
At least two soldiers and a policeman were killed in clashes that erupted on Tuesday after government troops raided a house believed to be the hiding place of Isnilon Hapilon, a wanted terrorist who is said to be the leader of the Islamic State of Iraq and Syria (ISIS) in the Philippines.
Duterte skipped all activities lined up for his visit except the bilateral meeting with Putin, which was hastily moved a day earlier after he decided to fly back to the Philippines early Wednesday morning. He was supposed to leave Russia on May 26.
During the meeting, Duterte informed Putin about the occupation by ISIS terrorists of some towns in Mindanao and apologized for cutting short his official visit.
"ISIS occupied a few provinces in the Philippines there is fighting going on and I have to go home and I should be there tonight It's an urgent matter," the Philippine leader told Putin in Kremlin Tuesday night (early Wednesday morning, Philippine time).
Putin said he was hopeful that the incident in Marawi would be resolved as soon as possible.
"I have to express our condolences (for the) loss of lives of your people (that) happened because of a horrible terrorist attack. And my colleagues and myself definitely understand quite well that you do have to come back to return to your motherland," the Russian president said through an interpreter.
"And let me express hope that the conflict that you have just mentioned will be resolved as soon as possible and with minimal losses and casualties," he added.
Philippine officials who were present during the meeting were Foreign Affairs Secretary Alan Cayetano, Defense Secretary Delfin Lorenzana and Special Assistant to the President Christopher Go.
Duterte previously said he was planning to buy precision-guided bombs from Russia to intensify the government's campaign against terrorism and other armed threats.
He said Russia was prepared to provide the Philippines all the defense equipment it needs.