Duterte tells troops in jest: I will answer for your rape cases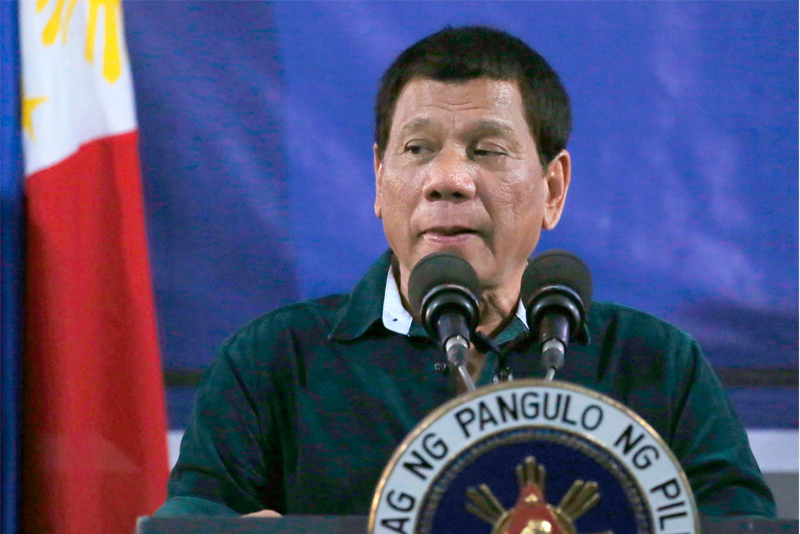 MANILA, Philippines — Philippine President Rodrigo Duterte on Friday told troops he would answer for the ramifications of the martial law he declared in Mindanao, while commenting in jest that this includes cases of rape.
Speaking before officers and soldiers belonging to the 2nd Mechanized Infantry Brigade in Iligan City, Duterte told soldiers to just do their job because he would take full responsibility for the army rule in Mindanao.
"For this martial law, and the consequences of martial law, and the ramifications of martial law, I and I alone would be responsible," he said.
"Trabaho lang kayo. Ako na bahala. Ako na magpakulong sa inyo. Pag naka-rape ka ng tatlo, aminin ko na akin 'yun. 'Pag nag-asawa ka ng pang-apat, ah t*** i** bugbugin ka ng… (Just work, I'll take care of it. I will be the one to imprison you. If you have committed rape three times, I'll take responsibility for it. If you marry four, son of a bitch, you'll get beaten up by...)," the president said, apparently in jest.
Duterte said that with military rule in effect in Mindanao the soldiers could arrest anyone and search any house, comparing it with arrest, search and seizure order in effect during the dictatorship of Ferdinand Marcos. Marcos' martial law regime was marred by severe cases of human rights violations, killings and disappearances.
"During martial law, your commanders, you can arrest any person, search any house, wala ng warrant. Kagaya noon ASO lang. It could be signed by Gen. Año," the president said, referring to Eduardo Año, the military chief and the main implementer of the army rule.
This is not the first time that Duterte had made lurid, and oftentimes offensive, remarks.
When he was still campaigning for the presidency last year, Duterte was condemned for joking that he should "have been" first on an Australian lay minister rape victim, whom he compared with a beautiful American actress.
'I'll give you everything you need'
The president assured security forces fighting Maute and Abu Sayyaf fighters in Marawi City that he was "scrapping the bottom of the barrel" to look for money to support the military's operations.
"Kung maglaban sila wala tayo magagawa. Go for it. May full support kayo sa akin. (If they fight back, we can't do anything, fight back. You have my full support) I'm scrapping the bottom of the barrel to look for money to see you through. Basta lahat ng kailangan ninyo ibigay ko. Lahat (I'll give everything you need, everything)," Duterte said.
The president told the troops to just wait some more as he had already talked with Russia to procure weapons and armaments through a soft loan.
He also ordered troops to kill individuals bearing guns and weapons unauthorized by the government, saying that they would just come back another day if they would not do so.
"Ang utos ko naman sa tropa lahat ng tao na hindi authorized ng gobyerno na magdala ng baril, patayin niyo, ubusin na lang ninyo. Kasi ganun rin ang labas e. (My order to troops is to shoot, kill those who are not authorized to carry firearms) He will come back to fight another day," said the chief executive, adding that he was open to talk peace if the bandits wanted to.
The president also rallied the troops as they imposed martial law on the Philippines' second largest island that has a population of around 22 million.
The president told soldiers and military officers: We will overcome, and we will win."
If he were younger, he would have joined the troops in fighting the Maute and Abu Sayyaf members, according to the president.
He joked that he had not had action in bed because his illnesses had come out.
"In the meantime fight for the country. Ako kung ako lang kung pwede lang akong makisali sa inyo sasali ako. Kaya lang ang isang kilometro sa akin wala na. Limang araw ng walang chukchak yan kasi wala na inutil. Naglabasan ang rayuma pati arthritis. Kung bata lang ako ng presidente sasali ako sa inyo," Duterte said.
Duterte declared martial law in Mindanao Tuesday following a failed attempt by security forces to arrest Abu Sayyaf subleader Isnilon Hapilon and several Maute leaders.
As of the latest information from the military, the firefight between the military and bandit fighters has resulted in the death of 31 terrorists, 11 soldiers and two policemen.
The siege of Marawi City has forced the president to cut short his visit to Moscow, Russia where senior government security officials accompanied the chief executive.