Davao City rounds up at least 250 for having no ID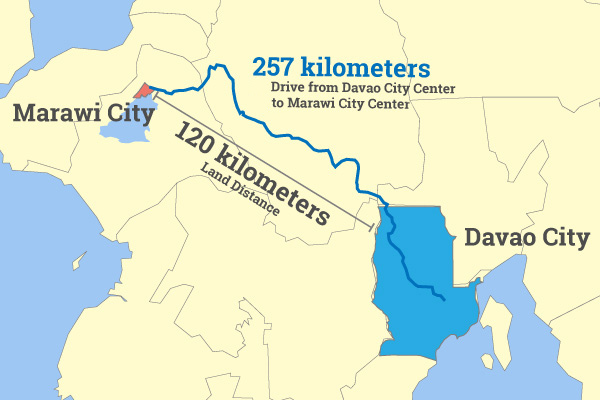 MANILA, Philippines — Under martial law and acting on suspicion, Davao authorities rounded up at least 250 individuals from two barangays on Thursday for having no identification cards.
Senior Superintendent Alexander Tagum, director of the Davao City police office, said that cops have conducted the operation in barangays Bucana and Mini-Forest to verify information they received that some fugitives entered the areas.
"We are conducting validation and verification of a written report that some unidentified person ay reportedly pumasok sa area," Tagum said in a video interview with Davao-based reporter Ben Jason Tesiorna.
The arrests occurred after President Rodrigo Duterte, father of Davao City Mayor Sara Duterte-Carpio, enveloped Mindanao in military rule starting Tuesday. He also suspended the writ of habeas corpus, or the privilege protecting citizens from warrantless arrests.
Martial law was imposed, for at least 60 days, following a clash between military and Islamic State-inspired Maute militants in Marawi City, which is about 250 kilometers from Davao City.
The city, meanwhile, is under a "hold-and-secure" situation with individuals discouraged from leaving or arriving in the area.
ALSO READ: Davao City releases 30-point guideline under martial law
Tagum said officers were trying to verify the identification of the individuals they rounded up. Those being questioned, he said, did not have IDs.
"In fact, the local officials of Barangay Bucana and Barangay Mini-Forest cannot vouch for them because hindi daw sila kilala or wala silang record sa kanilang purok o barangay," Tagum added.
On Wednesday, Duterte-Carpio placed the entire city under a "hold-and-secure situation" to prevent what she claimed could be a spillover of violence from Marawi City.
"They would want to do it here in Davao City kasi number one, nandito nakatira ang president and number two is Davao City is the rallying point of Mindanao," Duterte-Carpio said.
Martial law empowers the armed forces to supersede civil authorities.
Prone to abuses
Human rights defenders warned against the dangers arising from broad government powers under martial law.
New York-based Human Rights Watch suggested that expansive coverage of the measure—over the whole of Mindanao even as the clashes were in Marawi City—could also affect the military's handling of other armed conflicts on the island, including the communist New People's Army and various Moro insurgent groups.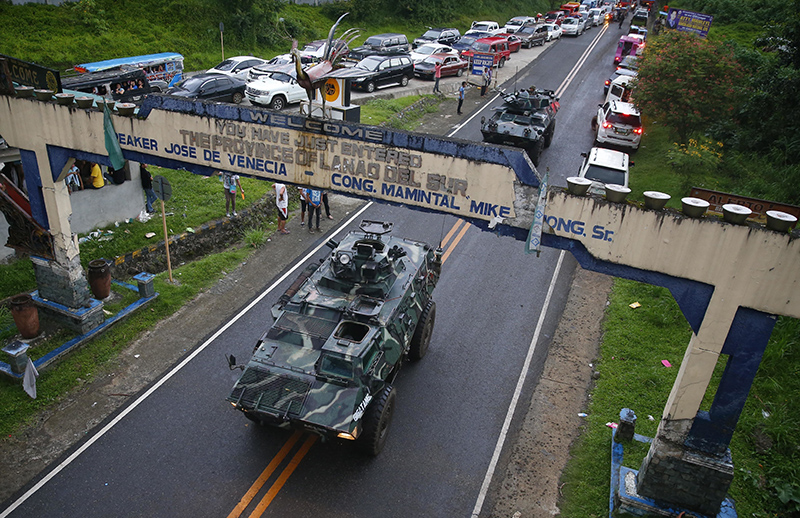 Armored Personnel Carriers make their way through a queue of vehicles with fleeing residents that stretches for miles (kilometers) as Muslim militants lay siege in Marawi City in southern Philippines for the third day Thursday, May 25, 2017. The exodus of thousands of residents has continued amid continuing gun battle between Government forces and Muslim militants occupying several buildings and houses in the city where they hoisted IS style black flags. AP/Bullit Marquez
The group warned that the military's authority opens the door to increased human rights violations against civilians, including leftist activitists, indigenous leaders and environmental activists, who have long been targets of military abuses.
"The Philippine government has a responsibility to protect the population from armed militants, but gaining the backing of affected people means abiding by the rule of law," said Phelim Kine, deputy Asia director at Human Rights Watch.
"Martial law is not a free pass for abuse," Kine added.