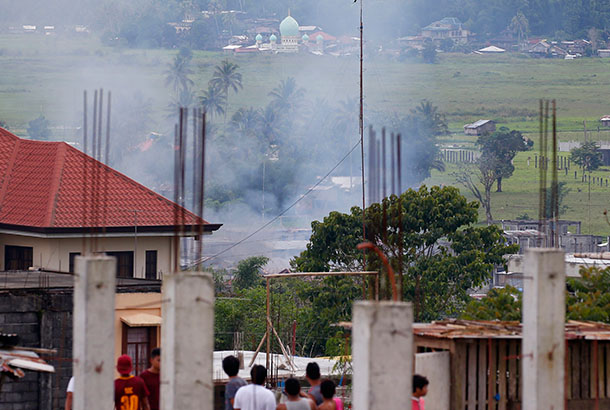 Residents watch a house that caught fire when government troops continue to battle with Muslim militants who lay siege in Marawi city in southern Philippines Thursday, May 25, 2017. Army tanks packed with soldiers rolled into the southern Philippine city Thursday to try to restore control after ISIS-linked militants launched a violent siege that sent thousands of people fleeing for their lives and raised fears of extremists gaining traction in the country. AP Photo/Bullit Marquez
Eyewitness accounts tell of looting, burning of homes by Maute
LANAO DEL SUR — Residents of Marawi City told reporters that Maute gunmen ransacked abandoned houses and took with them appliances and other valuables left by owners.
They also confirmed seeing terrorists bringing plastic containers filled with gasoline, to be used in setting houses on fire.
Smoke could be seen billowing from certain residential areas in Marawi City amid clatters of assault helicopters hovering in the air until noontime Friday.
Gunshots and explosions were again heard in Barangays Malimono, Gadungan, Bangolo and Marinaut on Thursday morning as soldiers resumed with counter-offensives meant to flush terrorists out of Marawi City.
Dialect barrier adds to climate of fear
The presence of Yakan and Tausug-speaking gunmen in the ranks of the Maute terror group is so scary for Marawi City residents who cannot speak their dialects.
Lanao del Sur Vice Gov. Mamintal Adiong, Jr. on Friday said no less than 70 percent of residents in Marawi City have relocated to safer areas the past three days amid the raging strife in several villages where terrorist laid siege.
Evacuees told The STAR some of the gunmen who showed force along strategic thoroughfares in Marawi after the Tuesday gunfights in Barangay Basak Malulut could not speak the Maranaw dialect when they asked permission to get through their roadblocks.
"I almost fainted in fear when we felt they did not understand us. I know they were conversing in Tausug because I had Tausug friends when I was a student of MSU," an evacuee, Rohaina, said referring to the Mindanao State University in Marawi City.
A career service staff of the Office of the Regional Governor in the Autonomous Region in Muslim Mindanao (ARMM), forced to leave Marawi City with her children when Maute terrorists set on fire a building in the Dansalan College just beside their house, said the gunmen positioned along thoroughfares spoke in vernaculars strange to Maranaws fleeing from the city.
"They are not Maranaws. Believe me, they spoke in Tausug and some of them spoke in what sounded as Yakan dialect," the ARMM employee said Friday.
The source, who asked not to be identified for security reasons, said some of the gunmen who burned down the buildings in the campus beside their house were not Maranaws.
'Last frontier'
ARMM Gov. Mujiv Hataman, chairman of the regional peace and order council, said he received feedback from his constituent-leaders in Lanao del Sur and Marawi City that there are Yakans and Tausugs alongside Maute terrorists fighting soldiers in Marawi City.
Sources from different local government units in Lanao del Sur, a component province of ARMM, said there is truth in reports received by Hataman.
They also confirmed that wanted Abu Sayyaf leader Isnilon Hapilon was at Barangay Basak Malulut on Tuesday.
"We have confirmation from people in Marawi City that the Maute and the group of Hapilon have allied with each other after government control over their supposed `last frontier' in Al-Barka was restored by local officials and barangay leaders there," said Hataman, now in his second term as ARMM governor.
The US government is reportedly dangling a $5 million bounty for Hapilon for his involvement in the murder of American captives the Abu Sayyaf had kidnapped in different Mindanao provinces in years past.
The hostilities in Marawi City erupted when a team of soldiers dispatched to check on the reported presence of Hapilon there were attacked by Maute terrorists, provoking running gunfights that sent Maranaw villagers running for their lives.
Hapilon hails from Lantawan town in Basilan. He is of mixed Tausug and Yakan descent.
Relief ops amid nearing Ramadhan fasting
Government rescue and relief workers are now trying to get through hostile areas in Marawi City to deliver food and water to villagers affected by the intermittent Maute-military skirmishes since Tuesday.
Salma Jayne Tamano, information officer of Lanao del Sur's provincial government, on Friday said relief teams are penetrating through conflict-stricken areas with extreme caution.
Tamano said their humanitarian outreach teams are also helping evacuate villagers from areas where there are on-going gunfights.
Thousands of students trapped in the campus of MSU, the largest state university in Mindanao located in a highland spot in Marawi City, had been relocated to safer areas by school president Habib Macaayong and local emergency groups.
Myrna Jo Henry, communication staff of ARMM's Humanitarian Emergency Assistance and Response Team (HEART), said their relief operations are focused on residents who relocated to nearby Iligan City.
Henry said the office of Hataman has initially earmarked individual food packs for 40,000 evacuees.
"Gov. Hataman wants our relief operation done as a continuing intervention because the Islamic fasting month of Ramadhan will start on Saturday and these evacuees will fast from dawn to dusk for one month during the Ramadhan," Henry said.