Broad, arbitrary: Duterte's powers under martial law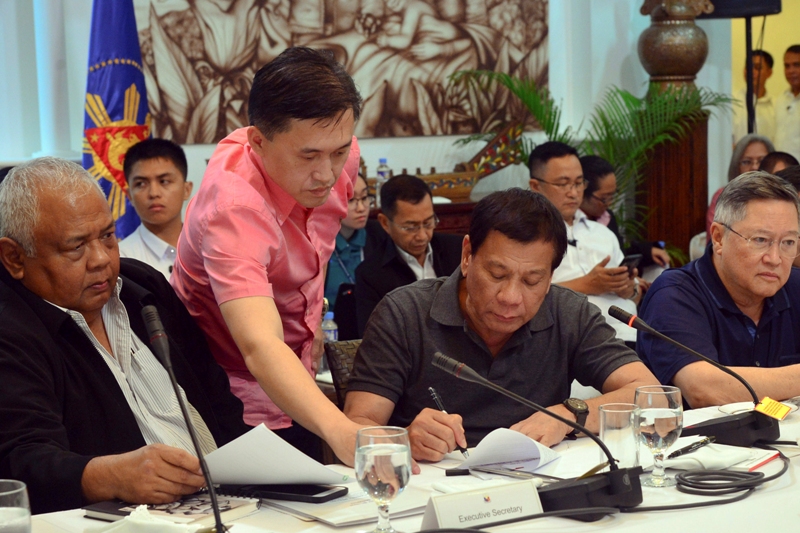 MANILA, Philippines — Following a clash between government troops and members of a local terror group in Marawi City, President Rodrigo Duterte declared martial law in Mindanao.
Article VII, Section 18 of the 1987 Constitution states that the president may call out armed forces to prevent or suppress lawless violence, invasion or rebellion.
In his full report submitted to the Senate and the House of Representatives, Duterte said that he declared a state of martial law in the whole of Mindanao after finding that the Maute group have taken arms "for the purpose of removing Mindanao—starting with the City of Marawi, Lanao del Sur—from its allegiance to the Government and its laws."
In addition to allowing the military to take over, Duterte also suspended in Mindanao the writ of habeas corpus, which compels authorities to secure court warrant in arresting suspected individuals.
Constitutionalist Christian Monsod said the declaration of martial law in Mindanao gives "broad, arbitrary and extraordinary" powers to the president.
LIVE UPDATES: Martial law in Mindanao
"Actions taken by the military seem to be sufficient without military rule. Malaki ang diperensya 'yun, 'yung calling the armed forces to suppress lawless violence, and moving into the area of martial rule," Monsod told Philstar.com.
Ateneo de Manila University law professor Tony La Viña agrees with Monsod, adding that there was a big jump from the events in Marawi City to including all of Mindanao in the declaration of martial rule.
"It would be good to know the basis of the President for including all of Mindanao. Is this just his instinct? Did he receive specific intelligence?" La Viña told Philstar.com.
Blurred lines
The powers of the president under martial law permitted under the Constitution are largely unexplored. According to Monsod, who helped frame the 1987 charter, it was meant to uphold democratic checks and balances and martial law was to be a measure of last resort.
Martial law can also be used to solve "defined emergencies," but like any power, it can lead to oppression when abused, Chief Justice Maria Lourdes Sereno said in an address on Friday.
She describes the powers of the executive under martial law as "awesome" and will depend on the discretion of the president and his arms, including the police, military, chief public attorney, justice department and prosecutors.
"There may be questions before the Supreme Court regarding whether this can be extended to encompass situations akin to invasion or rebellion, and what circumstances constitute rebellion, but we will not venture into that for now. Suffice it to say that the martial law power is an immense power that can be used for good," Sereno said.
Rep. Harry Roque, an international lawyer, also noted that the president can take over businesses in the context of a national emergency.
Martial law declaration in the Philippines might not be good for the country as it may turn off investors, Roque warned.
What is clear is that the Constitution allows martial law to be imposed "for a period not exceeding sixty days," under the Constitution. But it also allows the president to ask Congress to extend the proclamation "if the invasion or rebellion shall persist and public safety requires it."
The Constitution cannot also be suspended under martial rule. The measure, moreover, is also not supposed to take over the functioning of civil courts or legislative assemblies such as Congress. Military courts, then, will not have the jurisdiction of civil courts.
RELATED: Confusion over conflicting statements on Marawi crisis
From 'rebellion' to 'invasion'
Meanwhile, Solicitor General Jose Calida claimed that there is an invasion in Mindanao, presumably to justify the declaration of martial law.
"What is happening in Mindanao is no longer a rebellion of Filipino citizens. It has transmogrified into an invasion by foreign terrorists who heeded the clarion call of ISIS," Calida said.
Calida also claimed that Indonesians and Malaysians are fighting alongside the local terror group that attacked Marawi.
However, Duterte's proclamation on the declaration of martial rule in Mindanao only cited the crime of rebellion.
"Whereas, this recent attack shows the capability of the Maute group and other rebel groups to sow terror, and cause death and damage to property not only in Lanao del Sur but also in other parts of Mindanao," Proclamation No. 216 read.
Duterte had warned that martial law may extend its coverage if the ISIS gains footholds in Luzon and Visayas.
"You can sow terror [when you have] a terrorist attack in Ilocos or if there is a terrorist attack in Leyte, and so on, does that mean that you will declare the entire country in a state of martial law? Or is that something that the military should handle without declaring martial law?" Monsod said.
RELATED: A look into Duterte's reasons for martial law in Mindanao