TV ratings for latest Grammys best in 3 years
February 7, 2023 | 12:34pm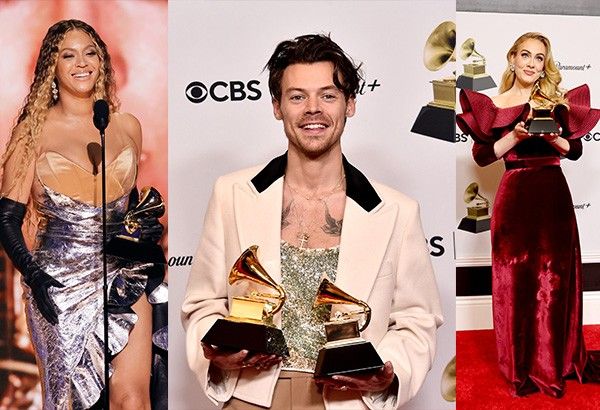 MANILA, Philippines — The 2023 Grammys saw its biggest audience ratings since 2020, but it is still a bit away from the numbers it used to reel in before the COVID-19 pandemic struck.
According to primary data provided by Nielsen, the 65th Grammy Awards had 12.4 million viewers on CBS — the cable network where the ceremony aired on American television — and on the CBS and Paramount+ apps.
Paramount+ said the 2023 Grammys drew its biggest-ever live-streaming audience since it launched in March 2021, though the streaming platform did not provide specific numbers.
CBS added that online, the 2023 Grammys hit 66 billion potential impressions, including 53 million social video clips, making it "the #1 social entertainment event of 2023" so far.
Related: LIST: Grammy Awards 2023 key winners
For comparison, last year's television ratings were just 9.59 million viewers, albeit only on cable, meaning the 2023 ratings are a 30% improvement.
The 2020 Grammys, the last pre-pandemic ceremony, had 18.69 million viewers, which is 34% more than the numbers for 2023.
This is the first time that the Grammys was held once again during the winter in the United States, as the previous two editions were held during the spring.
Big winners of the night were Harry Styles' "Harry's House" for Album of the Year, Lizzo's "About Damn Time" for Record of the Year, Bonnie Raitt's "Just Like That" for Song of the Year, and Samara Joy as Best New Artist.
Milestones were also marked as Beyonce, with four new trophies, became the most-awarded Grammy artist of all time with 32 wins, while actress Viola Davis became the 18th person to achieve an EGOT (Emmy, Grammy, Oscar, Tony) after winning Best Spoken Word Album.