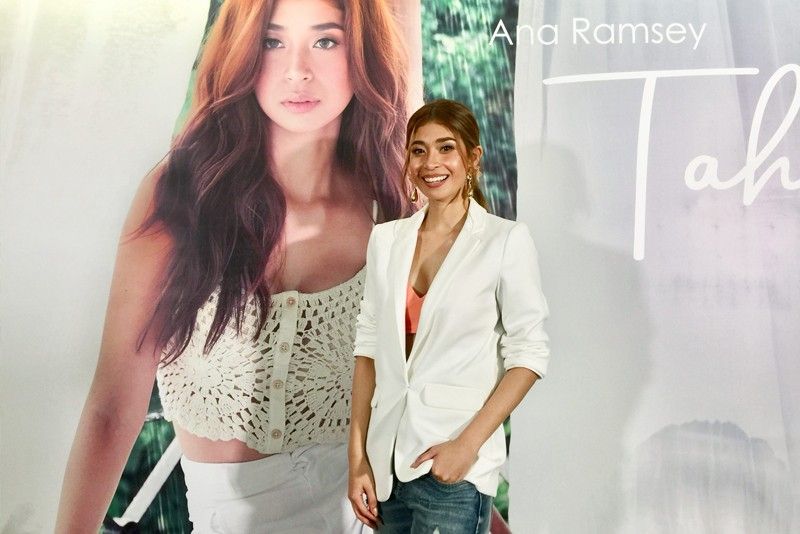 Ana Ramsey releases her debut single titled Tahan under Star POP
Bot Glorioso
(The Philippine Star) - August 20, 2019 - 12:00am
MANILA, Philippines — Another welcome addition to the Star POP family is Ana Ramsey who recently released her single Tahan that speaks of the struggles of a conflicted heart. Star POP is a sub-label under ABS-CBN's music arm Star Music.
Ana is the granddaughter of Elizabeth Ramsey and niece of Jaya. She admitted to feeling the pressure of carrying her surname, knowing the kind of legacy her lola left in the local tinseltown. Same with her aunt Jaya who remains a popular name in the music scene.
"There's a bit of pressure due to the memories left behind by my lola as a comedienne and performer. But I'd like to follow in their footsteps on how they influenced people and inspired them through music," said Ana, adding that she got to talk to Jaya during the MOR Awards. The latter also expressed happiness over Ana's budding music career and congratulated her on her new single.
When Ana began performing during her debut single launch, the atmosphere felt like you were transported to a hotel venue listening to a lounge singer. Her vocal tone perfectly fits the soul genre.
"I believe soul music is for me kasi mas nailalabas ko 'yung emotion and the quality of my voice is somewhat deep kaya 'yun talaga ang para sa akin. Actually, there were three songs initially presented to me but when I heard Tahan, I got goosebumps. I was able to remember the chorus right away and I truly found it beautiful," shared Ana who didn't forget to thank Tahan's composer John Aldrin.
Star Music exec Rox Santos added that Ana is able to clearly send the message of the song and her emotional tone can be truly felt even though the latter admitted that she has no boyfriend since birth.
Ana started singing at 10 years old and although she doesn't have any formal training in music, Ana has learned proper vocal techniques and styles by watching live performances on YouTube. Her favorites are Aretha Franklin, Beyoncé Knowles and Yolanda Adams.
In case she looks familiar to you, it's because Ana had already appeared on TV as one of the contestants in Star Power: Sharon's Search for The Next Female Pop Superstar where Angeline Quinto was named the grand champion. The 24-year-old DJ also won the gold medal at the 2014 EuroPop Festival in Germany.
"Whenever I see audition announcements on TV, I would really go and try my luck. Nagse-search talaga ako ng mga contests and auditions. Ako din ang kasama ni lola sa mga concerts n'ya. There's no shortcut for me. I just believe that everything will happen with God's help. I'm so thankful and grateful to the Lord that this is happening to me now."
Now that she has realized her dream, Ana cannot be thankful enough to the people who supported her. She is also grateful to her manager Von Arroyo, Star POP, MOR people and to her family.
Asked who among the OPM singers she wishes to have a duet with, Ana mentioned her aunt Jaya and "with Sarah Geronimo and KZ Tandingan because they are so good. I would really like for their energy to rub on me and also to have the kind of vibe they have when performing onstage."
(Tahan's music video, shot in San Pablo, Laguna, showing Ana with Kirst Viray as her boyfriend premiered on MYX and Star Music YouTube Channel last Aug. 9. The single is now also available on Spotify, Apple Music and other digital stores worldwide.)