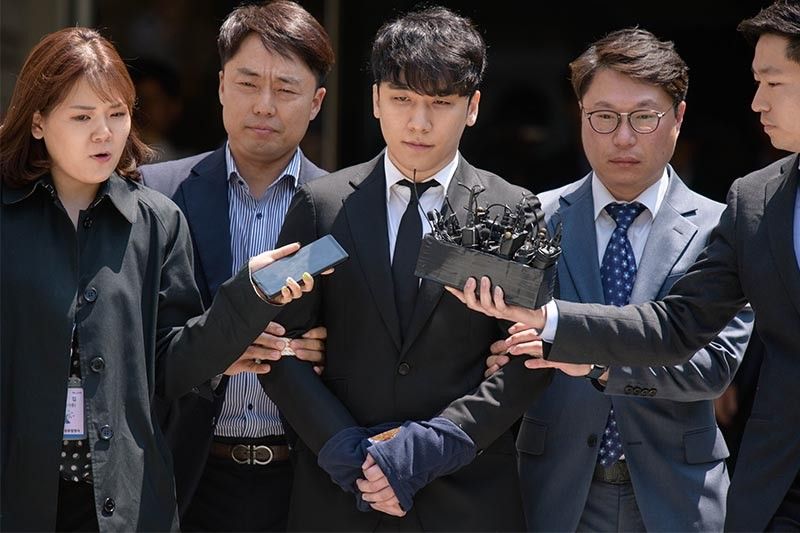 Former BIGBANG boyband member Seungri (C), real name Lee Seung-hyun, is taken into custody as he leaves the High Court in Seoul on May 14, 2019. The 28-year-old is linked to a police investigation into Burning Sun, a nightclub where he was a public relations director, where staff are alleged to have filmed women with hidden cameras and used alcohol and drugs to sexually assault them.
AFP/Ed Jones
South Korean court to rule on arresting K-pop star Seungri
(Agence France-Presse) - May 14, 2019 - 7:19pm
SEOUL, South Korea — South Korean pop star Seungri went to court Tuesday for a hearing over whether he should be arrested on charges including prostitution in a snowballing sex scandal.
The 28-year-old singer from popular boy band BIGBANG and his business partner are accused of arranging sex services for potential investors and rich clients at a nightclub owned by the pair.
Dressed in a sharp black suit, Seungri -- real name Lee Seung-hyun -- quickly walked past a mob of reporters at the Seoul Central District Court, tight-lipped as he brushed off questions.
Hours later a sombre-looking Seungri stepped out of the building, his hands cuffed and covered with a cloth, to be taken to a nearby detention centre to await the court decision, expected late Tuesday night.
Police investigations have shown that Seungri and his partner procured a dozen prostitutes for a group of Japanese investors in 2015 at their upmarket Burning Sun nightclub, according to Yonhap news agency.
The pair also allegedly embezzled around 530 million won (US$450,000) from the business and face charges of violating sanitary codes at Burning Sun, where drug peddling was allegedly commonplace and women are said to have been regularly raped.
Seungri -- who announced his retirement from showbusiness in March as the scandal ballooned -- has denied the charges.
Other stars have been embroiled in the allegations, which have cast a shadow over the K-pop industry after investigations into Seungri revealed an online chatroom where a handful of male celebrities shared illegally filmed sex videos.
Singer-songwriter Jung Joon-young, who ran the chatroom, was arrested in March after admitting to filming himself having sex and sharing the footage without his partners' consent.
A member of boy band FT Island was arrested earlier this month while another figure has announced his retirement from the entertainment industry amid an ongoing probe.