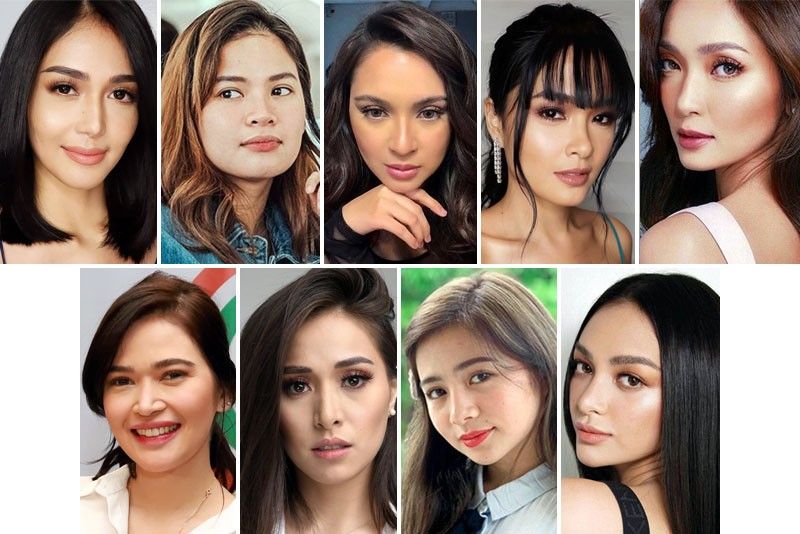 Clockwise from upper left: Cindy Miranda, Louise delos Reyes, Ryza Cenon, Yam Concepcion, Danita Paner, Kylie Versoza, Ella Cruz, Cristine Reyes, Bela Padilla
Viva goes all out in content with new online magazine
MANILA, Philippines — Amid the glimmer of colorful neon lights and the sound of upbeat electronic dance music, Viva Entertainment's sexiest stars paraded onstage at Xylo at the Palace in Uptown Bonifacio, Taguig City on Tuesday night in all-out support for the newest online magazine, AO.
The online magazine is hailed as Viva Entertainment's first foray into digital content creation. Known for creating content for TV and cinema with channels such as Viva TV and Pinoy Box Office and film production company Viva Films, Viva Entertainment offers hot and fresh content — this time, to Internet users — via AOmnl.com.
"Everyone has smartphones and Internet access and so content truly became available to anyone at any time. Viva is a content company, and with that said, we now bring our content to a new medium, which is the Internet. Hence, the birth of AO, which is all out," says Jay Montelibano, VP Integrated Marketing and Production for Viva Entertainment.
"AO means all out but it could also mean a lot of things. We left it at AO because we want it to be open to interpretation. AO could mean 'always on' because we are a 24/7, 365-day digital site. It could also mean 'above ordinary' because we don't do content that is mediocre. We always try to bring out the best content. AO is the best of everything," says Allan Hernandez, editor-in-chief of AO.
As a contemporary pop culture and lifestyle website, AO will go all out on all things hot and current both in the real and the digital world. Its content is anchored on the most beautiful and sexy celebrity photo shoots, featuring Viva's A-list stars and some of the country's top photographers.
To complete the experience, the website will also offer articles that weigh in on a variety of interests and topics that include personalities, celebrities, fashion, food, travel, movies, music, technology, pop culture, and memes, even current events and issues. Likewise, AO also will print a magazine version of the website twice a year, featuring exclusive content that online readers can look out for.
"Some of you old souls proudly want photographs that you can love and hold. But in the age of digital media, you can't really keep your phones in your shelves or collect them. That is the reason why we pushed to have AO the magazine. The shoots you will see in it are exclusive only to print. (Basically), if digital is like the streaming music, the magazine is your vinyl. This is something you will collect," Hernandez explains.
On the cover of the AO's first print magazine is screenwriter and actress Bela Padilla, known for her roles in the hit movies Camp Sawi, Meet Me in St. Gallen and The Day After Valentines. Aside from her, A-list Viva artists Cristine Reyes, Yam Concepcion, Ryza Cenon, Louise delos Reyes, Danita Paner, Cindy Miranda, Rhen Escaño and Ella Cruz, Miss International 2016 Kylie Versoza, model and radio DJ Lauren Reid, and Miss Manila 2018 Kathleen Paton also graced the pages of the magazine with their glamour photos and strutted in their sultry outfits during the launch.