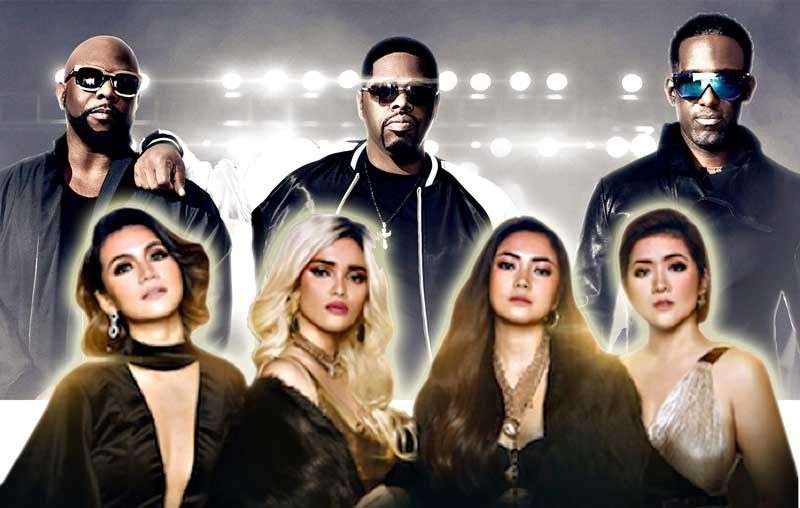 "Yes, it's a lot of pressure for us," responded KZ to The STAR's question if they feel anxious about collaborating with Boyz II Men.
Divas feel a 'good kind of pressure' sharing stage with Boyz II Men
Bot Glorioso
(The Philippine Star) - December 7, 2018 - 12:00am
MANILA, Philippines — While music fans are more than eager to watch Boyz II Men perform once again in Manila on Dec. 15 at the Araneta Coliseum, Kyla, Yeng Constantino, KZ Tandingan and Angeline Quinto, collectively known as Divas, are feeling a little bit nervous.
The all-female group will be sharing the stage with the American R&B group, composed of Nathan Morris, Wanya Morris and Shawn Stockman, in what is being dubbed as a back-to-back concert. Kyla, Yeng, KZ and Angeline confessed that the thought of performing alongside the popular international act for the first time is giving them butterflies in the stomach.
"Yes, it's a lot of pressure for us," responded KZ to The STAR's question if they feel anxious about collaborating with Boyz II Men.
She added, "Sobrang iba kasi 'yung excellence nila and for us to be in the same concert as them, I mean, we both headline the concert so our excellence should be in the same level of Boyz II Men and that's where the pressure is coming from. But it's a good kind of pressure because it has pushed us to hone ourselves more as singers, na hindi pwede 'yung basta-basta o pwede na 'yan."
Yeng agreed that the collaboration has inspired all four of them to work harder. "Sobrang sipag namin mag-aral lahat pagdating sa mga (song) arrangements."
Kyla, on the other hand, has mixed emotions because she grew up listening to the music of Boyz II Men. "But my nervousness is way too much because I admire them so much. In fact, a long, long time ago, about more than 10 years ago, I watched them perform during their first concert here. They were still four in the group and while they were singing, I really couldn't stop crying."
And now that she is about to sing on stage with them, Kyla cannot be thankful enough and looks forward to what might happen after the concert. "There's a possibility that other good things will soon follow."
For her part, Angeline said they never did expect for a collaboration with foreign artists to happen to them this year. "No one could really tell that something like this would take place. At wala namang nakapagsabi na ngayong 2018 ay makakapag-perform ako, kami, na kasama sila. That's why, we are all so excited."
It was in November, 2016 when Divas had its first major concert at the Big Dome which turned out to be successful and resulted in bringing the Divas: Live to US and Canada. The ladies belong to one management company — Cornerstone — under Erickson Raymundo.
Boyz II Men, meanwhile, already performed in the country several times. Its last was during the 65th edition of Miss Universe held here last year. The group is known for such romantic songs as I'll Make Love to You, End of the Road, On Bended Knee, One Sweet Day, Water Runs Dry, 4 Seasons of Loneliness, Motownphilly, In The Still of the Nite and It's So Hard To Say Goodbye to Yesterday.
(Boyz II Men with Divas: Live in Manila is presented by Wilbros Live and Cornerstone Concerts. For tickets, call 911-5555 or visit ticketnet.com.ph.)