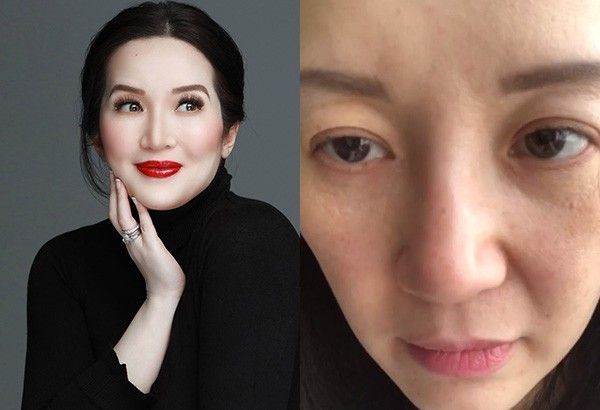 Kris Aquino in an ad campaign for a makeup brand (left); the actress as shown in her Instagram post.
Ever Bilena/Released (left); Screenshot from Instagram/Kris Aquino
Kris Aquino diagnosed with rare autoimmune disease
MANILA, Philippines — Multimedia star Kris Aquino shared on social media the results of her recent medical treatment in Singapore.
In very lengthy Instagram posts, Kris shared that her doctor in Singapore diagnosed her with Chronic Spontaneous Urticaria (CSU), "a serious, chronic and distressing skin condition that is difficult to diagnose and manage," according to Novartis.co.uk data.
Red hives, itchiness, and deep tissue swelling are among CSU's symptoms, while its complications include sleep deprivation and depression, according to the data shared by Kris.
"The results are consistent with Chronic Spontaneous Urticaria; likely autoimmune in view of the positive thyroid autoantibodies," Kris quoted her doctor's diagnosis.
"My Chronic Spontaneous Urticaria afflicts less than 1% of the world's population. Most suffer through it for 1-5 years. Some suffer through it for decades- i fall under that category," Kris shared.
"What happens when you suffer from an autoimmune disease? I researched in healthline.com… The immune system mistakes part of your body — like your joints or skin — as foreign. It releases proteins called autoantibodies that attack healthy cells. Women get autoimmune diseases at a rate of about 2 to 1 compared to men — 6.4 percent of women vs. 2.7 percent of men. Often the disease starts during a woman's childbearing years (ages 14 to 44)."
The actress recalled that her urticaria flares started in 2013. "But i thought they were allergic reactions & called them hives. They've steadily worsened to about 2 bad episodes a month lasting at least 4 to 7 days. I have no food allergies except crab & lobster (based on my full allergy test)."
Since childhood, Kris said she has known that she was severely allergic to several types of medication. "Environmental allergens started triggering what i thought was just allergic rhinitis, sore throat, and skin asthma in my late 20s. i was told during my 2015 medical evaluation to have my thyroid autoantibodies closely monitored. Every year since then the count continued to rise, and this September they reached a critical level."
Kris said her health dipped after discovering an alleged "financial abuse" from unnamed business partners.
"I'm sharing our story for you to understand THE PAIN MY FAMILY ENDURED...Ang hirap madiskubreng may malaking perang pinaghirapan kitain na ginastos ng walang pahintulot para sa luho ng taong pinagkatiwalaan mo- kahit na milyones na ang kinita nya galing sa yo. Bumagsak po ang katawan ko, in 1 month i lost 15 pounds. i was SCARED, our Mom had unexplained weight loss before her cancer diagnosis. That's why i had my series of blood tests. This is our TRUTH."
Her children, said Kris, feared that she might have gotten lupus, the autoimmune disease that struck Hollywood stars like Selena Gomez, who recently had a kidney transplant as a complication of the disease.
"Kuya was anxious & confused. Bimb knew Selena's journey. It was heartbreaking to see my 11 year old crying inconsolable tears and pleading, 'please don't leave me mama.' Bimb even offered me his kidney. Ang pera magsipag ako, kikitain ulit. PERO HINDI PO MABIBILI ANG EXTENSION SA BUHAY. Kaya nagmadali kaming lumipad ng Singapore for me to get the most thorough medical evaluation."
Having CSU, according to Kris, makes her dependent on high-powered medicines for the rest of her life. Besides these, she has also began maintenance medication to control her hypertension diagnosed in 2015, and has been undergoing treatment for severe migraine attacks.
"I am now, and for the rest of my existence will be, on high dosage antihistamines and having the EpiPen will always be crucial. Severe allergies are life threatening because of anaphylactic shock," she bared.
Her prayer, she said, is to be able to make it for at least 10 more years for her sons.
"My prayer is simple, to raise my youngest son to become a responsible adult who'll care for his kuya, then God already blessed me more than i deserve. #laban (October 11, 1954, 64 years ago my mom & dad got married. Heaven timed i'd get my medical answers now for me to remember BEING BRAVE is part of my DNA.)"