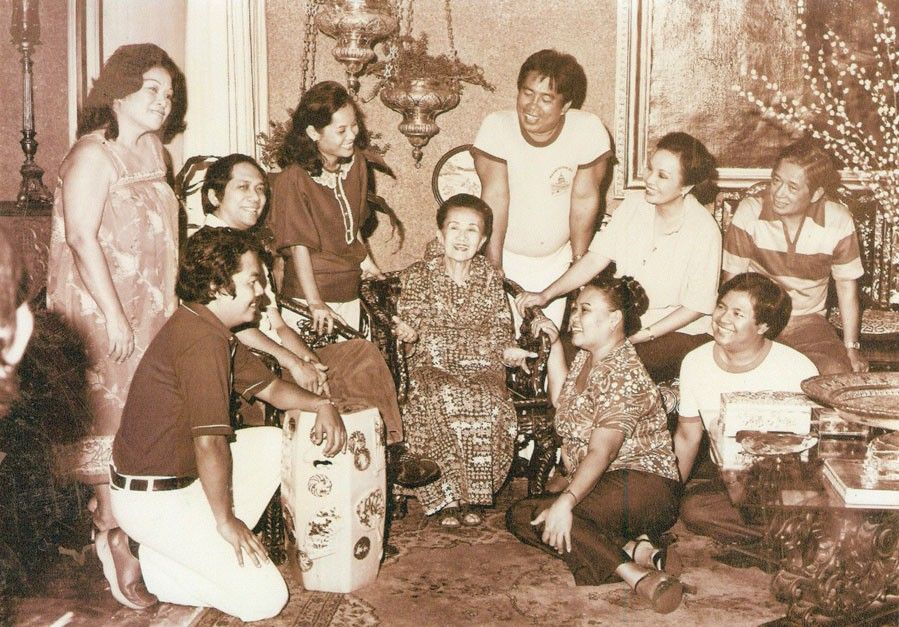 Tribung Pinoy members with Atang de la Rama at this columnist's home in Makati, circa 1979
Tribung Pinoy 40th year: Looking back with fondness and sadness
REMEMBER WHEN?
-
Danny Dolor
(The Philippine Star) - September 23, 2018 - 12:00am
Tribung Pinoy Cultural Foundation and its musical arm, Tribung Pinoy, mark 40th year this month. This columnist looks back at the last 40 years with at once fondness and sadness. Fondly remembered are its glory years, from the late '70s to the early '90s. But sadly recalled were the passing away of five original members, now making beautiful music in another world.
I organized the Foundation and Tribung Pinoy on Sept. 26, 1978. They had no idea that a singing group would be formed, made to believe that they gathered at my Makati home for a one-time concert. They were excited to learn otherwise, but I never thought then that Tribung Pinoy and the Foundation would last this long.
This columnist was the executive director and producer.
The nine other members:
Gloria Dizon Coronel, colorature soprano; Lourdes Francisco, lyric soprano; Erlinda Azcuna, mezzo soprano; Renato Almira, tenor; Vladimir Valera, baritone; Constancio Cadelina, basso profundo.
Julie Mendoza, pianist; Ed Borbon, choreographer/stage director; Reynaldo Torres, production coordinator.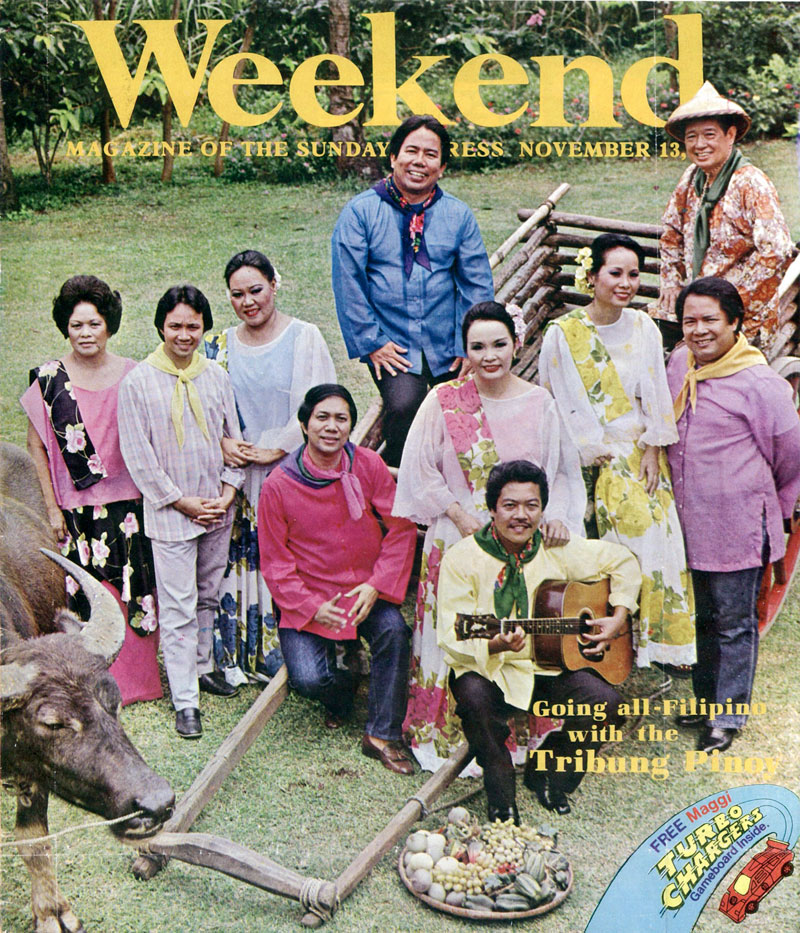 Tribung Pinoy on the cover of Weekend magazine, titled 'Going all-Filipino with the Tribung Pinoy.' (Nov. 13, 1983 issue.)
Gone are Mang Narding, Julie, Cade, Rey and Erlinda.
The goal was — and still is — to promote, preserve, dissiminate traditional classical Filipino music such as harana, kundiman, balitaw, danza.
In December of the same year, Tribung Pinoy mounted its maiden concert billed Harana at Kundiman at the Rigodon Ballroom of the Manila Peninsula Hotel.
The first anniversary concert was Gabi ng Kundiman ng Lahi on Oct. 1, 1979 at the CCP Main Theater. Many other memorable and well-received concerts were staged, including Handog Kay Atang (Honorata de la Rama, National Artist for Theater and Music) at the CCP.
More tribute concerts were mounted for varied artists. Nicanor Abelardo, Constancio de Guzman, Santiago Suarez, Jose Corazon de Jesus, Florentino Collantes, Tito Arevalo, Sylvia La Torre, Levi Celerio, Carmen Rosales, Maria Carpena, Conching Rosal and Rosita de la Vega.
Tribung Pinoy gave concerts all over the country, among them the Culion Leper Colony in Palawan, where four shows were held in 24 hours. Hospital, cathedral, plaza and even ricefield.
The group also performed in Korea and the United States before SRO audiences.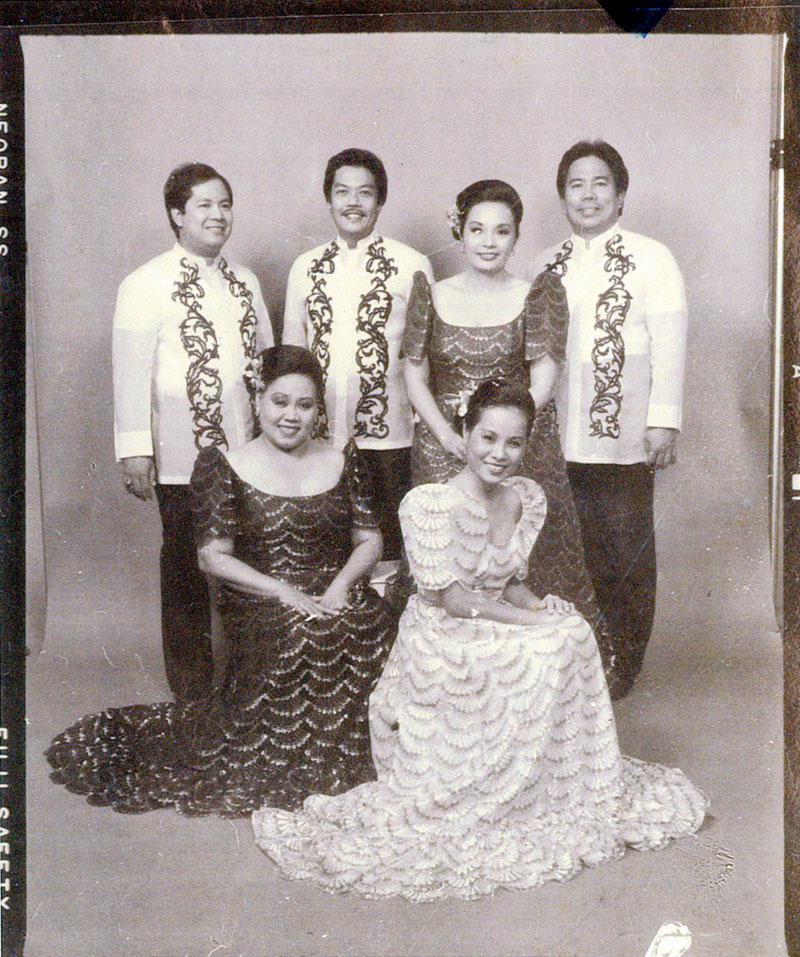 Five Tribung artists in a 1980 publicity photo. Standing from left: Renato Almira, Vladimir Valera, Lourdes Francisco and Constancio Cadelina. Seated: Erlinda Azcuna (left) and Gloria Dizon Coronel.
Concert-lectures were held in public and private schools.
The talent fees didn't matter. Whatever producers can afford Tribung Pinoy gladly accepted. For charitable causes or close friends, even the fees were waved, gratis et amore.
Aliw Awards honored Tribung Pinoy with a Hall of Fame trophy.
The elegant and attractive costumes of Tribung Pinoy elicited ohs and ahs. They were created mostly by Aureo Alonzo. Ben Ferrales, Gang Gomez and Noli Hans every now and then provided the costumes.
Of the five remaining five members, two are abroad, Julie in San Francisco and Vladimir in Chicago. Ed stays mostly in Batangas City. Gloria still teaches voice to UST students. This columnist continues to present concerts, under the auspices of Tribung Pilipino Foundation, inviting other artists to perform, particularly the country premier soprano, Rachel Gerodias.
As board member of the CCP Board of Trustees then, this columnist mounted Harana sa Dapit-Hapon, a series of 10 afternoon tertulia-musicale meant for senior citizens and students.
The 11th Harana sa Dapit-Hapon will be mounted on Sept. 26 to mark the 40th year of Tribung Pinoy and the Foundation at a five-star hotel in Bonifacio Global City. — RKC