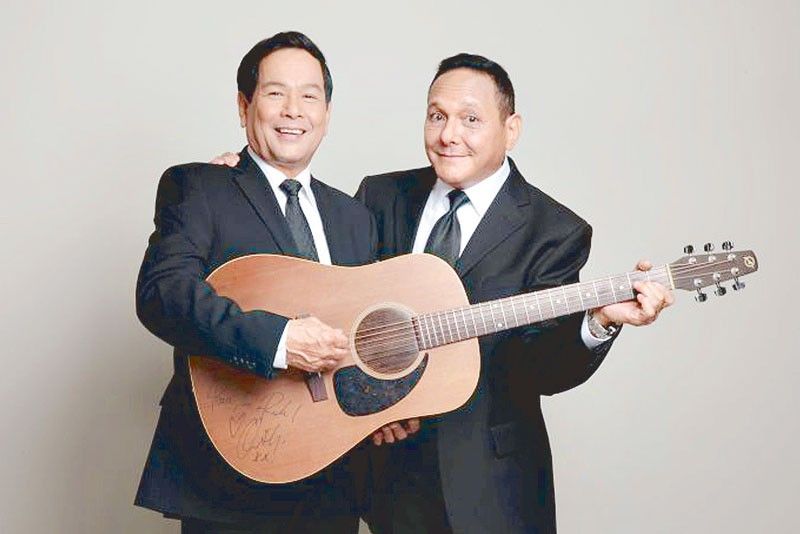 Ronnie and Jojit now (right, ready for their Twofus…Reunion of Friends concert on Saturday, Sept. 1, at The Theatre of Solaire Resort & Casino) and then (below)
Ronnie & Jojit: Twofus Forever
CONVERSATIONS
-
Ricky Lo
(The Philippine Star) - August 26, 2018 - 12:00am
The friendship of Ronnie Henares and Jojit Paredes is deeply rooted in their childhood and has endured through the years across thousands of miles
The last time I interviewed Jojit Paredes and Ronnie Henares was, would you believe, more than 40 years ago! It was in the early '70s and they were known as the duo Twofus, two heartthrobs from Upper Society who were the stuff of adoring girls' dreams and, take note, of secretly "lusting" matrons and gays. They were the untitled counterpart of Hajji Alejandro's "Kilabot ng Mga Kolehiyala," and the Philippine equivalent of...remember them?...Leif Garrett and Rex Smith.
That's why when Funfare was invited to the presscon for Twofus...Reunion of Friends (set for Saturday, Sept. 1, 8 p.m. at The Theatre of Solaire Resort & Casino), I readily went, you know, sort of catch up and bridge the more-than-40-year "gap." As soon as we sat down at a corner of Romulo's Café (corner of Scout Lazcano and Scout Tuason, Quezon City), the 2-of-them and I embarked on a Time Machine back to the good old days when life was simpler, and falling in and out of love was, well, like a game for fools (as the song says).
Now senior-card-carrying citizens, Jojit and Ronnie savored the sweet memory of youth while Ronnie's wife Ida "eavesdropped" close by (she's behind Primeline Management & Production, Inc., co-presenter of the Sept. 1 concert with Solaire and University of Perpetual Help).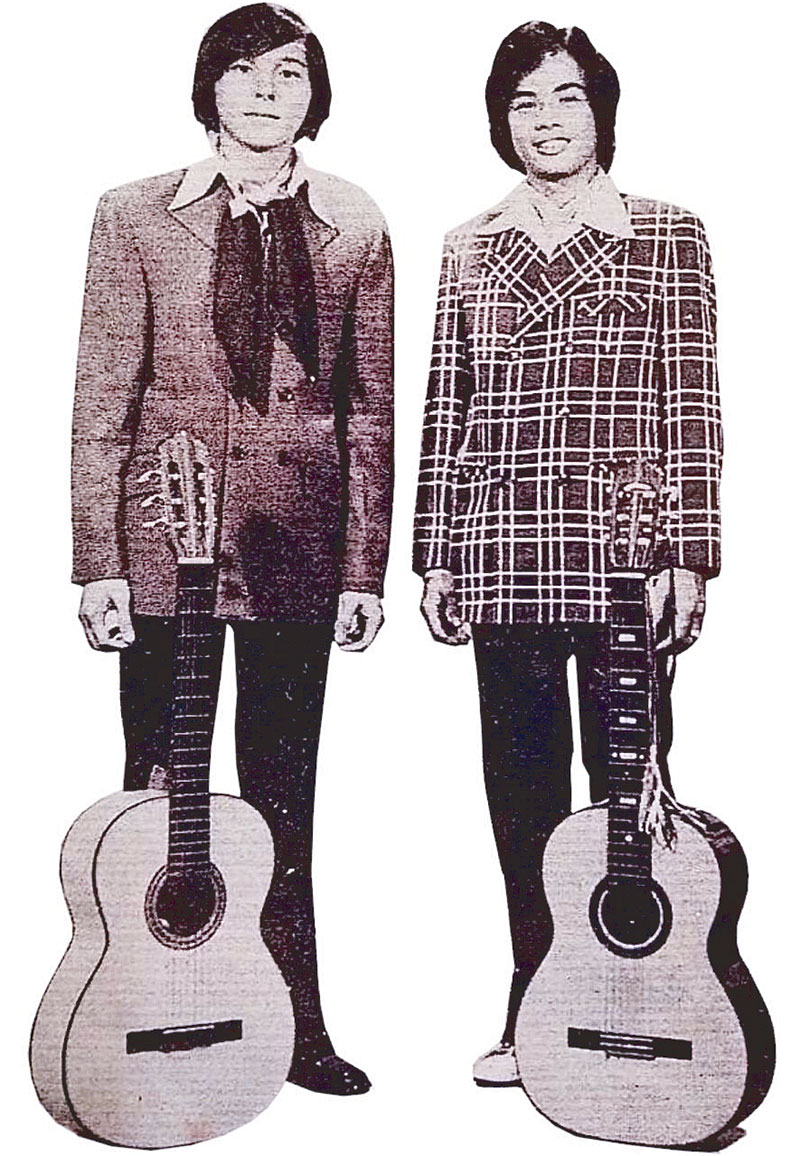 "The Paredes Family lived in a compound next to ours in Pasay City," recalled Ronnie, eldest of six children (three boys and three girls). "As a kid, Jojit would sit on top of the fence that divided the two compounds and would hit me with the paper bullets of his slingshot. Ginagawa niya akong parang dart board, hahaha! So we were really not friends yet when we were kids."
"But soon, as we became teenagers," Jojit, eldest of four all-girl siblings, "Ron and I became friends. I would jump over the fence into the Henares Compound to play basketball with Ron at the court in their driveway. Before long, I became known as the other Henares boy."
They were such bosom buddies, so close like brothers, that when they started courting girls, they observed a pact — "Some kind of a code of ethics," according to Jojit — that if they fancied the same girl, the other would give way to the first who expressed an "interest." Jojit preferred demure girls ("De-mure, the better," he quipped with a laugh, confessing, "I had a terrible crush on Alma Moreno, Lorna Tolentino, Marianne dela Riva and Hilda Koronel") and Ronnie, "Ladies who looked like ladies but deep inside may fire." (Did I see Ida, ehem, blush?)
Public confession: They both courted Vilma Santos (during her post-Edgar Mortiz period), one after the other, of course. After Jojit, related Ronnie, "I asked him, 'Pare, puede na ba ako pumasok dyan?' I was asking for a 'right of way,' you know."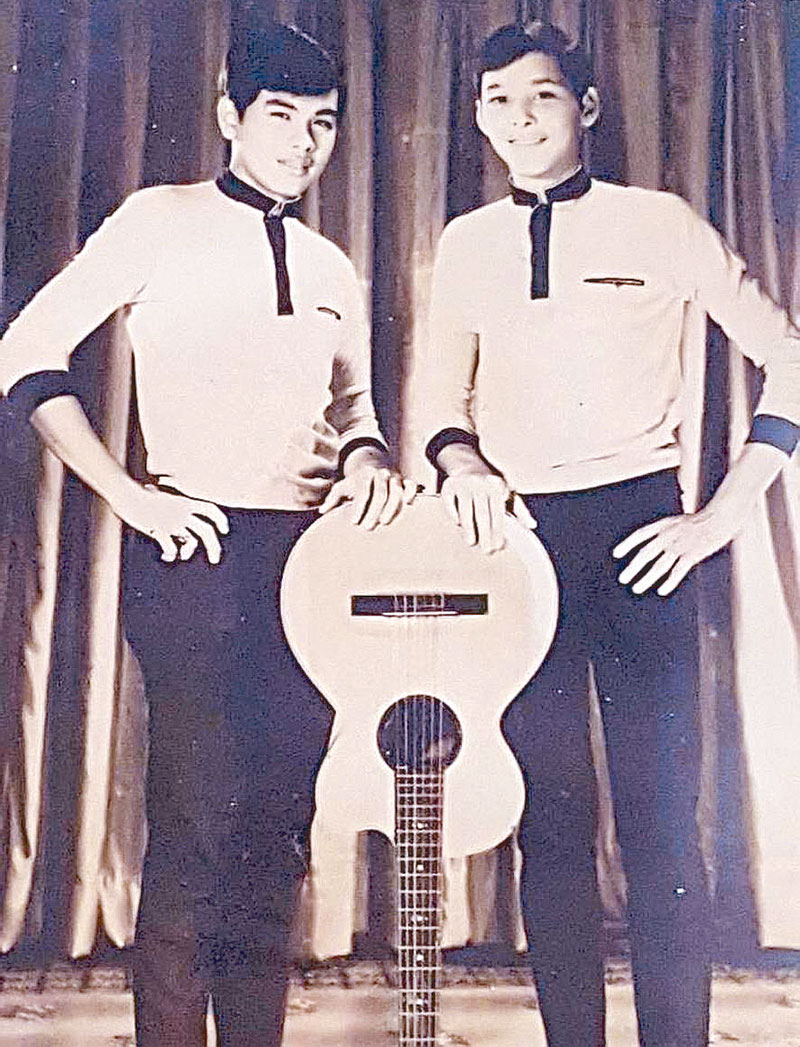 Imagine what happened one day when Ronnie went to fetch Vilma at home (in Dasma, a few minutes drive from where the Henareses lived). He was gentleman enough to call Vilma and ask permission to drive her to a shoot.
"I am talking about this for the first time," swore Ronnie. "It was my first time to visit Vilma. I pressed the doorbell and waited in my car outside. Guess who would arrive after several minutes...Jojit! Since he was already close to Vilma, he went inside her house. After a while, he and Vilma drove off, leaving me in my car. A few years ago, I asked Jojit how it happened para may closure," Ronnie added laughing. "He said, 'I don't remember!,' hahaha!!!"
They were schoolmates at La Salle from grade school, together with APO Jim Paredes as their co-vocalist in a high school band called Les Violents formed by the Paredes cousins to compete in Battle of the Bands sponsored by the De La Salle High School, bagging the second prize. (According to Jojit, his Lolo Jesus Paredes and Jim's Lolo Jose Paredes were brothers.)
Said Jojit, "The band was the start of my musical partnership with Ron. We were invited to perform at all sorts of parties and gatherings. It was fun!"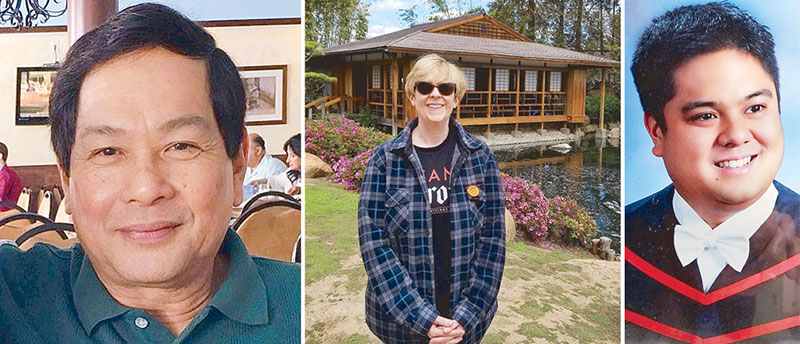 Jojit and his wife Diana(center) live in California. Paco(right), Jojit's lawyer-son with his first (Filipina) wife, lives in Canada.
One of those gatherings was a weekend at the Laurel beach house in Matabungkay, Batangas, upon the invitation of Lynnie Laurel. In the midst of the merriment, Ronnie and Jojit grabbed their acoustic guitars and started singing for the guests who were impressed by their harmonious vocal blending.
Soon, the Twofus was born. They became part of the TV show D'Sensations hosted by Vilma Santos and Edgar Mortiz. Jojit even starred in two movies, Tok Tok Palatok produced by now Canada-based journalist Baby K. Jimenez and Super Gee with Pinky Montilla.
Those were the days, my friend, so another song goes, they thought would never end.
Today, both friends are into their second marriages. Ronnie has two children ages 38 and 35 with first wife Merce Catibayan (now living in the States with her new family) and Jojit has a 38-year-old lawyer-son with his first (Filipina) wife and none with his second (American) wife. Jojit migrated to the States in 1985. Ronnie has quit managing artists and is having a high as a TV comedian (GMA sitcom Pepito Manaloto, etc.).
Their friendship has endured, surviving thousands of miles between them. Thanks to social media, they have kept in touch.
"When I go to the States," said Ronnie, "I would invite Jojit out but he would rather stay in my hotel room and we would jam the whole afternoon. That's how much he misses singing and performing. We would play the guitar the whole time and never get tired."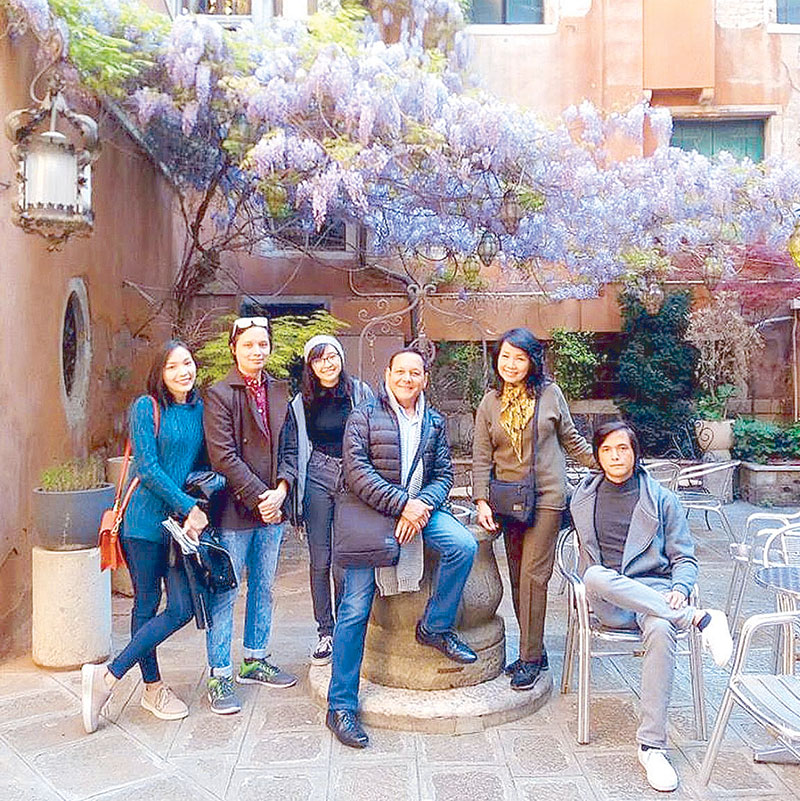 Ronnie and wife Ida (second from right) with their children (from left) Stephanie, Christian, Julia and Matthew.
Said Jojit, "I would come to visit but this is the first time I'm here for a concert." (Their first concert as Twofus was at the Tavern on the Square, produced by Ida.)
Said Ronnie, "In 2007, we did a concert, Twofus the Reunion, in California. I told Jojit, 'Next time, ako naman back home'."
Joining Jojit and Ronnie in Twofus...Reunion of Friends concert are APOs Jim Paredes and Boboy Garovillo, Mitch Valdes and Aldeguer Sisters.
"It will be a nostalgic show," promised Ronnie. "Our repertoire includes our own songs and those of the '70s like Chad & Jeremy, Cascades, Lettermen and others of that era."
The event should attract the duo's original fans who are now also lolos and lolas. Welcome to the Seniors Prom!
(Twofus…Reunion of Friends gathers the best production team that includes writer-director Floy Quintos, musical director Roy del Valle, art director Christian Henares, the team of Sisa Hernandez Karlson for production, Francis Libiran for the wardrobe as well as the country's best session back-up singers and musicians. The Philippine STAR is among the sponsors.)
(E-mail reactions at rickylophilstar@gmail.com. For more updates, photos and videos, visit www.philstar.com/funfare or follow me on Instagram @therealrickylo.)