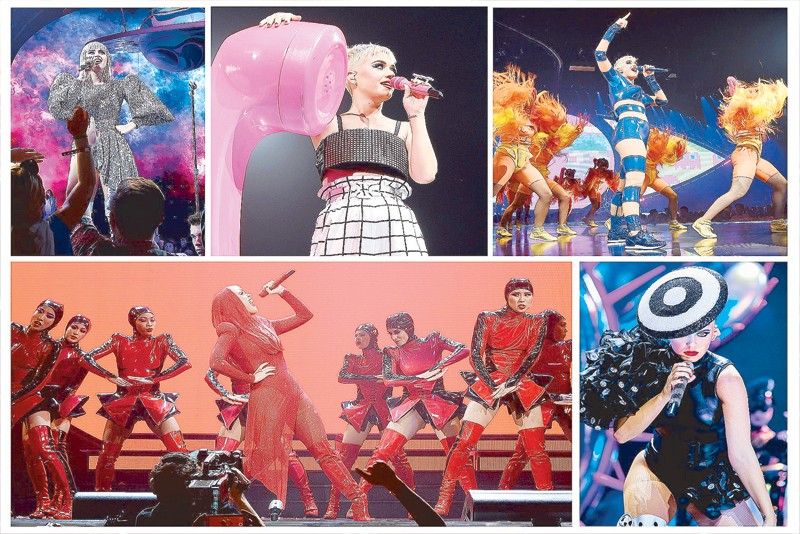 The Katy Perry: Witness Tour in Portland, Oregon was Katy's 49th show but the energy and vibe at the show felt like it was opening night
Katy on lumpiang shanghai and Filipino fans
Raymond Lo
(The Philippine Star) - February 22, 2018 - 12:00am
'I remember being really impressed with Filipino fans — they dress up, they're excited. It makes it more fun to play a show when people get into it — we get into it! It's like a symbiotic relationship.'
MANILA, Philippines — Earlier this month, music superstar Katy Perry sat with The Philippine STAR for an exclusive print interview to talk about her upcoming concert at the Mall of Asia Arena on April 2.
During our 10-minute conversation held inside a suite at the posh The Nines Hotel in downtown Portland, Oregon, we reminisced on her previous visits to Manila and her favorite Filipino food. She likes Lumpiang Shanghai and she is requesting her fans to bring her Filipino dishes to try when she gets to Manila. You should see how she talked to my tiny voice recorder and made a plea to whoever was going to read my story to bring her food to try. On a side note, Katy was the one who held my recorder during our interview and she was just so adorable!
This writer was flown to Portland by Ovation Productions, which, together with AEG Presents, is bringing Katy's widely-acclaimed and massively successful Katy Perry: Witness Tour to Manila. The tour kicked off in Montreal, Canada September last year and the concert in Portland was her 49th show but the energy and vibe at the show felt like it was opening night. The Moda Center Arena was filled to the rafters as the incredible energy emanating from the stage could be felt all over the stadium. This writer found himself literally surrendering to the dazzling show almost immediately, with the spectacular opening number followed by a dizzying display of technical wizardry on stage. The colorful and outlandish costumes, the mix of original and classic choreography, the dancing shark, the giant peacocks, the dancers with TV sets for heads and so many other things that words cannot adequately describe make for a wonderful, dreamlike experience.
Here are excerpts from my conversation with Katy:
What were the memories that you took with you from your previous trips to Manila?
"Some people have been with me over the years but I always like to show my tour members and the people that travel with me all around. We do adventures. I remember being really impressed with the fans — they dress up, they're excited. It makes it more fun to play a show when people get into it — we get into it! It's like a symbiotic relationship." (Katy affectionately refers to her fans as Katy Cats.)
Ten years from I Kissed a Girl, how's the ride been like?
"The world has changed a lot. You know, when you're young-er (Katy emphasized the -er) you don't know if you're going to see that. You always think that everything's going to stay the same and then the older you get, the more you realize things evolve, things change. You grow as a person, your thoughts change, you mature, you don't. No one is perfect and I've definitely been on quite a journey, a very educational journey, a very heart-opening journey and I am still trying to educate myself every day and trying to put my heart out there, wear my heart on my sleeve, really share with the listener authentic feelings and thoughts. I've had to learn some of the lessons sometimes the hard way but that's okay with me because it's beautiful to fall and get back up."
Did you ever imagine this massive success that you got?
"No. I wanted to be a singer since I was nine but I never knew I would be like an international (singer) or I would play the Superbowl. I feel like I out-dreamt my original dreams. Now I am dreaming in different ways, specially in my 30s and I am learning how to create and be creative in many different ways."
What about Idol, is it going to be the next phase in your career?
"I've always been into mentoring, nurturing. If you look at my track record of the people that I brought on the road (for the Portland show, Canadian singer Carly Rae Jepsen of Call Me Maybe fame opened for Katy) in the past, it's always been interesting, very buzzy. I have always had a keen eye and ear for new talent and I wouldn't say the American Idol job for this season is a phase. I would just say it's definitely something I am trying out and will assess if it's good for me continually but I am having a lot of fun doing it."
Who are your favorites among the newcomers?
"Among the newcomers, I think one of my favorite female artists is Dua Lipa. She has a couple of songs I like. It's taken some time for her to really pop off and pop out. I think she's a real star. I have my money on her. And, of course, Cardi B! She's great, she's really amazing." (When asked if she'll collaborate soon with Cardi B, Katy replied, "Whatever she wants, she's the queen.")
Among your songs, what's your favorite?
"I don't listen to my songs a lot necessarily; I listen to a lot of other new music and the stuff that I am working on. I am really proud of Firework continually, really proud of By the Grace of God, really proud of Roar, am really proud of Rise and Witness — songs that really seem to have an effect on people's lives in a good way."
What can your Filipino fans expect in your Witness Tour?
"On the Witness Tour, we do a pretty good job of covering a lot of people's favorites — not every single song because it just wouldn't be able to… But I think we sprinkle in a lot of my favorites, the set list has been one thing for the US but it will develop and change for the other continents."
Santa Barbara. It must have been heartbreaking for you?
"It's horrible. I was just there for the first time. My parents live about two major streets away from it so I was really worried for them. I have friends who have lost their house. I don't know anyone that passed but the whole community is very heartbroken and it was such a strange occurrence. I think they're just mourning and figuring out how to rebuild right now."