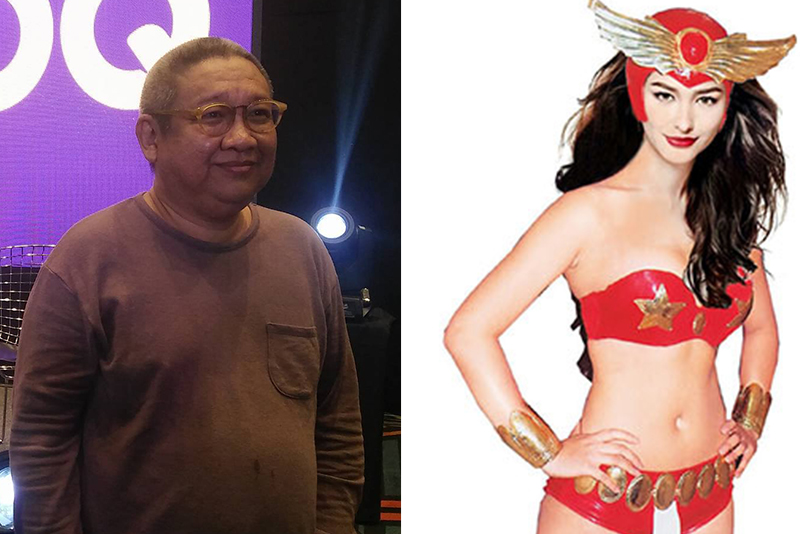 "Darna" director Erik Matti (left, photo by Philstar.com/Jan Milo Severo) and artist's rendition of lead actress playing the title role, Liza Soberano (Philstar.com/File).
Erik Matti eyes coming-of-age story for 'Darna'
(Philstar.com) - July 5, 2017 - 2:56am
MANILA, Philippines — "Darna" director Erik Matti was all smiles when asked who will play as Darna's main nemesis, Valentina.
Matti is still keeping it secret, leaving only a general clue: "It will be a girl!"
While the actress who will play the Snake Goddess still remains a mystery, the veteran director had nothing but praise for his movie's main actress, Liza Soberano. "Liza is a very determined girl. I think she's really gonna do a really great Darna!"
Matti, the first judge for the Philippines in the judging panel of HOOQ Filmmakers Guild, admitted he is feeling the pressure of doing the much-anticipated movie for the year 2018.
"I'm a big superhero fan since a kid, so I think I know how to go about pushing it for the local market. I think the main job we had early on in the story is how to come up with a superhero story that's fresh and unique. Kasi ang daming Marvel stories eh kaya ayaw mong masabihan ng nangopya. It's tough."
The man behind the hit movie and online series "OTJ," which is exclusively available on streaming service HOOQ, added: "Ang dugo nitong Darna na 'to, sobra. Hindi pa kami nag-start n'yan. We cannot come up with a superhero movie na cute-cute, na may bading na joke. Hindi pwede talaga. Knowing all the superhero movies that's out there. Kasi 'yan ang problema natin when we did superhero movies eh. Ginawa nating campy because we know our resources couldn't afford it."
With the visual effects, Matti said they are doing their best. "We're doing big visual effects. We're also hiring a few professionals in terms of costumes and post production...The attempt with Darna is to really, really make it a real superhero movie. Fun, exciting, epic pero di siya nagpapa-joke joke. Modern talaga. I think that's the tough part, to execute it properly na elegante."
Besides Valentina, one of the main characters yet to be named is the kid named Ding, Darna's sidekick and keeper of the magical stone that transforms provincial lass Narda into the superheroine Darna. Matti said the actor who will play Ding has not yet been chosen, but he said that two weeks from now, he will meet children who will audition for the role.