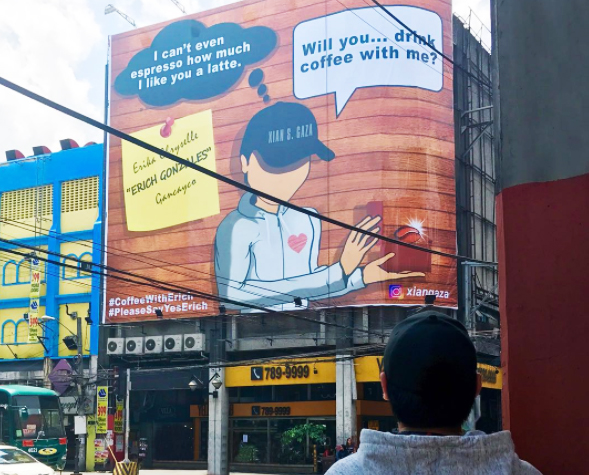 Businessman Christian "Xian" Gaza posted a photo of himself looking at a billboard which appeared to be a coffee date invite to actress Erich Gonzales. Instagram/xiangaza
'Kilig' or overly 'creepy'? Coffee date billboard invite earns mixed reactions
MANILA, Philippines — A coffee date invite to actress Erich Gonzales via a billboard in Morayta, Manila has gone viral and earned mixed reactions from netizens.
While some netizens found the gesture of renting a billboard to invite the actress for a coffee date romantic, others considered the move to be creepy and manipulative.
On Saturday, a non-showbiz bachelor named Christian "Xian" Gaza posted a photo of himself looking at a billboard which appeared to be a coffee date invite to the Kapamilya actress. The billboard turned out to be publicly planned also via Facebook.
"I can't even espresso how much I like you a latte," the billboard read.
"Will you… drink coffee with me?" he said.
Other netizens, however, described Xian as "creepy" and "show-off" following the public move. Facebook page Catcalled Philippines, known to call out rape culture and catcalling, condemned Xian's public invite.
Xian Gaza's only interaction ever with Erich was taking a selfie with her AND SUDDENLY she's what his "heart truly desires" pic.twitter.com/2odjqihNsF

— Nathania Chua (@PilosopoTanya) July 3, 2017
It surprises that a guy who's so wealthy, couldn't find a private way to get in touch with #Erich to ask her out properly. #Dating101

— kstuartsantiago (@radikalchick) July 3, 2017
Despite the criticisms, Erich, who is currently out of the country, reacted to Xian's invite in a text message to ABS-CBN's writer and host, Darla Sauler.
"Hi Darls!!! :) How are you? Hahaha!!! Ang cute ng effort ni Kuya. It's fine. Let's see when I get back. There's nothing wrong naman if we talk over coffee, pero dapat kasama ka. Hahaha!!! See you soon Darls!" Erich's text message to Darla said.
In a series of posts, Xian shun negative criticisms as he denied that his billboard invite was merely a publicity stunt, a "business" or "networking opportunity." He added that he does not expect Erich to respond to his invite.
"I am not affiliated to any company besides GUANXIQIAN GROUP nor a member of any network marketing companies to date. The billboard is my sincere coffee date invitation for Ms. Gonzales, not a 'business opportunity presentation over-coffee-invitation' strategy, affiliating me to your respective companies," Xian wrote.
"Regardless what the public would say. At least kapag binalikan ang Philippine History diba eh she's the very first Filipina to received a coffee date proposal via a fuckin badass billboard. Honest to goodness, I'm not expecting her to say yes," he said in a separate post.
Ella Cruz also given grand gesture?
Based on his Twitter account, Xian also made a grand gesture to actress and dancer Ella Cruz in September 2016 by sending a surprise gift to her. The surprise delivery video was already deleted but it appeared to be flowers according to a post of Snuggle Teddy PH.
RECEIPTS 101:
Exhibit 1 with Ella Cruz. pic.twitter.com/YdmnhFcesK

— Dewanie Catapang. (@waniedoo) July 4, 2017
Special thanks to Snuggle Teddy Ph and Filipino Vines of Gazera Media Holdings ——— https://t.co/sSSXB1nXoz

— CHAIRMAN STARK (@chairmanstark) September 24, 2016