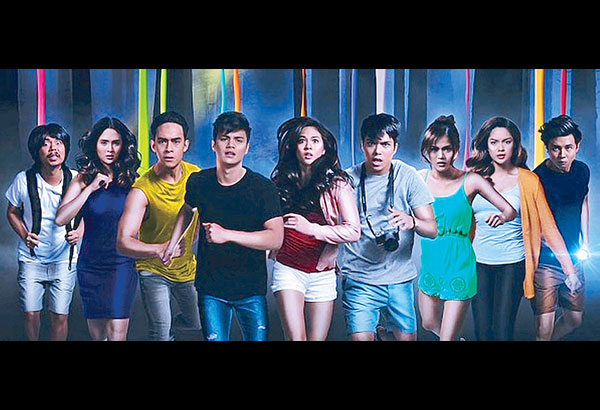 The cast (from left) Empoy Marquez, Sofia Andres, Diego Loyzaga, Ronnie Alonte, Janella Salvador, Elmo Magalona, Maris Racal, Jane Oineza and Yves Flores
Bloody Crayons: Worth the wait
Star Cinema is finally releasing Bloody Crayons, a suspense thriller which was two years in the making. But certainly, it is worth the wait. Its story is based from the Precious Pages novel of the same title written by Wattpad writer Josh Argonza. But for a more cinematic appeal, the Kapamilya movie arm execs deemed it best to do minor revisions to the story to which Josh agreed.
"When I started writing the novel, I was just 17 and by that age s'yempre, there were a lot of amateurish mistakes since I wanted to try everything," said Josh.
"I think changing the number of characters to nine is very interesting because they are not locked in pairs. As with some revisions, I found it okay because they retained the essence of the story."
According to Star Cinema creative manager JP Abellera, they commissioned young writers to work on the script for their ability to give a kind of flavor that suits the taste of both the millennials and the core crowd of the movie outfit.
"Star Cinema got interested in Bloody Crayons because it is one of the best-selling novels of Precious Pages and at the same time, we got excited with its story because this is our first suspense thriller movie offering in a long, long time. Nagkaroon lang ng konting tweaking in the story to make it more cinematic," said JP.
Along with the revisions was the casting of new set of actors who were chosen to portray central characters. Janella Salvador, Elmo Magalona, Jane Oineza, Maris Racal, Ronnie Alonte, Sofia Andres, Diego Loyzaga, Yves Flores and Empoy Marquez are set to put moviegoers at the edge of their seats as college buddies who go on a location shoot for their school project and end up playing a game with the use of crayons that put their lives in danger for every consequence they have to face.
Many are wondering why Julia Barretto and Joshua Garcia, who were initially assigned to play Eunice and Kiko, are not in the cast. Janella and Elmo bagged the roles instead.
"There were some actors who were supposed to be involved in the movie but we also have to remember that Star Cinema is also part of ABS-CBN kaya nagkaroon ng problema sa schedule of artists and then we have to polish the material," JP said. "It was really a demanding time for us because this is our first suspense thriller after a long time so we want to make sure that we are able to give the right material for the right cast with the right director kaya lahat ng butas inaayos namin for the movie to come out really good."
Janella and Elmo, for their part, are not bothered by not being the original choice. In fact, Star Cinema Adprom head Mico del Rosario revealed that prior to Julia and Joshua, another pair was also considered for the roles. He said, "Everyone knew that the project underwent many changes including the management direction on how to bring this project out."
"This film has been through a lot of changes and I'm just really happy because everyone's hard work will finally be seen. It took two years to be completed and we weren't there from the very start but we're very glad to be in the cast," Janella said. "It's our very first film under Star Cinema."
Elmo added, "Even if I were the third choice, I'm just really happy to be part of it. At least may na-contribute ako kasi yun naman talaga ang gusto kong gawin ang makapag-contribute ng magandang project as an actor. This is my first movie under Star Cinema."
Janella reminded that a suspense thriller is different from horror. "There's no supernatural thing involved. You are just going to figure out who the killer really is."
However, JP claimed their set location was eerie particularly in the house where they shot most of the scenes. Sightings of a lady standing in the kitchen were seen.
Directed by Topel Lee, Bloody Crayons is about a group of friends going on a remote place to shoot for a film project and when they get to an old house in an island, they decide to play the game Bloody Crayons wherein there will be five sets of colors with four crayons in each box. Every color they pick will have a consequence and if a player fails to do it, there will be a punishment. Soon after, they start to get picked off one by one by a masked killer. They need to figure out who the killer is before they all get killed.
Bloody Crayons is set to open on July 12 in theaters nationwide.