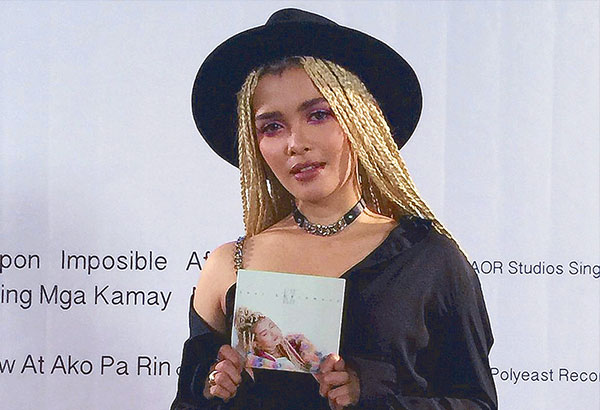 KZ Tandingan releases her sophomore record titled Soul Supremacy, which includes a song she herself wrote
KZ bolder & braver in new album
MANILA, Philippines - "An opportunity like that comes only once so I always make it a point to grab every chance I get," KZ Tandingan fondly recalls her first cameo role in the recent wedding episode of FPJ's Ang Probinsyano.
"Lahat ng paraan para kumita ako papatulan ko po hahaha!" jokes the ASAP soul sessionista who's noticeably not backing down from anything that challenges her.
"A year ago, I underwent an acting workshop with the other Star Magic artists and I appreciate acting as an art. I really hope that I'd be given a chance to act (in another TV project or movie) because I'd love to try acting."
But it doesn't mean KZ is departing from her first love.
"Syempre music is still my (priority)."
In fact, KZ has released her sophomore album Soul Supremacy and admits that she has never been more passionate about music.
"I would go as far as I could as long as my Cornerstone label and management, Sir Jonathan (Manalo), etc. are there to support me; to push my music and to make it as honest as possible and I want people to see the real me. I am always hands-on with all my production numbers, the content of my latest album, even the arrangement very hands-on ako."
KZ also composed the song Halik na Lang and the Intro Lude that are included in the album.
The Academy of Rock of Singapore, meanwhile, has plans of launching KZ's album not for the Filipino community there but for the Singaporean audience.
Star Music exec Jonathan said, "This is going to be a big break for KZ. She will be collaborating the single With You with a British rapper based in Singapore."
Music industry observers must have noticed how KZ has made a mark as one of the best singers of today. In fact, she has just recently staged a successful digital concert.
The Kapamilya star's unique and edgy performances in ASAP Soul Sessions and her mastery of the soul genre are seen in her versatility in channeling the emotions of songs. No wonder KZ has been tagged Soul Supreme.
"All I know is that whenever I sing, it's easy for me to feel the song, be vulnerable or fragile as I could to channel the emotion that is needed. I think the secret is not to be conscious sa magiging hitsura sa stage or conscious about the people around you."
Meanwhile, KZ has somehow learned the art of ignoring bashers who used to bother her when she was a showbiz newbie.
"Whenever I perform on stage, wala na akong pakialam kung anong sabihin ng mga tao sa akin but off-stage, I do have insecurities but I try to battle it out one day at a time."
KZ adds, "Accept who you really are because you're unique in your own way. Tanggap ko na that people see me as pandak na Bisaya na 'pag kumanta parang luka-luka, hehehe! Unlike before, it's not already bothersome and I don't cry anymore. You really can't please everybody. I stopped trying to fit in because I believe I was made by God to stand out. I use my talent to glorify His name and to make people happy."
KZ admits that she has become bolder and braver when it comes to music. "I have learned to embrace myself more and be bold with my music more. Every time I perform, I always try my best to give justice to the title that they have given me."
(Soul Supremacy also features Labo, Nag-iisa Na Naman, Dapithapon, Imposible, Afraid, Siya'y Darating, Sayang, Sa Aking mga Kamay, Sayo, Mahal Ko o Mahal Ako and Ikaw at Ako Pa Rin, a duet with boyfriend TJ Monterde. The album, executive-produced by Malou Santos and Roxy Liquigan, is now out in all digital stores worldwide and will soon be available at all record bars for P250.) photo by Honey Orio-Escullar