Feeling like Miss Bulgaria
February 2, 2017 | 12:00am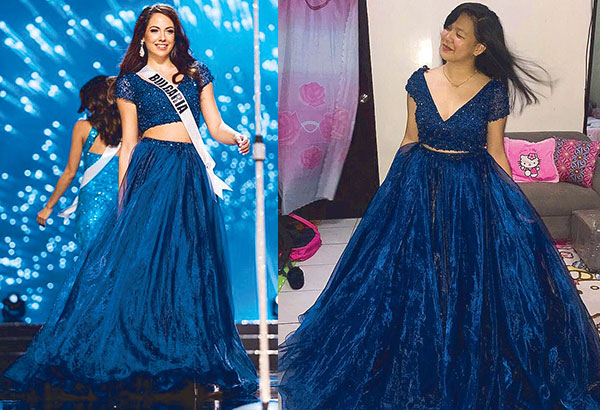 As soon as she tried the gown on, Zyra Nicole Gallano, a 15-year-old high school senior from Southeastern College in Pasay City, must have felt like a beauty queen. She's the lucky girl who got the navy-blue, two-piece and tulle skirt set by American designer Sherri Hill worn by Miss Bulgaria Violina Ancheva during the opening ceremonies of the 65th Miss Universe pageant at the MOA Arena last Monday, Jan. 30.
"It fits," said Issay Gallano, Zyra's mom who works as report analyst at ACJO Corp., producer of O Shopping. "Sukat na sukat."
After the Miss U grand finals, with Miss France Iris Mittenaere besting 85 other aspirants, Ancheva posted on her Facebook that she wanted to give the gown to a girl who couldn't buy a dress to the prom next month, reminding those interested to send her a personal message also on FB.
"My officemate told me about it and I immediately posted a personal message to Miss Bulgaria on her FB," recalled Issay, a single mom who has another child, a nine-year-old boy. She beat the dozen others to the draw, so to speak, and was promptly told to see Miss Bulgaria at her Conrad Hotel room. "Right timing," added Issay who had to fix the gown's zipper which snapped during the opening ceremonies before asking Zyra to try it on. The gown is estimated to cost P36,000.
Issay spent barely an hour with Miss Bulgaria who was packing up preparatory to her flight back home yesterday. A reporter from CNN Philippines got wind of the story and accompanied Issay to the meeting.
"I feel deep in my heart that it's God's will," said Issay. "Aside from the fact that I am a single mom, tight talaga ang budget ko so I didn't have enough money to buy Zyra a gown. She will wear it to the prom and for her debut three years from now. After that, we will just keep the gown so Zyra can wear it to special occasions."
Although she didn't make it to the Top 13 semi-finalists, Miss Bulgaria is a big winner in the hearts of Filipinos. "Thank you for your generosity," commented a fan. "That's what makes the people of your country admirable. Thank you and visit us again soon!"
In the 64th pageant in Las Vegas when Pia Wurtzbach briefly hesitated after host Steve Harvey corrected the wrong announcement of the winner, the bet from Bulgaria was among the few who cheered Pia right on…take the crown…spreading her arms as she waved at Pia to move forward.
"Mababait nga talaga ang mga taga-Bulgaria," remarked a beauty-pageant enthusiast.
Next time Ancheva comes for a visit, I'm sure Filipinos will welcome her with open arms and open heart. She should be declared an "honorary Filipino," shouldn't she be?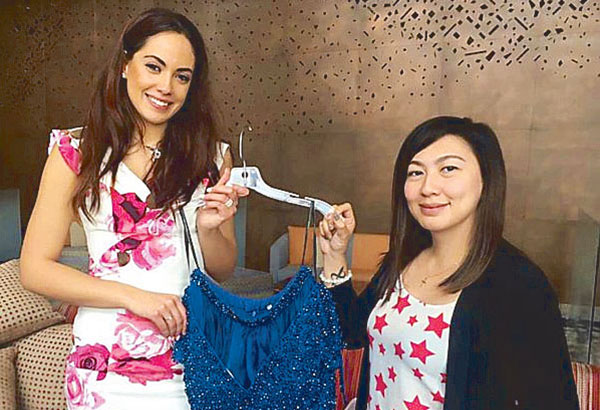 Zyra's mom, Issay Gallano, personally receives the gown from Miss Bulgaria who is a winner in the hearts of Pinoys