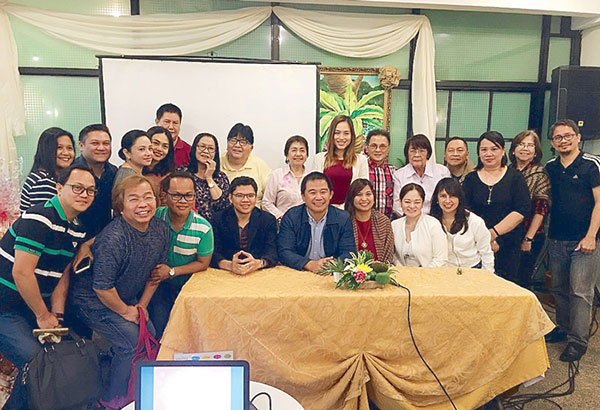 The TV5 executives in a 'family picture' with the movie press (seated, from left): Lloyd Manaloto, head of marketing; Vincent 'Chot' Reyes, president/CEO; Anna Bengzon, chief finance officer; Mell Tolentino, head of programming; and Peachy Guioguio, PR/publicity
TV5 beefs up 2017 line-up
FUNFARE
-
Ricky Lo
(The Philippine Star) - December 19, 2016 - 12:00am
A few years ago, there was an exodus of big stars from the Kapuso and Kapamilya networks to TV5, attracted like ants to sweets by astronomical talent fees. No names now, but all of them have left TV5, the Kapatid network, their contracts rescinded, and back to their original home studios like prodigal children while some are in "floating" status like kites being tossed by wild wind.
So far, only two have remained loyal to TV5 — Derek Ramsay and Jasmine Curtis-Smith. Bless them. Even new talents discovered by the network (like Vin Abrenica, Ritz Azul and Arci Muñoz) have, so to speak, flown the coop. It was a costly lesson for TV5 (to the tune of hundreds of millions) whose ratings hardly improved even with the presence of those "big" stars.
A few days ago, TV5 president/CEO Vincent "Chot" Reyes and his team (Lloyd Manaloto, head of marketing; Anna Bengzon, chief finance officer; and Mell Tolentino, head of programming) hosted a Christmas lunch at Annabel's for the entertainment media.
Asked if TV5 is still open to other stars (including and especially Kris Aquino who is virtually "homeless"), Chot said yes, "As long as we can afford them."
No, TV5 will not be exclusively a sports channel. In fact, Chot assured that the network is beefing up its show line-up in 2017, in addition to current Tagalized hit US TV series such as Arrow, Nikita and Walking Dead; and soon Supergirl, Quantico and Breaking Bad, and the action animation shows like Voltron, King Julien, Knights of Sidonia, Dragons Race to the Edge and Adventures of Puss 'n' Boots.
"We want to put up shows that are different from those in other networks," explained Chot, "something you don't see in other networks, something with a different look and a different feel. We want shows that 'talk' with a defiant voice, shows that will appeal to the younger audience."
And, he added, that would help attract televiewers to "art-house" films, and help indies gain a wider market.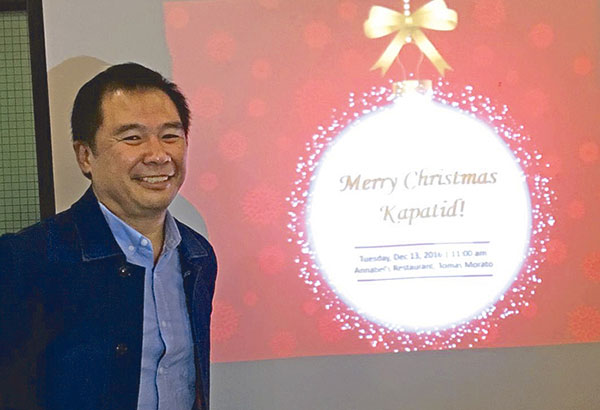 Chot Reyes: Other stars are welcome but 'only if we can afford them'
"That's why we are excited about our partnership with Brillante Mendoza," said Chot. "Brillante is TV5's content partner. He will be effective in helping us project a new image and convey a strong message to the public."
Brillante will do a monthly short film depicting various events — for example, the Chinese New Year in January, Baguio's Panagbenga Festival in February, graduation in March (and related school activities), so on and so forth.
"Brillante will also do a 13-part mini-series," shared Chot, details of which he wasn't in a position to reveal just yet. "It's something to look forward to, I assure you."
Meanwhile, TV5 is focused on the Miss Universe pageant on Jan. 30, 2017. The network has finalized partnership with Solar Entertainment and the Miss Universe Organization (MUO) for the airing (yes, "live!") of the Miss Universe pageant on Jan. 30, 2017 (from 8 to 11 a.m.) direct from the Mall Of Asia (MOA) Arena, including the exclusive airing of Swimsuit Competition (Jan. 27), the Long Gown Competition (Jan. 29) and the pre-pageant. The National Costume show will be shown by another (official) channel.
"We also got the exclusive digital rights to the airing of behind-the-scenes, available online," added Chot. "These are scenes not shown on TV. In all this, TV5 has PLDT Smart as partner."
(E-mail reactions at entphilstar@yahoo.com. You may also send your questions to askrickylo@gmail.com. For more updates, photos and videos visit www.philstar.com/funfare or follow me on www.twitter/therealrickylo.)