Experience Thailand with Mario Maurer
MANILA, Philippines – "I've missed adobo. I've missed my co-stars in Suddenly, It's Magic. I've missed my Filipino fans so much," Thai superstar Mario Maurer gushed during a one-on-one interview with The STAR at the Dusit Thani Hotel on Saturday.
Mario was in town to promote the tourism in Thailand, being its newest brand ambassador. The Tourism Authority of Thailand (TAT) has launched a campaign dubbed Experience Thailand with Mario Maurer, with the dreamboat at the frontlines in showcasing the beautiful sights of "The Land of the Smiles."
His last visit to Manila was three years ago during a promotional event for a local clothing company.
"It feels great to be back. I am happy that as an ambassador, I will be able to share with Filipinos some of the delights and good times that await them in Thailand. I love my country and this job gives me the chance to share its attractions with the world," Mario said.
The Crazy Little Thing Called Love actor said he has a treasure trove of fond memories of the Philippines, and the one recollection that makes him happy is when his fans cheer and shriek at the sight of him during mall tours.
"All of my fans here are super great, they always give me a super warm welcome. Everywhere I go, whether I have a show in the mall or attend a movie premiere, or a meet-and-greet (session), my Filipino fans always give me their 100-percent full support. Their screams give me goose bumps, and my heart pumps like crazy," said Mario, breaking out in his trademark heart-melting smile.
He also remembered with fondness the time he did Suddenly It's Magic with Erich Gonzales in 2012, noting the warm hospitality of the whole crew.
"Even though the shoot was difficult because our schedule was tight, the Filipino crew were all smiles and energetic. It was a fun shoot. I miss them, especially my director Rory Quintos, Joross (Gamboa) and Erich. I'm still in touch with them. The shoot was done in Ilocos and it was so unforgettable. I remember going to a beautiful church in Vigan," Mario said.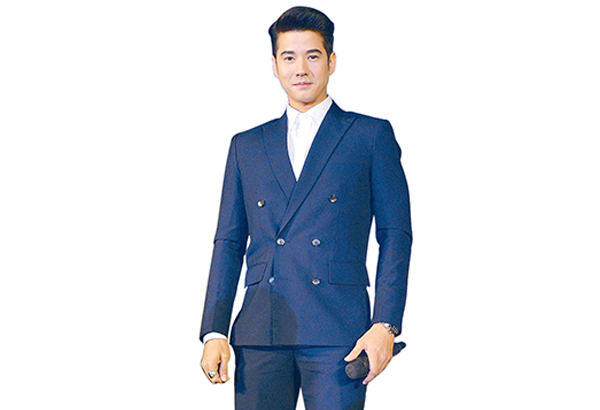 The actor faces the Manila press
Much as he enjoyed his time in the Philippines, Mario would also like Filipinos to experience and have fun in Thailand.
If Mario will ever be your tour guide, he said he would definitely take you to Chiang Mai and try the zipline like he did.
"I've never tried it before but as an ambassador, I was able to try it and it was a lot of fun. Afterwards, I want you to watch the show with the elephants. These animals are so talented and in fact, they can draw. You can sit on top of the elephant while it draws. After that, the elephant will take you to see a breath-taking view of the river," Mario said.
Another place he highly recommends is the floating market where you can shop for cheap but quality goods and then, afterwards, take a ferry for a massage/sightseeing tour.
"You can take your friends with you, ride the boat and have a massage while sightseeing. It's a nice experience. While in Thailand, you should never leave without having a massage, we are so good at massage," Mario told entertainment journalists, in a separate press conference, eliciting laughter.
And another important reminder from Mario is to try Thai food for that unforgettable gustatory experience.
"Try the Pad Thai and Som tam, a kind of a Thai papaya salad but be careful with the chili. In Thailand, we like spicy food," Mario said.
Taking a Tuktuk or the jeepney version of Thailand, should also be on top of your to-do lists.
"If it's your first time in Thailand, you can go to Bangkok first because you can do a lot of things there already. For repeaters, you can go to other places like Pattaya for the sun, sand or sea experience," Mario said.
Mario, who has grown to love the Philippines, wished he could extend his stay in the country for a little R&R.
"Everytime I'm here, I always have a limited time, but if there's an opportunity to stay longer, I would definitely go to the beaches in Boracay and Cebu. I went to Cebu before but it's (a) very short trip. I want to come back to Cebu, just go around, take a boat and go diving," Mario said.
On being an actor for the past 11 years (he started out when he was 16), Mario said he feels lucky to have a job that gave him so many opportunities to travel and grow as a person.
"The great thing about acting is that it's never a boring job. Every day, I wake up and go to different sets and locations. There are days when I practice fighting (boxing) or riding a horse for a drama. No day is the same, you get to do a lot of stuff," said Mario, a celebrity who does not focus on the negative side of fame.
The one movie that will always be close to his heart is That Crazy Little Thing Called Love, Mario said, and it's not just because the movie grossed millions at the box-office in Thailand. He said it's the film that endeared him to Filipinos and that means so much to him.
The Tagalized version was first shown on ABS-CBN in 2011 and was previewed thrice because of high ratings.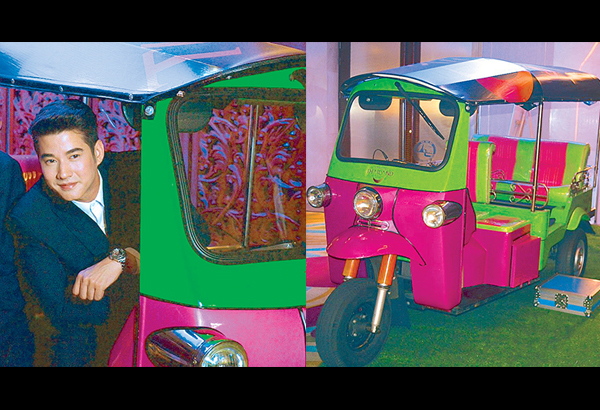 Mario poses for photographers inside the Tuktuk, Thailand's version of the jeepney, during the promotional event at Dusit Thani Hotel
"That Crazy Little Thing Called Love got me the opportunity to come here and meet my Filipino fans. It's also the movie that made me cry," Mario said.
While he plans to continue acting in films and dramas, he wants to have a lucrative business on the side.
"I see myself doing acting for quite a long time, but I want to have some business, I want to go into the clothing industry, or cars and bikes because that is my hobby. But I still want to improve myself in acting and probably in performing like singing, so I'm still looking forward to that. My goal is to grow my career and have a business beside it," he enthused.
Any dream roles?
"I want something that really stands out from the ones I did before. I always get roles that's kinda similar to the old ones but I take it as a good chance to find something new. I think every role is challenging," Mario said.
Right now, he is busy doing a drama in Thailand. His next promotional stop for TAT is in Indonesia and then Myanmar. He has previously visited Vietnam and China. - Photos by VER PAULINO