A day with Richard Gomez & FPJ Da King
Recently, we spent an entire afternoon watching replays of three shows from Palibhasa Lalake and one from FPJ. Titled Batya't Palo-palo, the FPJ film stars Fernando Poe Jr. with Vilma Santos as his leading lady. It presents a love story between Ronnie (Poe's nickname) who plays a tubero working in the hacienda of the rich Saavedra family whose daughter (Vilma) he meets while she is cleaning her clothes by the river.
The twist in the story comes when Ronnie mistakes Vilma for a laundry woman and she plays along, asking the women in the hacienda not to reveal her secret. Ronnie and Vilma begin to take a liking to each other while Vilma's friends as well as Ronnie's man Friday cooperate in keeping her secret. The parents of Vilma get wind of the situation, and are outraged that their daughter could fall for a man not in their class. Ronnie, who is unaware of all this secrecy, leaves the farm to board a bus for Manila.
Vilma follows him to the station and while the bus is leaving, they get on board to their happy ending. We enjoyed this simple love story with only minimal fight scenes expected of a Ronnie Poe picture. Without question, there was definite magic in the Ronnie-Vilma team-up which kept us glued to the screen.
After Ronnie, we watched Palibhasa Lalake once a top earner of ABS. On this occasion, we had as cast Richard called "Goma" by friends; Joey Marquez; John Estrada; Anjo Yllana; Amy Perez; Cynthia Patag; Carmina Villarroel; and Gloria Romero. The first story has guest Ruffa Gutierrez as one whom Gloria accuses of having stolen her bracelet. In the end, she forgives Ruffa and all's well that ends well.
Story two features Kris Aquino as guest who meets Goma while buying donuts at the shop where he works. Kris finds him cute, sends a letter inviting him to dinner and later sends him chocolates. Meantime, Cynthia invites friends including Kris to her birthday party but ends up in the hands of the wrong party and naturally, there is bedlam all around. Finally, the third story guests Gretchen Barretto as the first love of Richard who wishes to have him back after living abroad for several years. She pursues him but has to be content with a "friends only" answer in the end.
The storylines of Palibhasa are very simple but what keeps it alive is the comedy and situations that are ridiculously entertaining, keeping us watching, and we are certain, everyone else as well.
Since these stories are re-runs of those produced many years ago, we can expect negative reactions from today's young audience. We can already hear the words "unlikely storyline," "ridiculous costuming" and "outdated locations." We agree with all these accusations. However, to us such stories represent a period gone by, a part of our history that we should appreciate and be happy that some people took the pains to preserve.
(E-mail your comments to bibsyfotos@yahoo.com or text me at 0917-8991835.)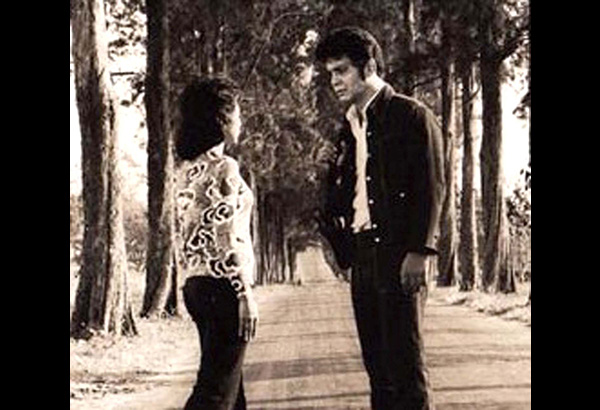 Fernando Poe Jr. and Vilma Santos in a scene from Batya't Palo-palo